Discussion Starter
·
#1
·
This Durston Gear
X-Mid 2 Solid
review is going to either kill me or my wallet. Dan Durston has gotten more money from me this year than I have ever paid child support. Why? Well, my
sine-liberi
arse has purchased the
Kakwa 40
, X-Mid 2 Solid, X-Mid Solid (on accident), and
X-Mid 2 Pro
. If you've been paying attention, that's roughly as much as the MSRP of a
Smith & Wesson 317
and
M&P 15 22LR
, combined.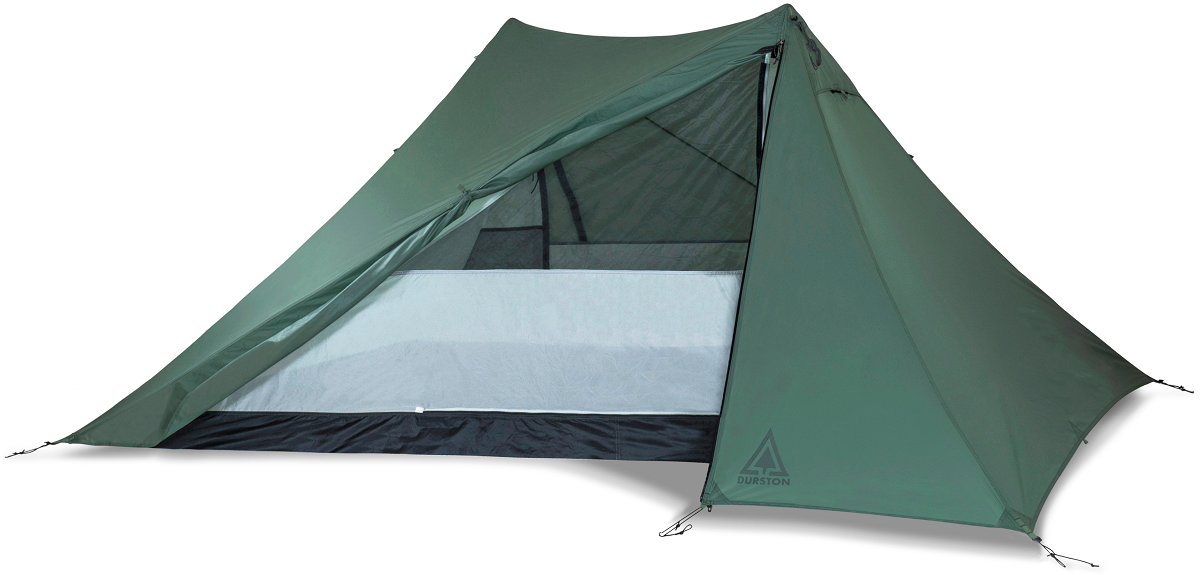 IMAGE SOURCE:
DURSTON GEAR
Welcome to our recurring series of "
The Path Less Traveled
." In this series, we want to take you along for our exploits out in the wilderness while hiking, camping, exploring, and general adventuring. This will include our small daily victories, foibles, tips, tricks, and reviews of gear we authentically appreciate and frequently utilize. While a well-worn trail can often be the pathway to a leisurely day, the paths less traveled can often spur on some of the greatest memories, misadventures, and fun we could imagine. Join us in the Comments as we share our travels and hopefully, we can all come together for a greater appreciation of the outdoors.
Dan Durston's Gear is more popular than that one video Kim Kardashian did a while back. If you don't know who the guy is, catch up with these posts:
Company Info – Dan Durston's Durston Gear
Dan Durston has spent some time outdoors and knows his stuff. Dayjob as an environmental biologist has him traversing all over British Columbia, Canada.
He's been in the backpacking community for a while and got his name as a gear designer when in 2018, having some gear manufacturing funded by MassDrop
(
, back when they used to sell things other than $300 computer keyboards
)
.
His recent re-releases of backpacks and tents have made records for selling out within minutes.
Interviews with Backpacking Light
indicated that one tent model sold out in seven minutes.
With products selling this ravenously, there must be something to them, no?
The special sauce is the price to weight to performance value. Dan's gear
ranks with products costing 2-3x his prices
, while coming in at similar weights, and more often than not better performance measures. The awards and accolades by various publications further indicate he may be the new fan favorite of the press and the in-crowd alike.
You can find more info about Dan Durston's insane plans to rule the backpacking world at the following sites:
Product Info – X-Mid 2 Solid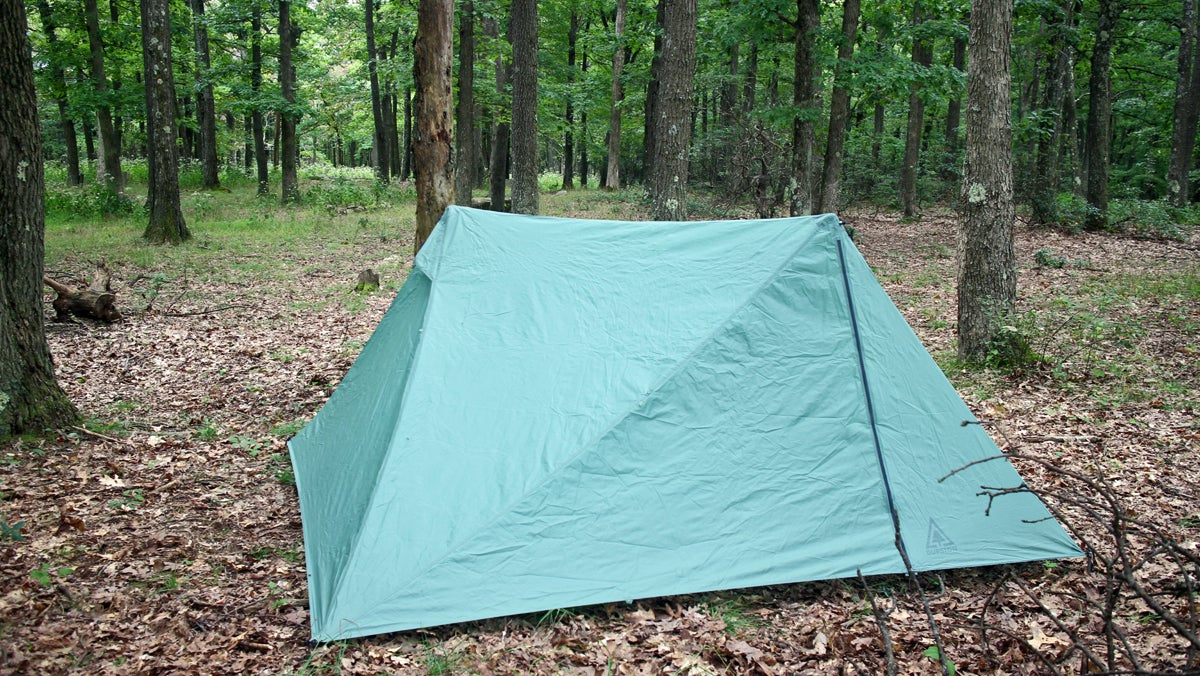 Dan Durston Gear X-Mid 2 Solid Wall Tent
The X-Mid 2 Solid is a double wall tent, like its
X-Mid 2P
brethren, but with solid walls on the inner tent to help increase warmth during cooler times. With Fall kicking in, I am sure some individuals in more northern states could be appreciating a warmer tent soon.
This tent's backbone, as said before is from the second generation of X-Mid tents. If you have one of the original MassDrop tents, this is lighter and stands up to conditions a bit better.
Setting it up requires the rain fly to be pitched in a geometric sequence of staking the corners. Two hiking poles are then inserted to 115cm (48″); technically the instructions state to raise poles until the fly is taut.
Installing the inner tent involves clipping two buckles to the ceiling of the rain fly, then guying out the corners.
Even with the added protection of the higher solid walls, the upper half of the tent remains mesh. It is reported the solid walls only increase tent weight by 31g (1 oz.).
Using 20D poly for the rainfly, with taped seams, and 2500mm sil/PEU coating, one can expect the tent to remain waterproof much longer than tents with claimed protection levels of 3000mm or more. YKK Aquaguard zippers also help prevent moisture getting in. A poly fly will also absorb much less liquid weight than a nylon fly will.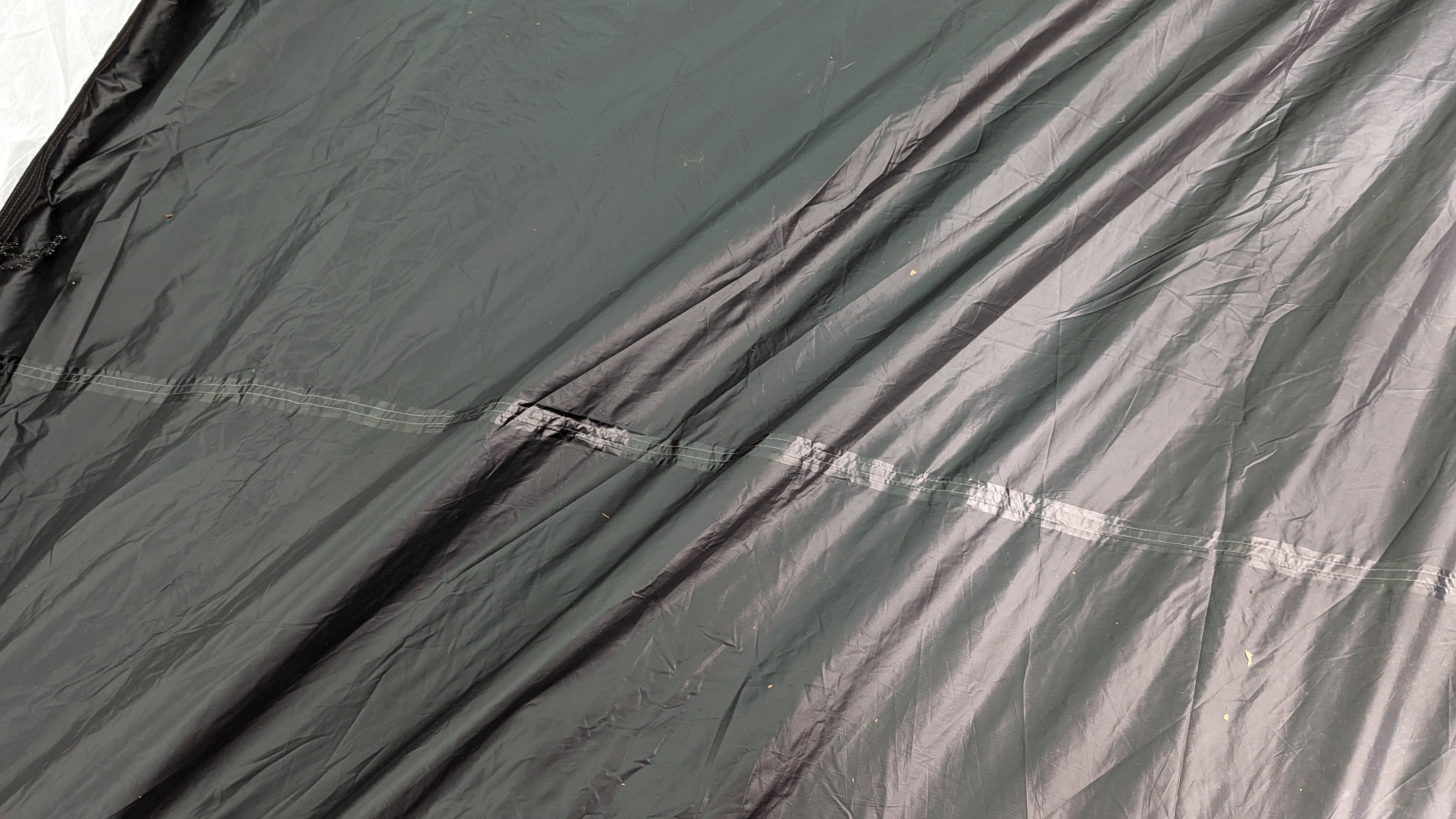 Dan Durston Gear X-Mid 2 Solid Wall Tent
The tent comes with four titanium V-Stakes, as well as four titanium shepherd's hook stakes. While the tent requires a minimum of four stakes to set up, there are an additional eight staking points to increase stability and security during inclement times. A bulk distance of lightweight guy line is also provided with the tent.
Once the tent is pitched and adjusted to remain as taut as possible to prevent wind buffeting, the inside tent has a length of 92″ L x 52″ W x 45″ H at it's greatest points. If you look at a diagram of the rain fly, you can see the inner tent is placed diagonally under the 100″ L x 83″ W x 48″ H dimensions.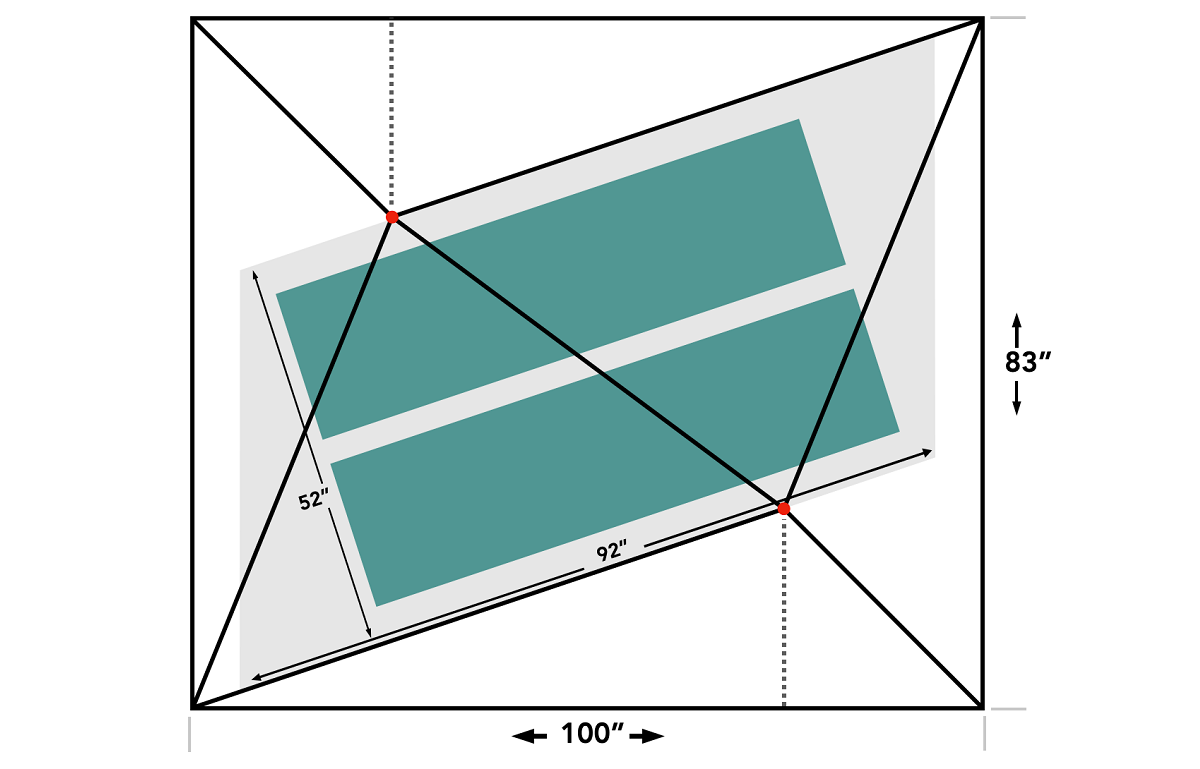 IMAGE SOURCE:
DURSTON GEAR
Having the tent pitched without the rainfly is near impossible. There is a recommended
Stargazer Kit
to help accomplish this task.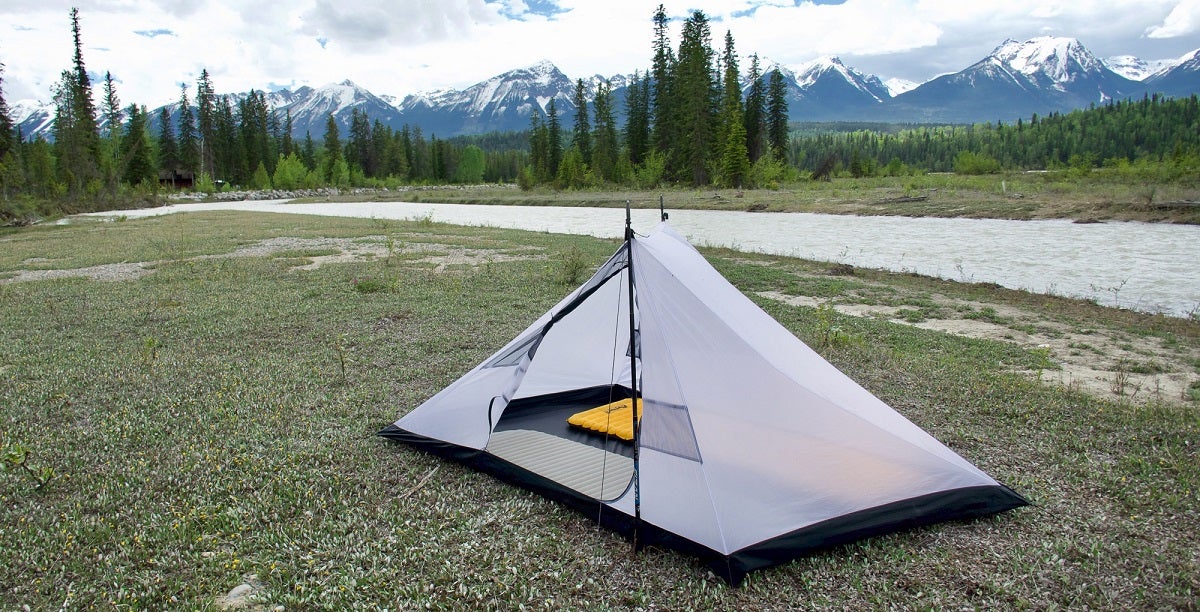 ORIGINAL IMAGE SOURCE:
DURSTON GEAR
Observations
I've spent twelve days with this tent and I'll admit… setting it up the first couple times required me to have a youtube video saved to my phone for reference. While the instructions are simple, the implementation of them, and the odd, nontraditional diagonal inner tent always makes things a little more complicated than a freestanding tent with two or three hooping poles.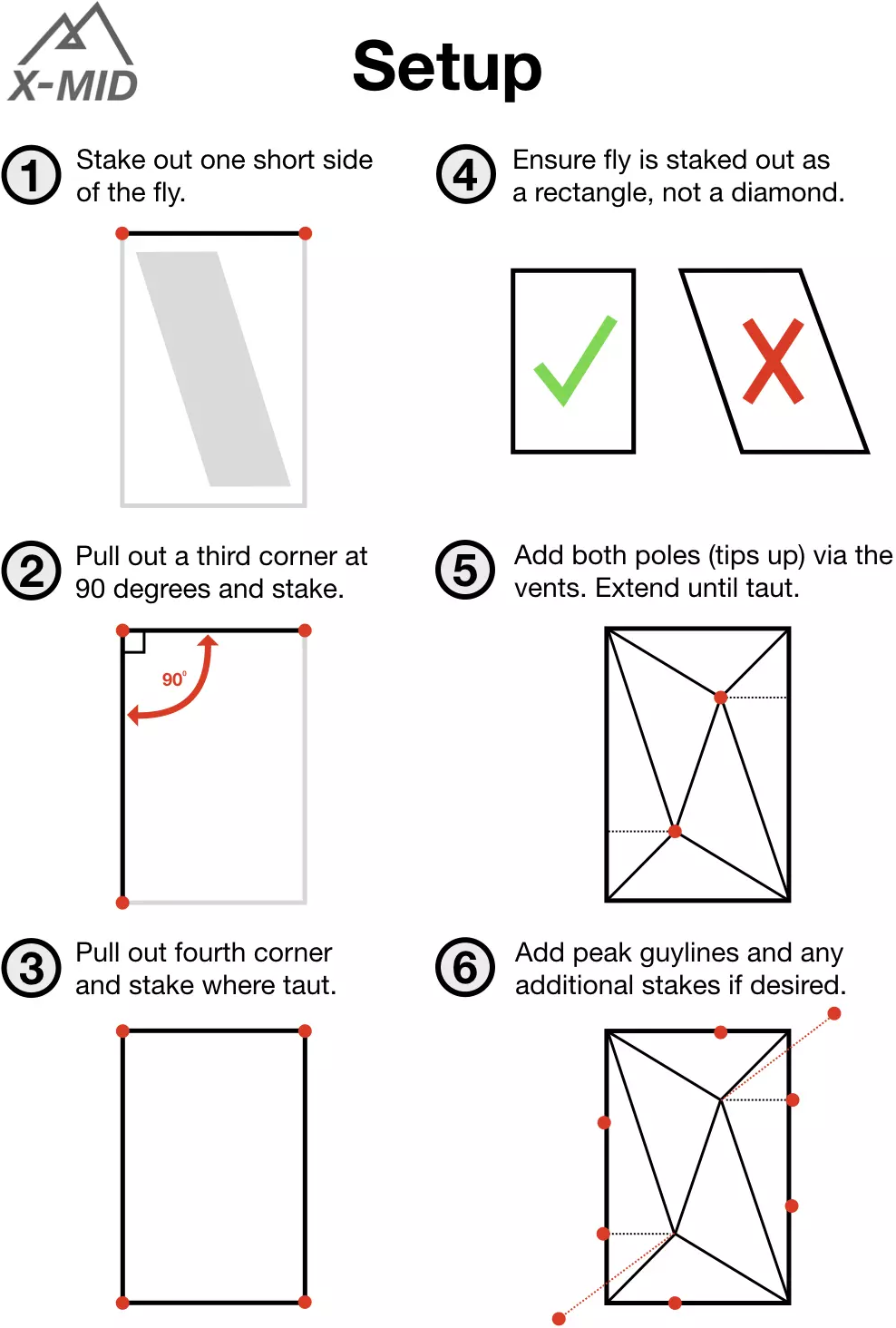 ORIGINAL IMAGE SOURCE:
DURSTON GEAR
Tent stakes do not add to the complication, nor do the titanium stakes. The complication is with requiring a perfect pitch of the rain fly, then often needing to adjust the rain fly and tent together once the tent is installed.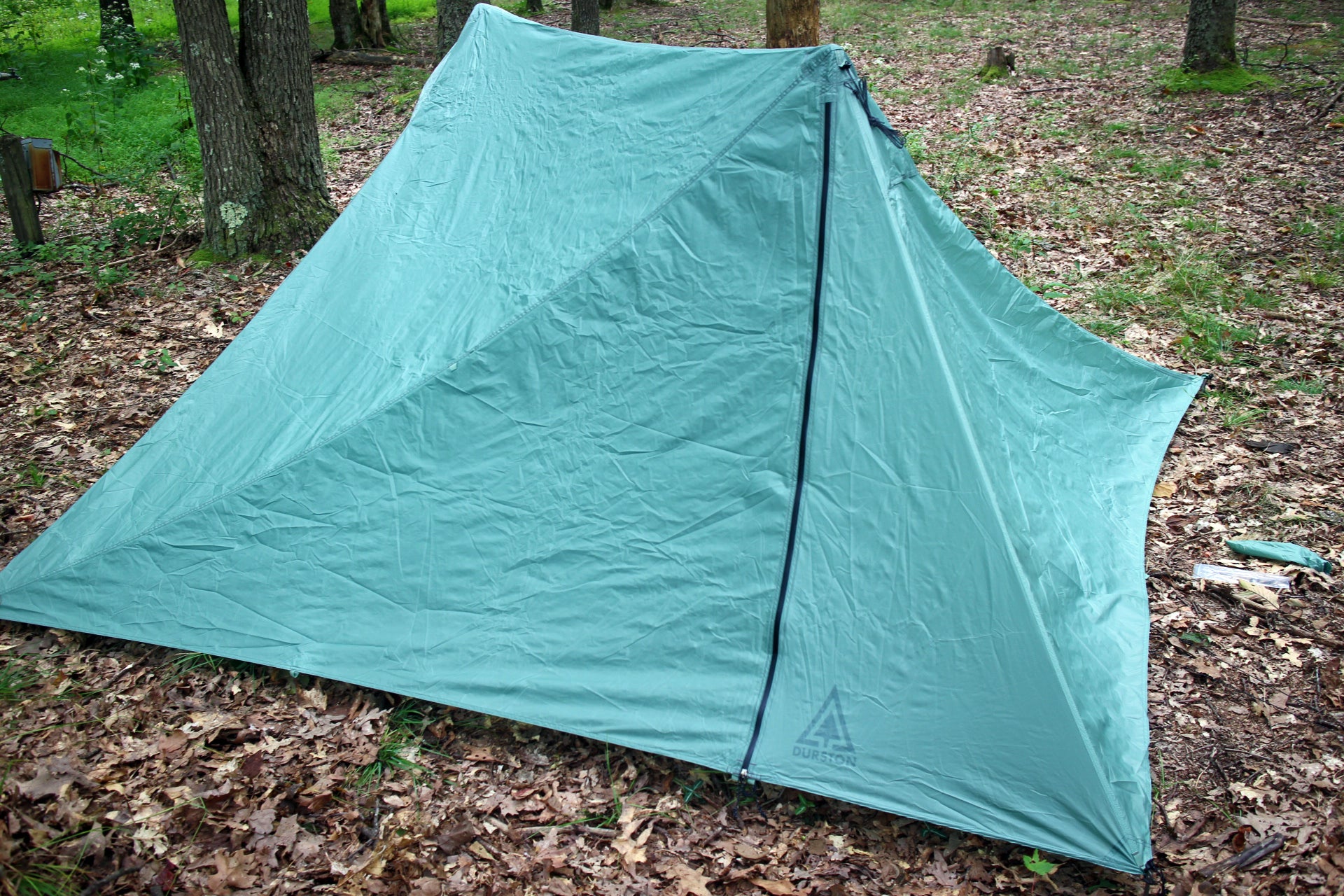 Difficult to get a picture perfect pitch with ideal tension on this thing, sometimes.
There were several instances while packing up where I would end up rolling the whole thing back into the stuff sack; inner and fly still connected after taking out the stakes. Knowing I would be too tired to fiddle with adjusting things a few inches when pitching separately sometimes feels like too much after hiking a dozen or more miles. This led to me often forgetting things in several of the four pockets. You don't know humble pie until you have to dig out your tent a few hours after packing it up to find your sunglasses you left in a door pocket.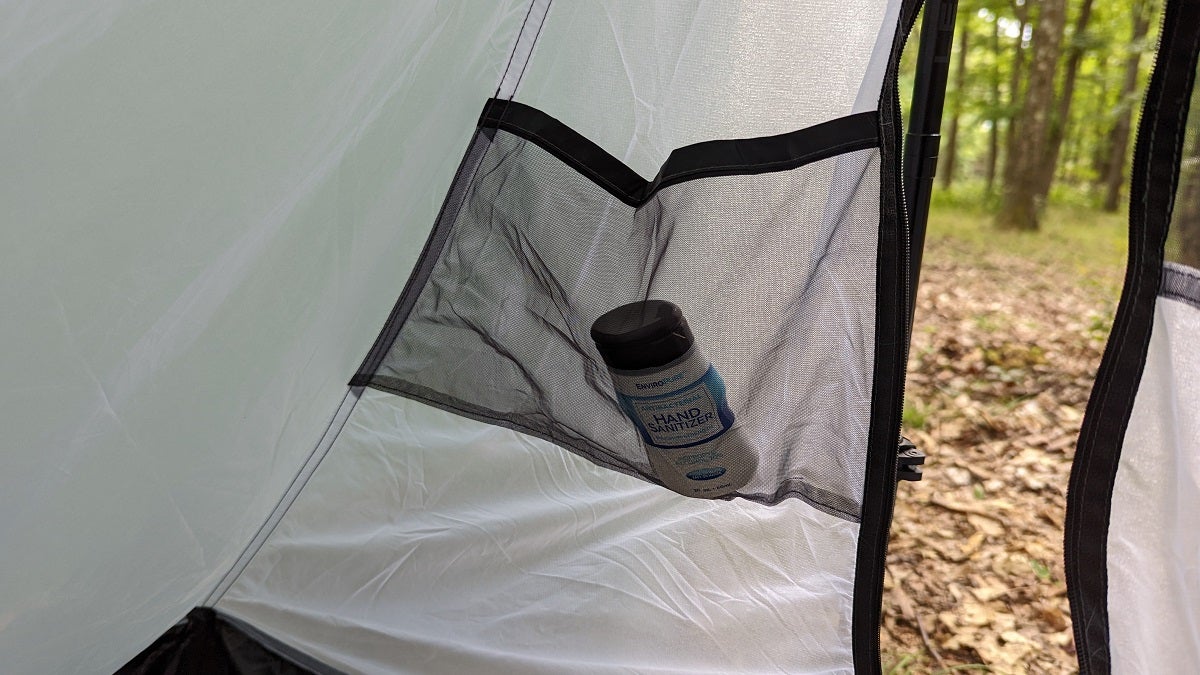 Dan Durston Gear X-Mid 2 Solid Wall Tent
How does it do as a two person tent you ask? I honestly can't tell you, as there were only a few hours which I had a second person in the tent with me. I can tell you two typical sleeping pads fit butted to each other comfortably, and that the 52″ inner width is generous compared to tents like the
Big Agnes Scout 2
or
ALPS Mountaineering Mystique 2.0
. While four or five inches of width do not sound like a vast amount of space between two people, it sure is enough to have a virtual wall of Jericho if someone is being fussy or gassy.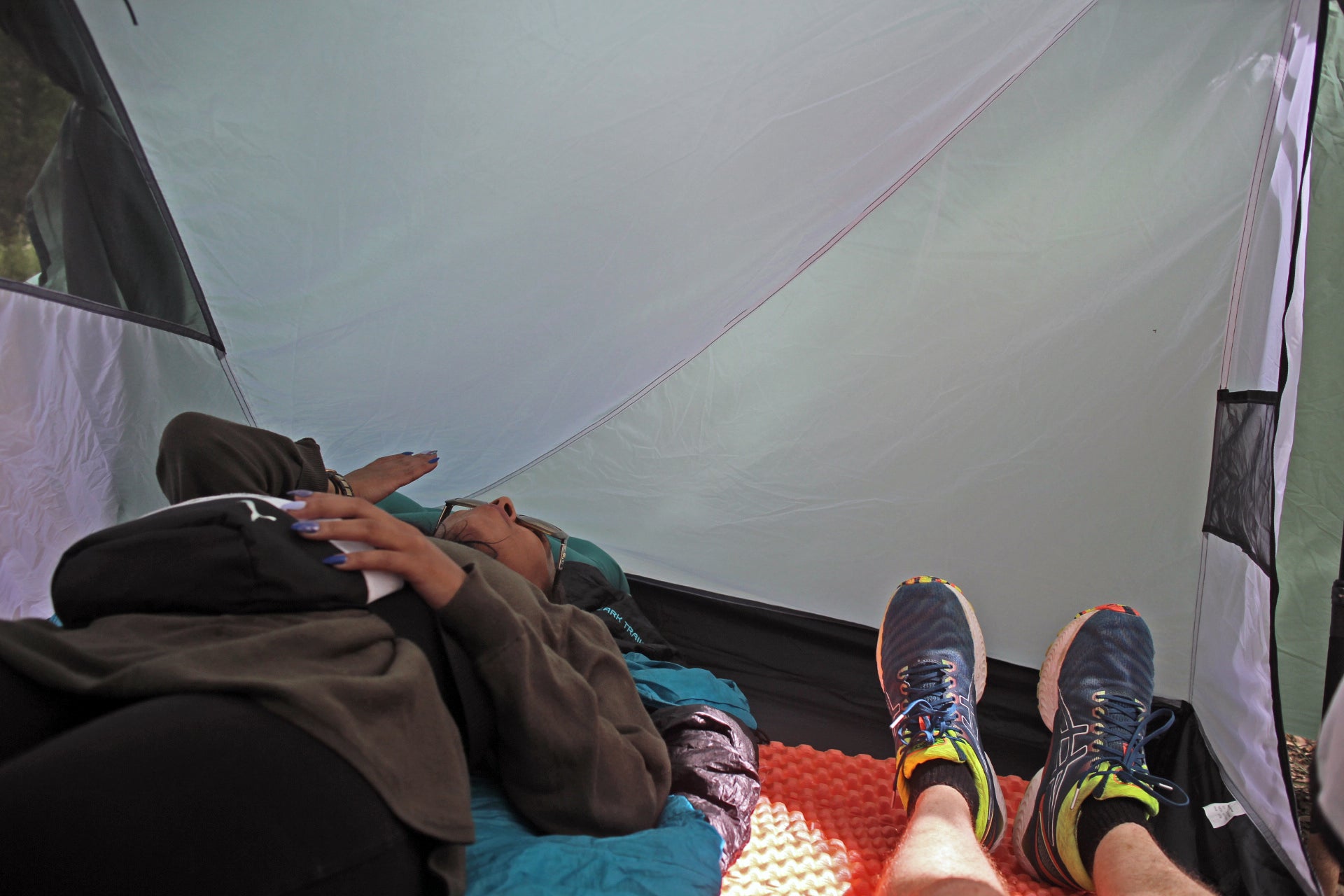 Dan Durston Gear X-Mid 2 Solid Wall Tent
As a 1-person person tent, this thing is like the Biltmore Estate of tents. For real, if you're like me and turn from side to side like a $5 rotisserie chicken at Costco, having this kind of space is amazing, as long as you can stay on your sleeping pad. for 230g (8 oz.), you're getting 13.2 additional square feet of floor space compared to the
X-Mid 1P
! Forget bringing your copy of Walden, and go for the big boy tent, as long as you believe your camp spots can fit something with it's footprint size.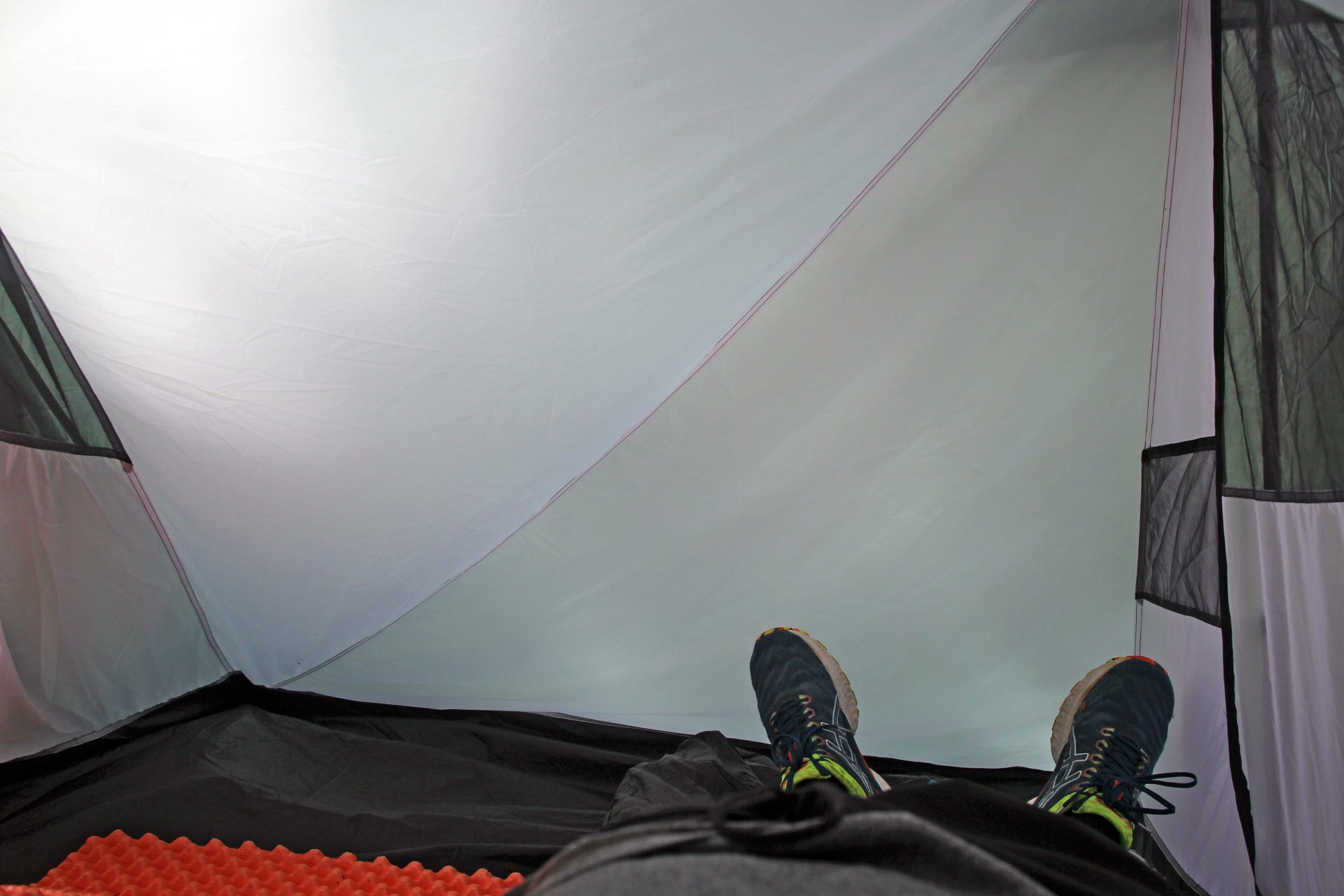 Dan Durston Gear X-Mid 2 Solid Wall Tent
Ventilation was handled well with the tent, as the adjustability of the rain fly to the ground, or slightly higher allowed a fair draft to keep air moving about, while still not getting into the actual tent due to the solid 15 denier nylon halfway up. There are two magnetic wands in the ceiling vents on the rain fly to allow additional ventilation. Due to the double door, double vestibule benefit of a 2p tent, I often ran the tent with the windy side of the tent's small vestibule door open, and the non-windy side's large vestibule door open. This allowed max airflow, with minimal temperature loss for me.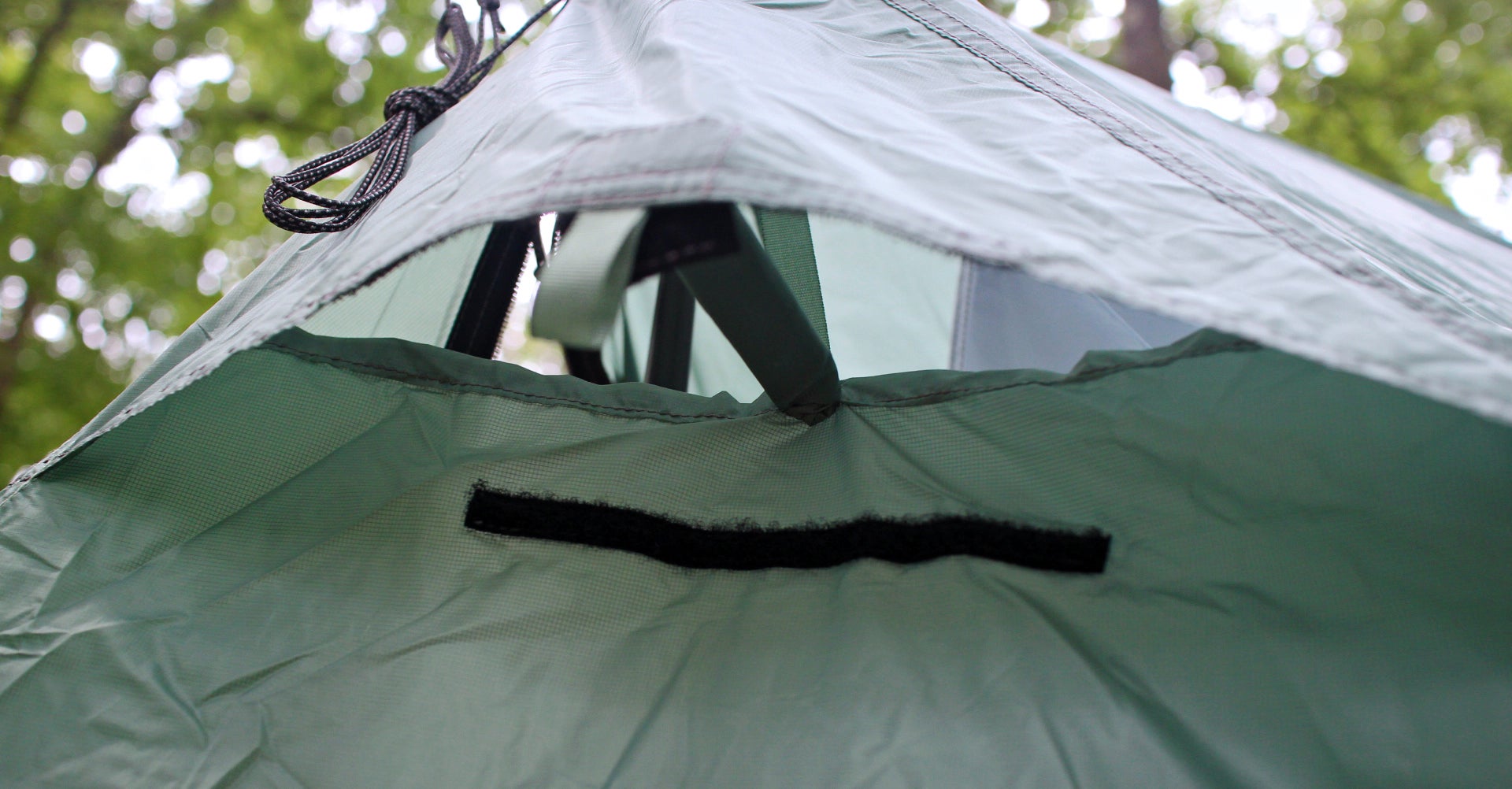 Dan Durston Gear X-Mid 2 Solid Wall Tent
Additionally, the vestibules while close to the inner tent wall, still allowed me to either lay down or sit up and cook breakfast while still being inside the comforts of the tent itself. You may experience some leakage coming down on you, or your stove if not careful due to the geometry of what is covered by the angles of the vestibule doors, or not.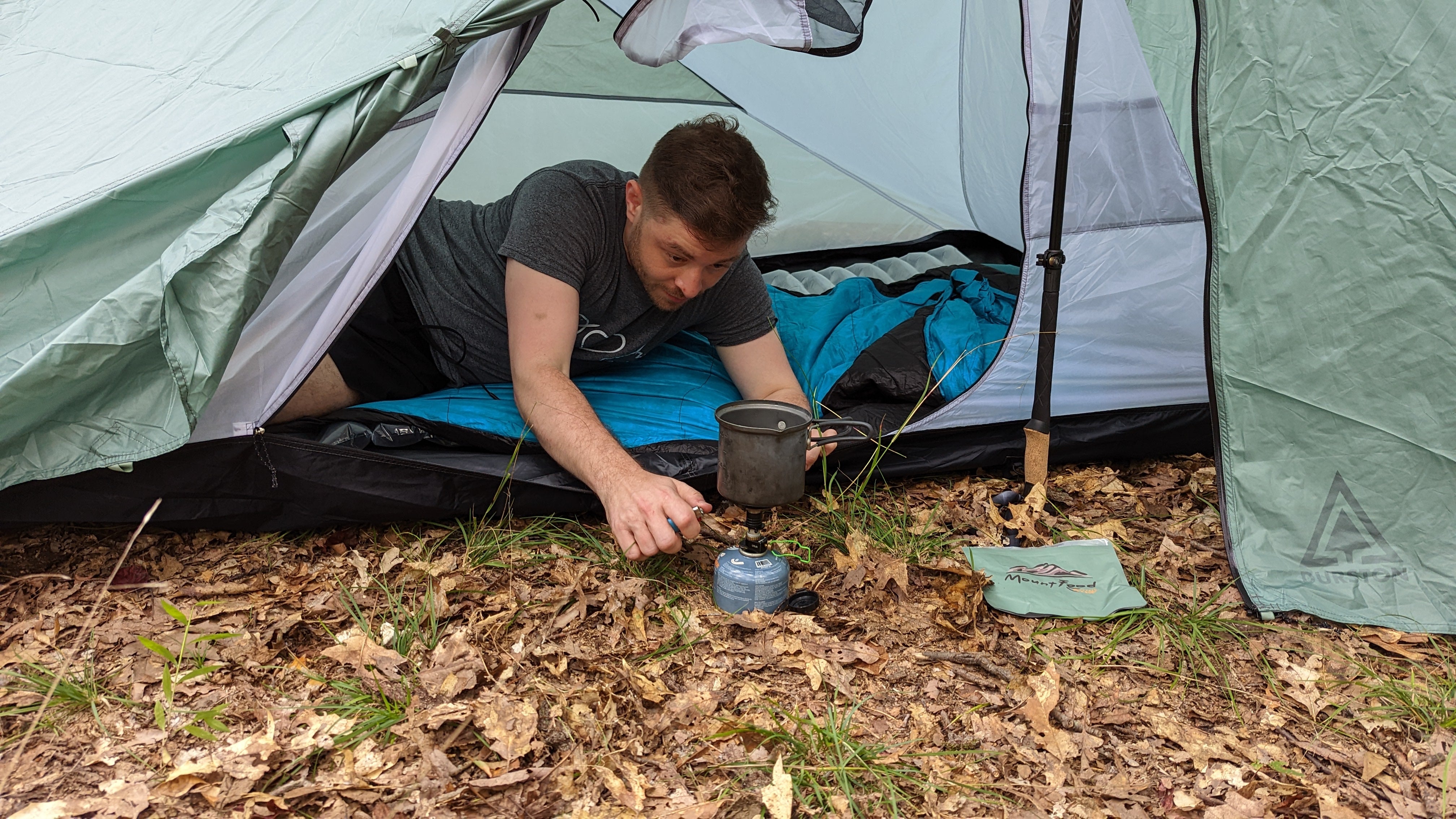 Dan Durston Gear X-Mid 2 Solid Wall Tent
Durability has not been a concern. I am always a worry wort and buy window insulation kits from the hardware stores every spring to have a half dozen polycryo sheets to throw under my tent. Polycryo weighs nothing compared to my old tyvek ground sheets, and packs down to a size of cards. Dan does have
groundsheets available to buy
, if one desired to.
X-Mid 2 Solid – Comparison
As several sites, such as Backpacking Light, Outdoor Gear Lab, and Section Hiker have all noted, the X-Mid 2 Solid bats above it's price point and weight class when it comes to space and durability. It is difficult to compare to tents in both the same weight and price class, as there are few, if none.
The
Black Diamond Beta Light 2P
is an ultralight shelter, with a rainfly and mesh bug skirt around the bottom. This shelter is $299.99, voluminous, and is 181 g lighter. Do remember, you will be sleeping on the ground to save those 181 grams.
The
ZPacks Duplex
could be considered if you wanted a floor and to remain light, as it is 141 g lighter than the X-Mid 2 Solid, but so will your wallet at $699.99. Dyneema is not cheap. Sewing Dyneema requires painstaking techniques and QC. This single wall tent likely punches a little higher than Durston's, but at double the price.
Specifications – Durston Gear X-Mid 2 Solid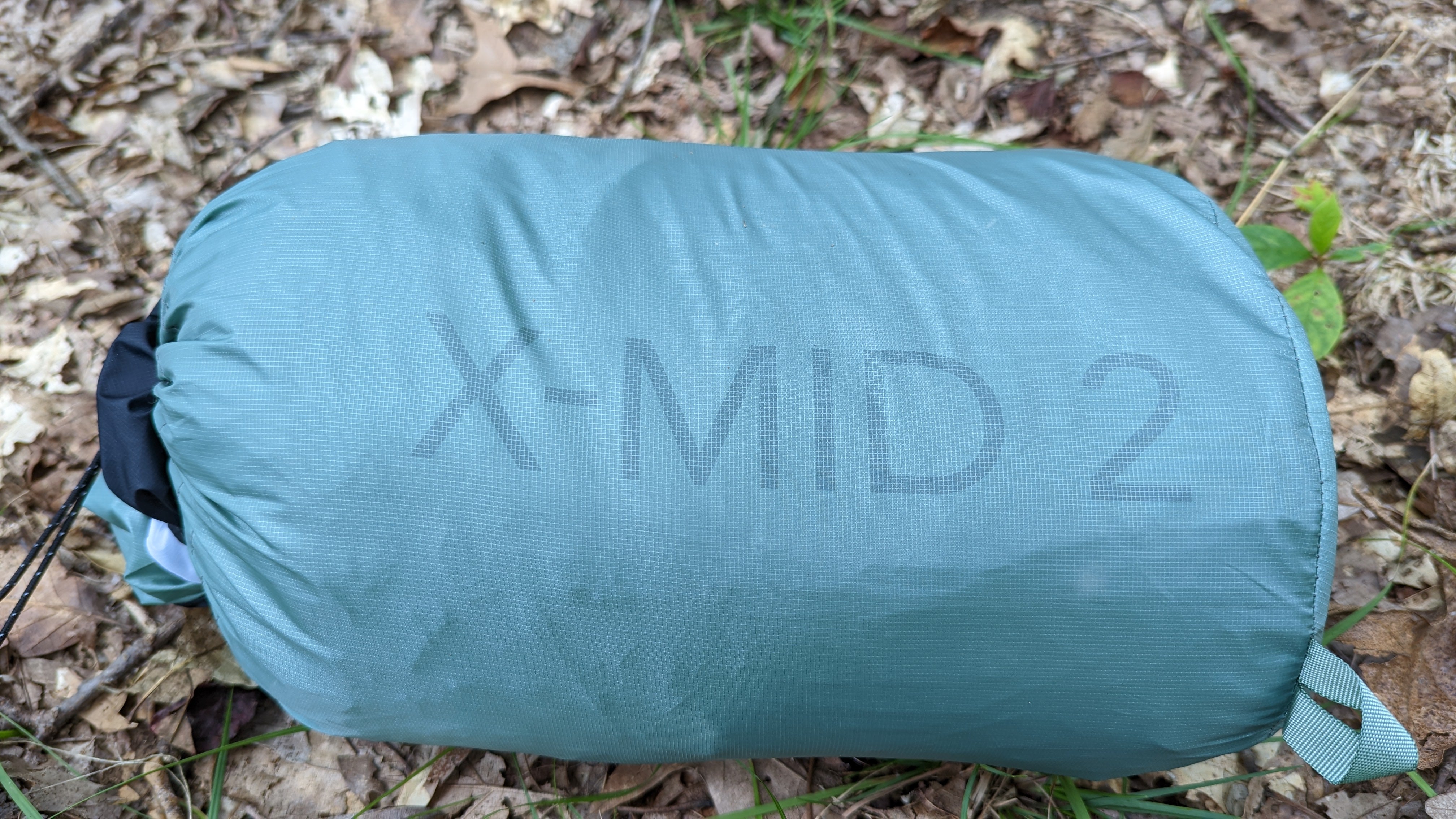 Dan Durston Gear X-Mid 2 Solid Wall Tent in stuff sack.
As per Durston Gear's site:
Features
Ultra-simple pitch with just four stakes
Solid inner fabric to block snow, sand, and winds
Fly zippers are reinforced with buckles at the base
Tent pitches fly first, so the inner tent stays dry during setup in the rain.
The twin pole structure provides generous headroom and living space.
Double-wall design protects from condensation.
Dual doors and dual vestibules provide easy access and ample gear space.
Protected doorways can be left open in light rain.
Doorways are large and not blocked by trekking poles like many designs.
Polyester fabric does not sag in the rain.
Polyester fabric does not absorb water, so it dries fast and stays light.
4 interior pockets provide handy storage.
Large vents provide excellent ventilation and close easily during harsh conditions.
Excellent snow shedding via steep roof panels
Full coverage fly extends to the ground to block drafts yet can be raised for more ventilation.
Packs short enough to store horizontally in a pack
Fly and inner can pitch independently
Magnetic door toggles for quick operation
Fully seam taped
Fully double-stitched construction
Non-slippery floor
Premium materials and hardware (e.g., YKK AquaGuard Zippers)
Optional stake points include 2 peak guylines, 2 side panel guylines, and an extra 8 stake points around the base.
Weight
Fly: 21.0 oz / 595 g
Inner: 15.5 oz / 440 g
Stuff sack: 0.5 oz / 15 g
Stake sack: 0.2 oz / 4 g
Stakes: 4 Ti hooks @ 8g, 4 Ti V stakes @ 12g
Tent (fly + inner): 36.5 oz / 1035 g
Complete package: 39.9 oz / 1135 g (tent, stuff sacks, 8 stakes)
Materials
20 denier polyester in Alpine Sage (fly) or anthracite (floor) + 15 denier nylon in white (inner solid fabric)
2500mm sil/PEU coating
Peak reinforced with 210d black nylon
YKK #5 AquaGuard (water-resistant) zippers (fly) + #3 zippers (inner tent)
4 titanium shepherd's hook stakes +4 titanium V stakes
Dimensions
Fly: 83 x 100 in / 210 x 254 cm
Fly area: 57.6 sq ft / 5.35 sq m
Fly peak height: 48 in / 122 cm
Inner peak height: 45 in / 114 cm
Floor width: 52 in / 132 cm
Floor length: 92 in / 234 cm
Floor area: 33.2 sq ft / 3.1 sq m
Vestibule area: 23 sq ft (11.5 sq ft x 2) / 2.1 sq m (1.05 sq m x 2)
Packed size: 12 x 6.5 in / 30 x 17 cm
MSRP (as of September 15, 2022): $33900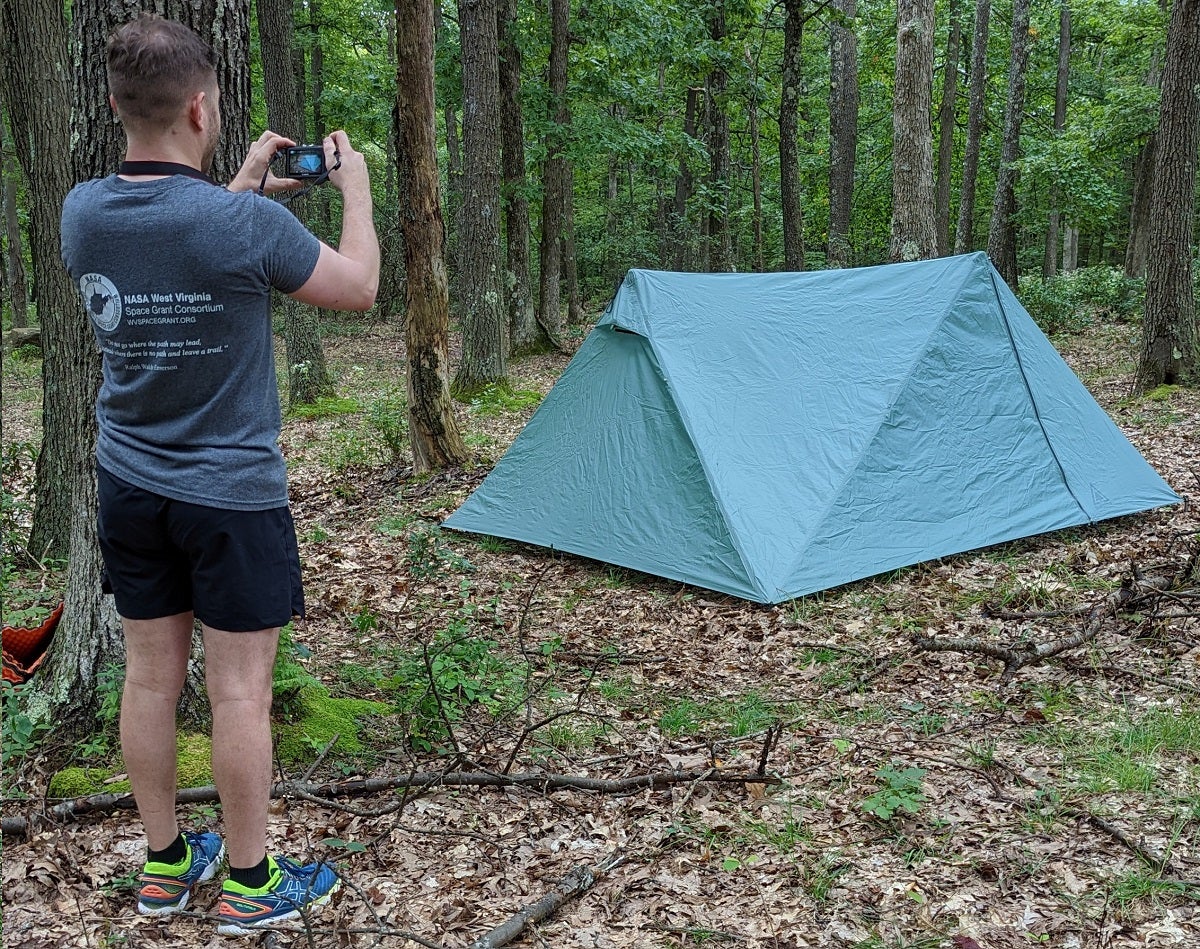 P.S. – If you pitch a perfect tent and no one sees it on the Gram, did it even ever happen?
Come join
AllOutdoor's Discord server
and chat about Archery, Firearms, Fishing, etc. with others! Sneak peaks, early notifications, and perks await.

We have a
Tiktok account
, too!
The post
The Path Less Traveled #063: Durston Gear X-Mid 2 Solid Review
appeared first on
AllOutdoor.com
.
Read the full article here...