Discussion Starter
·
#1
·
At the 2021 Outdoor News America Gun Writers' Conference near Dallas, I had the opportunity to meet representatives of a company that was once considered the avant garde, new kid on the block, but is now an industry standout. Suppressor manufacturer
Silencerco
has weathered good and bad times in the industry, and is currently enjoying robust growth, according to Social Media and Public Relations Manager Matt Pinnell. He's on his "third tour" with the company, which is based in gun-friendly Utah near Salt Lake City. Pinnell clearly loves his job, and is proud of not only its products, but also its environmentally responsible ways. "We recycle tons and tons of steel and aluminum, using over 200 employees and 30 CNC machines," he said.
In some nations, insurance companies incentivize suppressor use because it's "preventive medicine." But as Obama-era voters know, the US legislature never enacted the Hearing Protection Act to remove the $200 tax stamp/background check requirement from purchases. As a result, SilencerCo's wares remain in the domain of the well-heeled. Pinnell shared a tale of an American friend who, while visiting New Zealand, went to the local hardware chain and bought a .22 suppressor for $6.
In addition to political non-acceptance, firearm noise suppression devices face cultural prejudice. Corporate media emphasizes their connection to gangster culture of yesteryear. According to Pinnell, the actual dominant historical use of silencers wasn't gang-related, but was nevertheless illegal. Silencers, he said, were a device of choice for poachers of the past. SilencerCo has, in its relatively short history, fought stereotypes and provided solid education on its product using catchy, information-rich media campaigns.
"One of the reasons I love working for SilencerCo is we're always trying to do some cool ****," Pinnell said as he described the history of the company's flagship rimfire can. It's called the Sparrow 22, and it outperforms competitors' products by being accessible for cleaning and having virtually unlimited longevity in terms of round count.
On the centerfire front, the pack leader is the regularly updated Omega 300. It's the can that allowed SilencerCo to become a big-league player in the suppressor space and in the gun industry overall. It's the most-sold suppressor of all time, thanks largely to its adoption by hunters – a segment of the shooting industry that had previously not shown interest in suppressed shooting. "It was a development we never expected," said Pinnell.
Spinoffs of the original Omega design populate the SilencerCo catalog today. A modular interpretation called the Omega 36M is a customer favorite. It inspired the company's newest rollout, announced at the Outdoor News America Conference.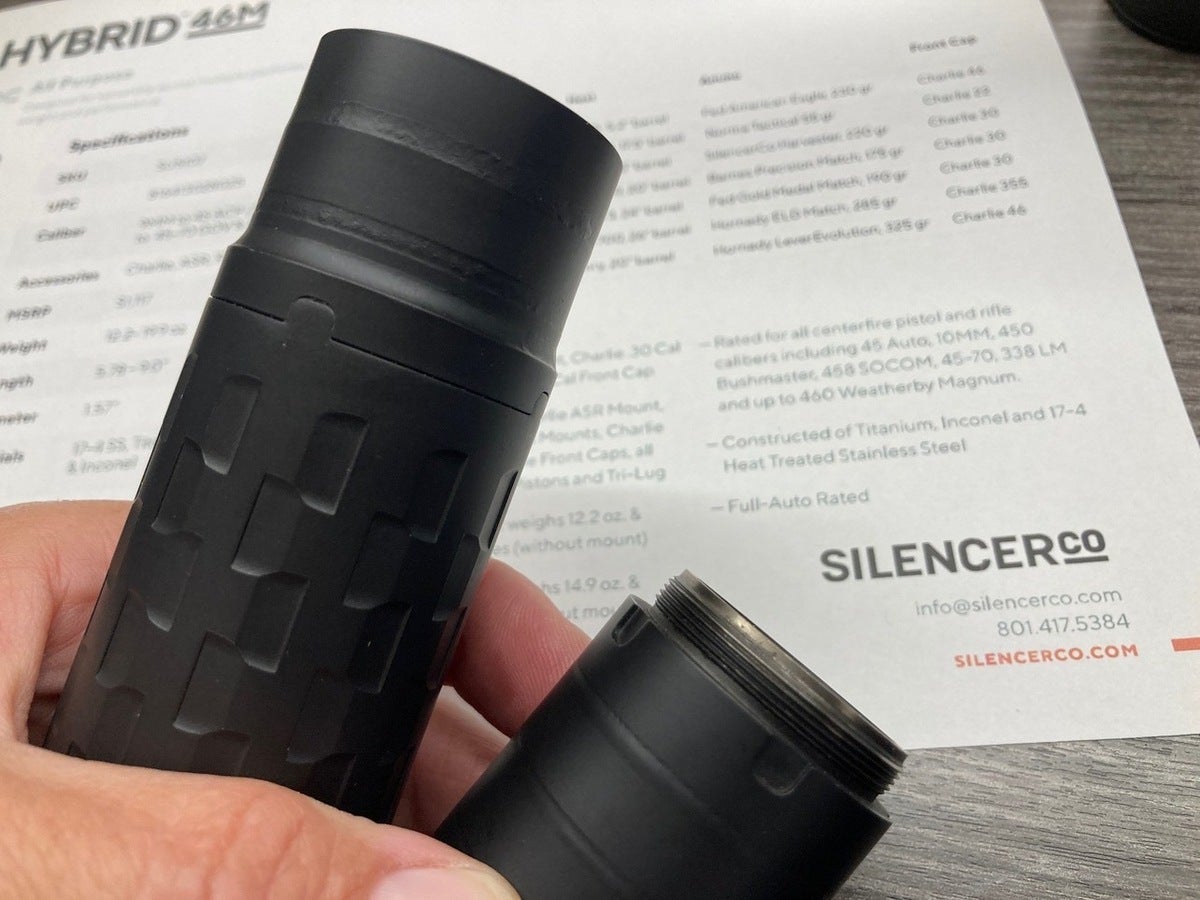 Hybrid 46M is all about adaptability.
The new suppressor is called
Hybrid 46M,
and its operational theme is adaptability. It weighs from 12.2 to 19.9 ounces depending on the configuration chosen by the user. It can tame any centerfire rifle blast from .223 to .338 Lapua, all to hearing-safe standards. It also will work with pistol caliber centerfire guns, and will tolerate full-auto operation. "This is going to be the gateway suppressor for anyone," said Quinton Mount, Armor and Marketing Coordinator for SilencerCo. The Hybrid 46M is so named because it strikes a balance of weight and performance to serve as a one-can-fits-all solution for hearing protection and noise reduction.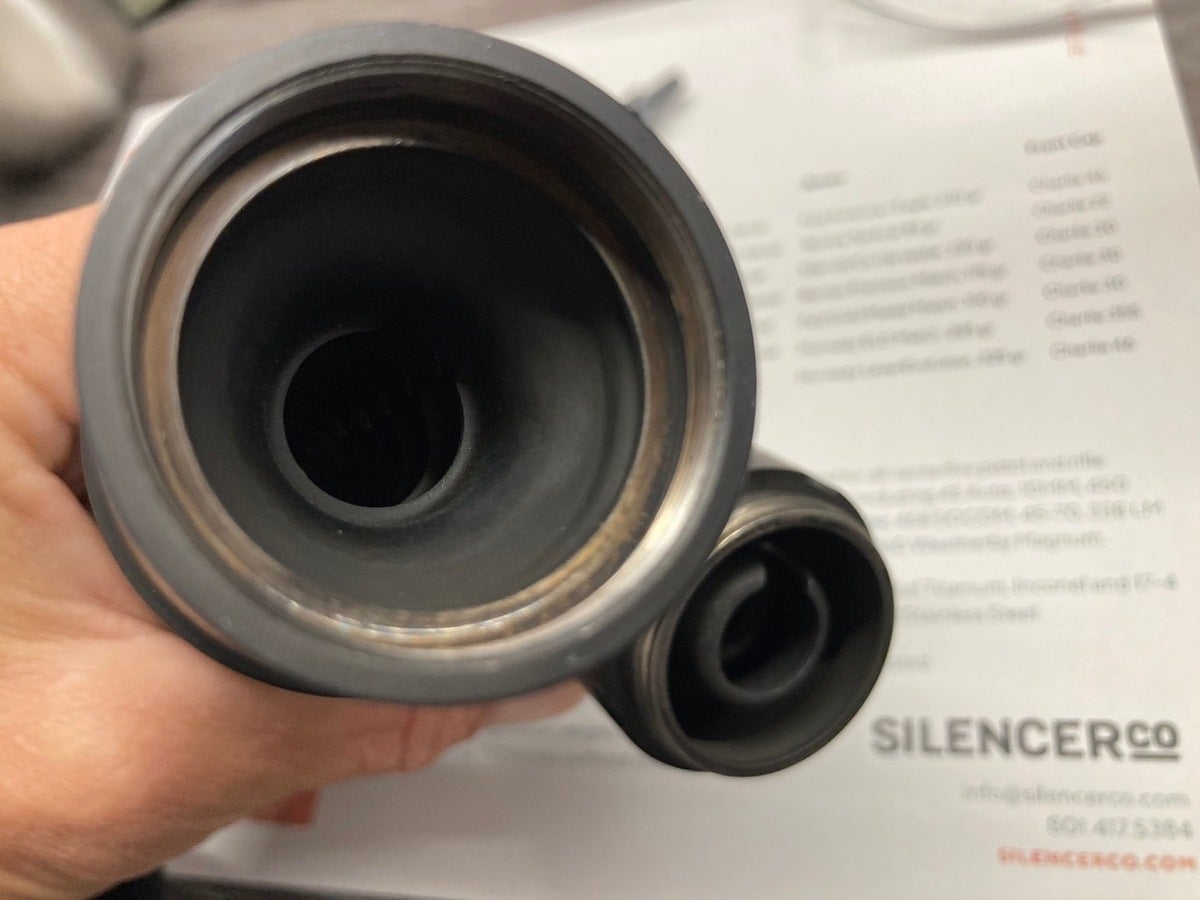 The "baffling" view inside the Hybrid 46M.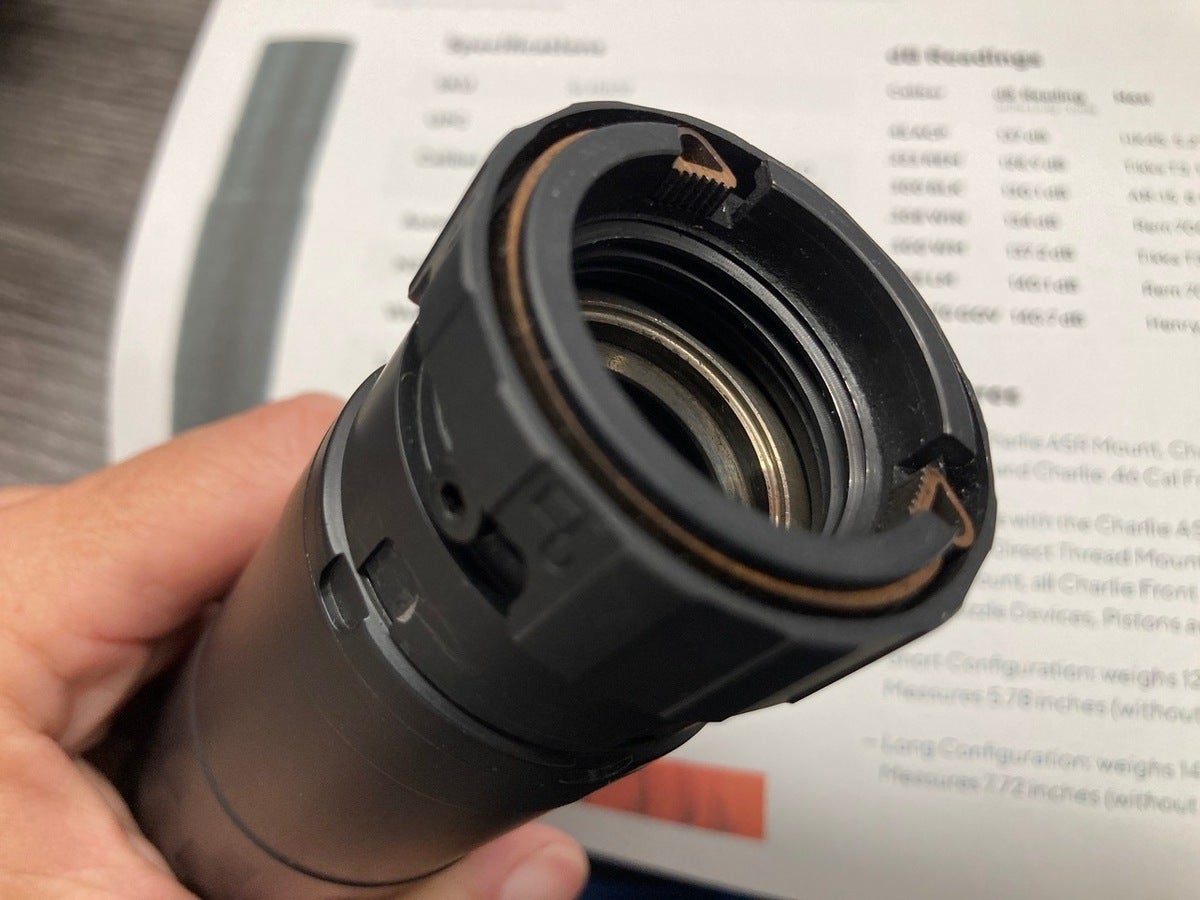 The lock-on end of the Hybrid 46M
The interchangeable front cap, which easily screws onto the front of the device, adds a five-decibel reduction when the cap is correctly matched to caliber though smaller cartridges can be run through "cans" wearing a larger cap. Users should refer to their owner's manual for guidance on cap selection.
The Hybrid 46M is available to order now. It ships with SilencerCo's Charlie ASR mount, two Charlie basic tools, Charlie multi-tool, and owner's manual. The MSRP is $1,117. Ordering instructions are on the company website. SilencerCo rifle suppressors are designed to run dry with no added water or oil though their handgun-caliber suppressors are made to run with liquid added. Users should expect the dampening effects of liquid to last up to 10 rounds.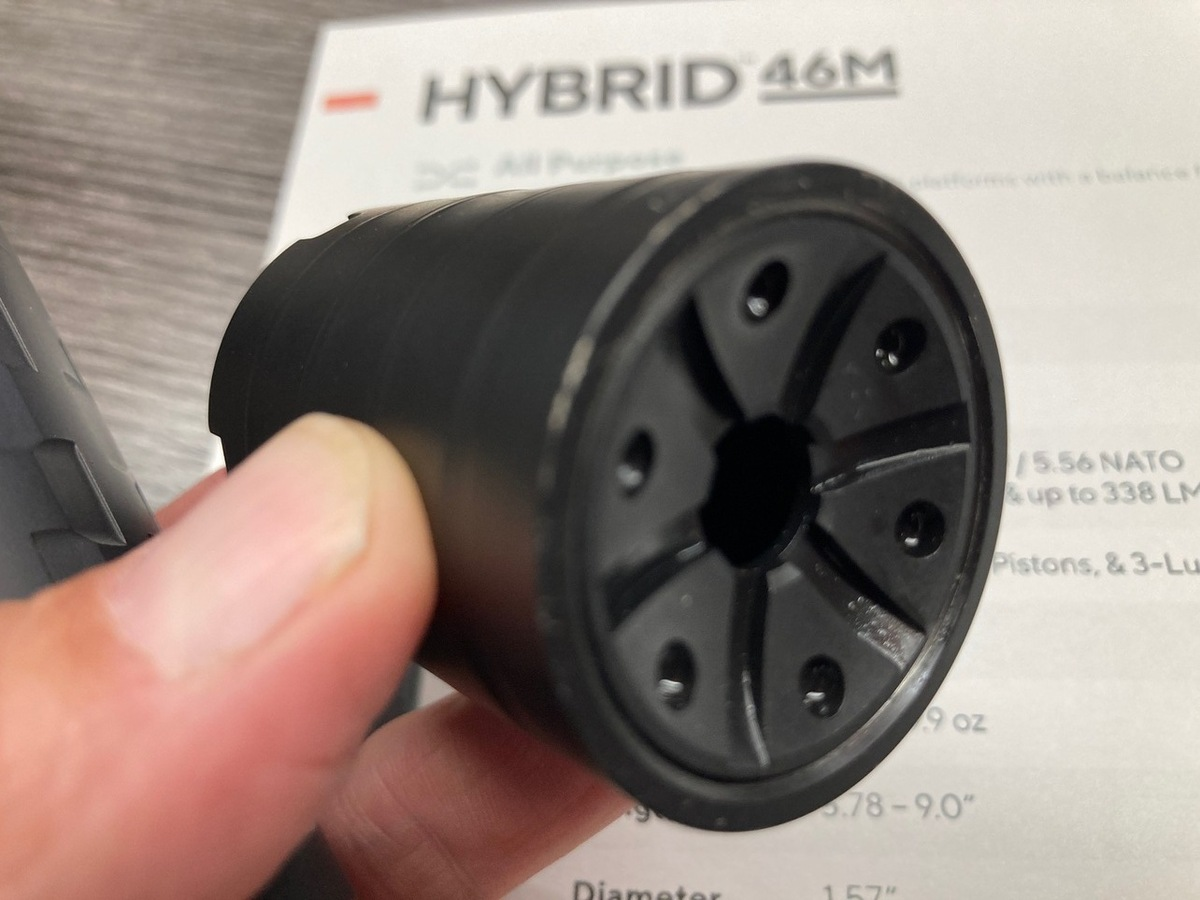 One of the many caps to customize the Hybrid 46M and lose 5dB.
One thing that was clear from the presentation is that SilencerCo is about customer service. Suppressor caught in a house fire and/or dropped from a truck onto boulders, chomped on by wolverines, or some other unforeseen misfortune? They'll rebuild it and send it back quickly. "People waited long enough for their tax stamp," Pinnell said, "they shouldn't have to wait for us."
Specifications: SilencerCo Hybrid 46M Centerfire Suppressor
Pistol Cartridges: 9mm to .45 ACP
Rifle Cartridges: 5.56 NATO to .45/70 Government including .338 Lapua Magnum
Length: 5.78″ to 9″ depending on attachments
Diameter: 1.57″
Weight: 12.2 to 19.9 ounces
Materials: 17-4 Stainless Steel, Titanium, and Inconel
The Hybrid 46M tamed the voice of this 300BK significantly. I'm only wearing earpro because of unsuppressed fire nearby.
Decibel Ratings from Hybrid 46M Testing
Heckler and Koch HK45 .45 ACP | 5.2" Barrel | Federal American Eagle 230 Grain | Charlie .46 Cap | 137 dB
Tikka T3 .223 Rem | 17.5" Barrel | Norma Tactical 55 Grain | Charlie .22 Cap | 128.9 dB
AR-15 .300 Blackout | 8.5" Barrel | SilencerCo Harvester 220 Grain | Charlie .30 Cap | 130.1 dB
Remington 700 .308 Win | 20" Barrel | Barnes Precision Match 175 Grain | Charlie .30 Cap | 134 dB
Tikka T3 .300 Win Mag | 24" Barrel | Federal Gold Medal Match 190 Grain | Charlie .30 Cap | 137.2 dB
Remington 700 .338 Lapua Mag | 26" Barrel | Hornady ELD Match 285 Grain | Charlie .355 Cap | 140.1 dB
Henry .45-70 Gov't | 20" Barrel | Hornady LeveRevolution 325 Grain | Charlie .46 Cap | 140.7 dB
The post
SilencerCo Drops NEW Hybrid 46M Silencer at Gun Writers' Conference
appeared first on
AllOutdoor.com
.
Read the full article here...