Discussion Starter
·
#1
·
Welcome to today's AllOutdoor Photo of the Day! Today we are looking at a JP Enterprises LRP-07 chambered in .308 that has helped me harvest many a wild boar and a few rams over the years. This most recent harvest was done at the last of last light. To get very close to boar, I get to a shooting location before they come out of the forest to fight and feed in the open at dusk. I try to hide in pockets in the terrain that will keep me shielded from prevailing winds and then make a quick ad-hoc ground blind. This time, I had it dialed in perfect in a pocket of ferns, as some pigs were running about 10 yards next to me to get into the prime action, without noticing I was there. The twilight became so dim that I could barely see detail on the swine through my 3.5x ACOG, but I waited for a nice boar to step clear of the group about 90 yards away from me. I had about two seconds to fire, and did so. The Federal 180gr Nosler Partition zipped across the forest clearing, and the boar took two long strides towards the thick forest and slid into darkness.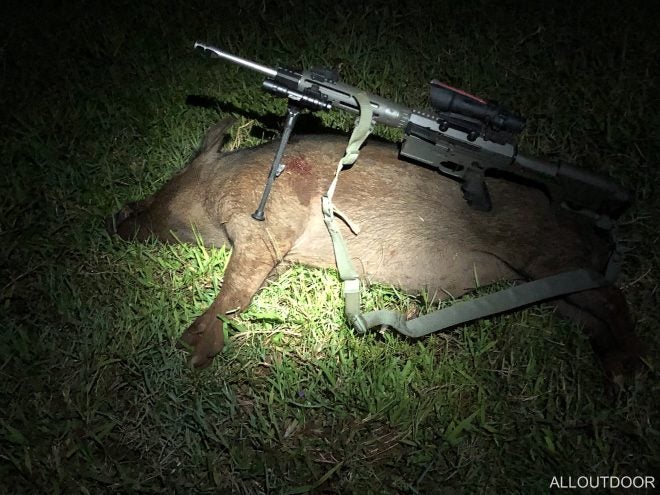 JP LRP-07 w wild boar
Had I solidly connected? That is the post-shot thought of many a hunter in the gathering darkness. The forest I was hunting on the edge of was so thick that one could easily lose poorly-hit game in its confines, and it became pitch-black right after my shot. I clicked on my rifle's Surefire Scout Light, and traveled the path I saw the boar take. There, under a thick bush, was the still form of the boar. I had made a solid hit, and those two strides towards the darkness were it's last. Though I've been hunting wild boar for a long time, I primarily hunt them for depredation and for meat. By pure happenstance, this boar had the added bonus of having the nicest tusks of any boar I've taken yet. Even better-every bite so far has been delicious!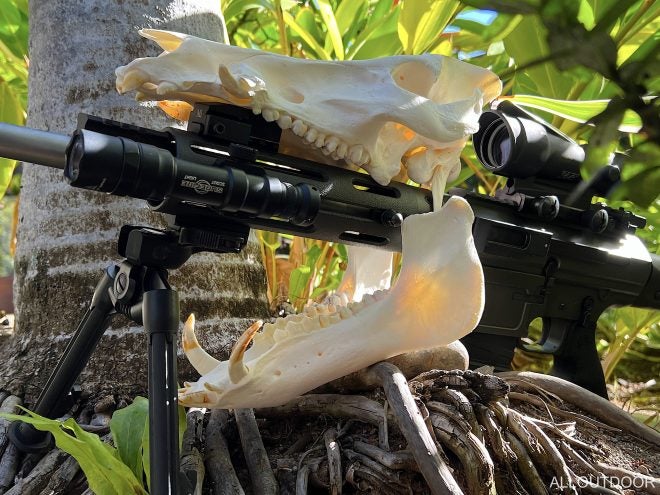 JP LRP-07 w wild boar
JP Enterprises LRP-07 Rifle Specs
JP Enterprises LRP-07
16″ cryogenically treated button rifled barrel chambered in .308/7.62; 1:10 twist
Magpul PRS Stock
Hogue Grip
Trijicon TA11E w/.308 BDC
Blue Force Gear Vickers Sling
B&T NAR Bipod
Surefire Scout Light
Federal 180gr Nosler Accubond Ammunition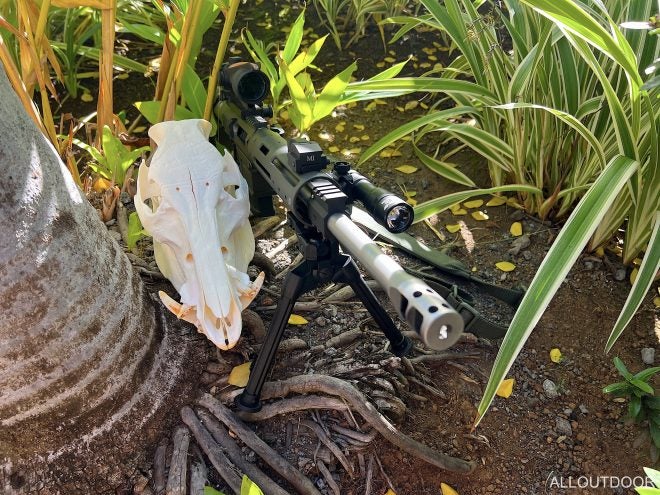 JP LRP-07 w wild boar
The post
POTD: JP Enterprises LRP-07 Brings Home the Bacon from Hawaii
appeared first on
AllOutdoor.com
.
Read the full article here...