Discussion Starter
·
#1
·
Welcome to today's
Photo of the Day
! Here we have a really cool reproduction of a World War Two spy gun. This is (supposed to be) an OSS Hi-Standard integrally surprised 22lr pistol. This pistol was actually manufactured or at least distributed by Arms Tech LTD. The OSS Hi-Standard has long been an identifiable silhouette whether you see it in a book, movie, or nowadays a video game. Back in the day, the Hi-Standard 22 pistols were known for their reliability and great accuracy. Mix those two things with its straight blowback design and a suppressor and you will get a very quiet spy gun with the right ammunition. These pistols used the existing Model HD target pistol design but were dubbed a name of their own, the HDM.
"Distributed by Arms Tech of Phoenix, Arizona as a faithful reproduction of the U.S. Property HDM suppressed pistol used by OSS agents, and perhaps most famously by CIA pilot Francis Gary Powers, who had one in his possession when he was captured after his U2 spy plane was shot down while on a reconnaissance mission over the Soviet Union in 1960. The pistol features a perforated barrel with threads and a spring detent at the back for the attached Arms Tech suppressor (numbered to the gun), with a fixed blade front sight, adjustable notch rear sight, standard frame and slide markings, and checkered grips. The pistol and suppressor include a Brooks & Thomas case with two extra magazines, 1 box (50 rounds) of Aguila .22-SSS (Sniper SubSonic), 1 box (50 rounds) of Peters .22 High Velocity, and partial (91 rounds) plastic case of Remington .22 LR ammunition."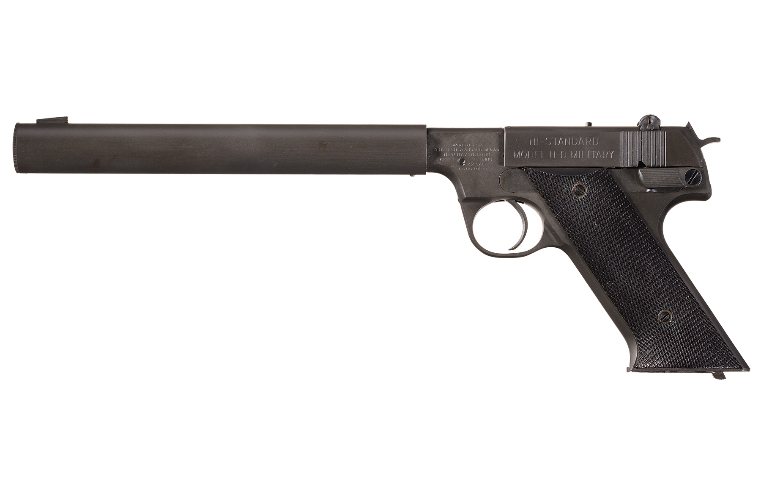 Lot 3413: Arms Tech Oss Hi Standard Pistol with Suppressor and Case. (n.d.). Rock Island Auction Company. photograph. Retrieved March 8, 2023, from
https://www.rockislandauction.com/d...s-hi-standard-pistol-with-suppressor-and-case
.
The post
POTD: Good Enough for Spies – OSS Hi-Standard HDM
appeared first on
AllOutdoor.com
.
Read the full article here...