Discussion Starter
·
#1
·
Welcome to today's
Photo of the Day
! Here we have an interesting Frankenstein of a mid-19th-century carbine. This is the Greene Carbine patented in 1854 and manufactured by the Massachusetts Arms Company. Unlike the bulk of POTDs of late were not American Civil War small arms. These were produced initially for military testing, trials, and civilian guns before Great Britain put in order of 2000 of them. Little did they know the mechanism is a little complicated. These rifles used a percussion tape method of igniting paper cartridges. This I have talked about before in a previous POTD and it is called the Maynard Primer (think cap gun tape). The way this gun operates is via two triggers. the front-most trigger unlocked the action. While pulled the barrel can be rotated, pulled forward, and flipped to the right so a paper cartridge can be inserted before the barrel is replaced and locked. After this, the user would cock the hammer, mechanically feeding the percussion tape forward over the nipple. The rearmost trigger would drop the hammer and fire the rifle.
"Only 2,000 Greene carbines were manufactured by the Mass. Arms Co. in the mid-1850s for the British for use in the Crimean War. They differ from the American type in the larger caliber, the use of Queen Victoria's "St. Edward's Crown/VR" cipher behind hammer on the lock, the British proofmarks, shorter barrel, hexadecagon section ahead of the rear sight, sling ring on the trigger guard tang, and the use of casehardened steel for the butt and patch box instead of brass. All but a couple hundred are believed to have been scrapped for parts, and few are believed to have seen actual British military use. This example has the standard blade and folding ladder sights, "MASS ARM. CO./CHICOPEE FALLS/U.S.A. 1856″ behind the cipher on the lock, Maynard patent marking on the primer door, British proofs, the two-line Greene patent marking on the upper tang, and matching serial numbers."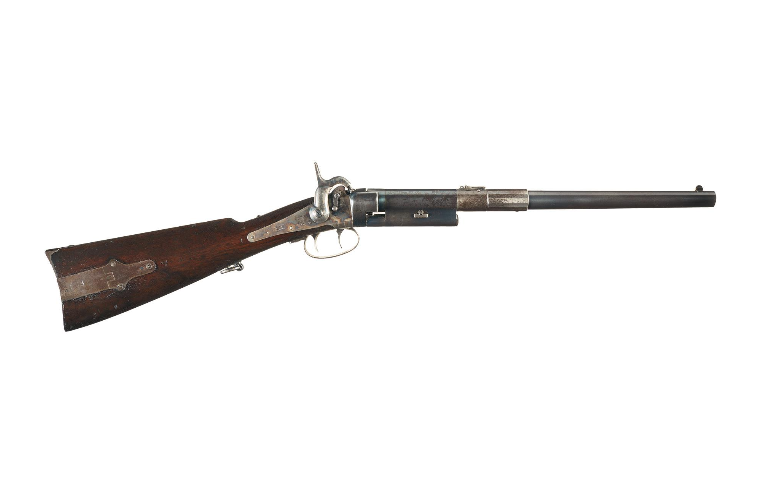 Lot 109: Massachusetts Arms Co. Greene Carbine
. (n.d.). Rock Island Auction Company. photograph. Retrieved May 11, 2022, from
https://www.rockislandauction.com/detail/69/109/massachusetts-arms-co-greene-carbine
.
The post
POTD: Awkward and New – The Massachusetts Arms Co. Greene Carbine
appeared first on
AllOutdoor.com
.
Read the full article here...