Discussion Starter
·
#1
·
Welcome, if you are a newcomer to this fun bi-weekly segment of
AllOutdoor.com
! The last time around I covered the
history,
variations (
Part II
and
Part III
), dating, and aftermarket parts/accessories of a German pistol which is one of my absolute favorites. In this article, we are continuing the Mauser Construktion 96. Finally, we are into the shooting business. I love taking this classy gal out to the range. Let's dive right into the rabbit hole once again with the C96 Broomhandle!
Welcome to our recurring series of "Curious Relics." Here, we want to share all of our experiences, knowledge, misadventures, and passion for older firearms that one might categorize as a Curio & Relic – any firearm that is at least 50 years old according to the ATF. Hopefully along the way you can garner a greater appreciation for older firearms like we do, and simultaneously you can teach us things as well through sharing your own expertise and thoughts in the Comments. Understanding the firearms of old, their importance, and their development which lead to many of the arms we now cherish today is incredibly fascinating and we hope you enjoy what we have to share, too!
Redman's Rifling and Reboring: C96 Broomhandle
I wanted to kick this part of the C96 Broomhandle Mauser series of articles off with this specific portion. My absolute love of this gun and enjoyment at the range with it is a big thank you to Randall Redman with Redman's Rifling and Reboring. You see, when I acquired this pistol which had long been on my list, it was shot out. The rifling was there but it was faint from years of shooting surplus corrosive ammunition and not being cleaned. Shooting it at a paper target 10 yards away would yield a shotshell pattern of keyholes. Redman's Rifling and Reboring is a business run by the aforementioned Mr. Redman. He has been running his business since 1973 and if my gun is anywhere near an example of the service he offers it is a very professional and high-quality service. I sent my upper assembly off to him to get relined and he did a fantastic and impressive job. I may be getting a little ahead of myself by saying this but it is worth it. My gun has yet to jam and the groups are far better and as expected of a brand-new C96 Broomhandle. In case you miss the caption, this photo is from before it was restored.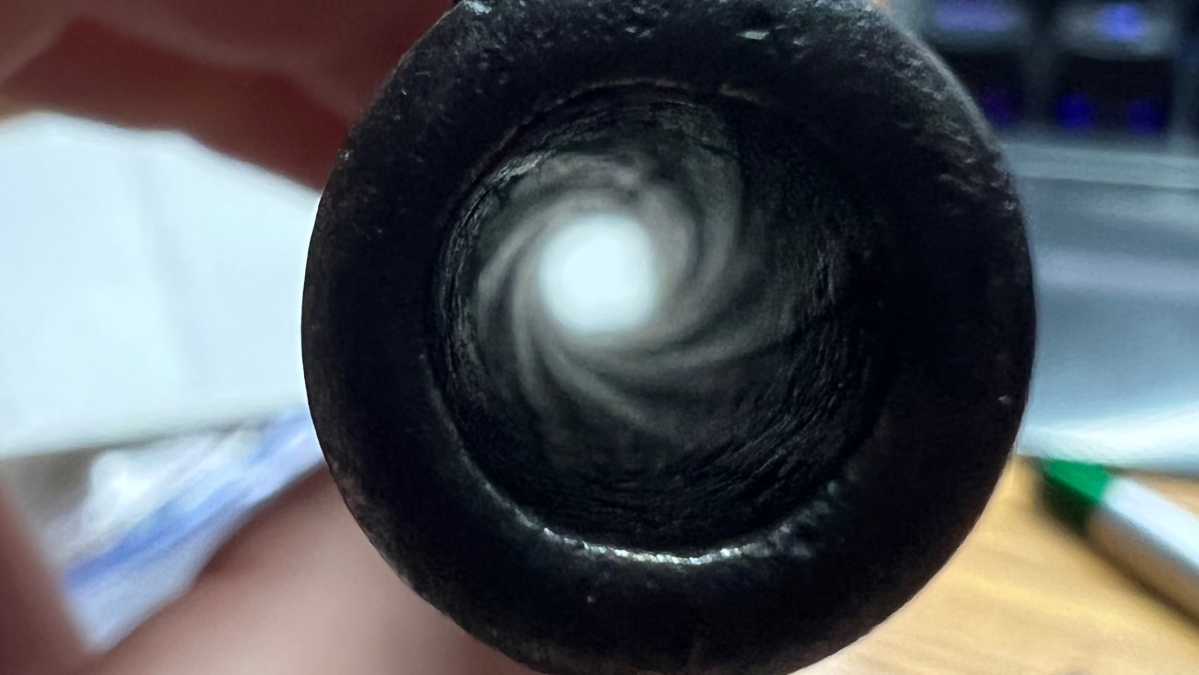 The rifling before it was relined to pristine condition
I had the very pleasant opportunity to speak with Mr. Redman. He was very nice and hoped I was happy with the work. By the sound of it he has been very busy. Very few people do the sort of thing he does and I am sure he would enjoy talking to people who want to learn how or want to start their own rifling and reboring business. If you yourself decide to send off a piece to be worked on I urge you to be patient. This sort of service comes at the added cost of time. I waited a good bit of time but it was totally and entirely worth it. Be patient and the best results will come.
Sincerely, from me, thank you very much, Randall Redman!
Range Time: C96 Broomhandle
As I probably alluded to this gun is an absolute joy to go to the range with. I have owned this gun for over a year now, and have probably taken it out. A dozen times I was fortunate enough to take one of these apart when I was going to college for gunsmithing. It was there that I learned the proper way to hold the Mauser C96 Broomhandle. You see, the Mauser C96 is an awkward sort of pistol. This is not to say that it is uncomfortable, the angle of the grip plus the lack of any sort of Beavertail makes the shooter increasingly susceptible to receiving hammer bite. For those of you who do not know what hammer bite is, it is when the hammer either flies back and strikes the web of your hand or literally bites a chunk out of the web of your hand between your thumb and your pointer finger. unfortunately, the latter is the most common occurrence associated with this pistol. Since I was given this heads-up years before, I was properly prepared and have yet to have any sort of injury.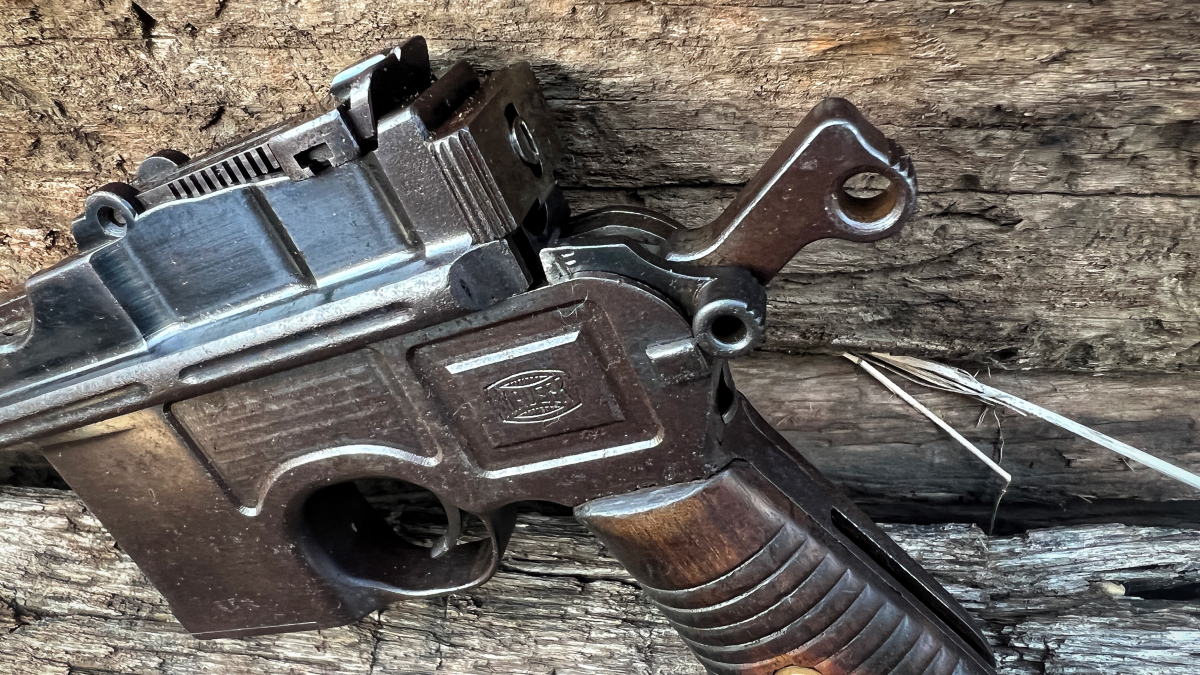 I am going to attempt to describe every conceivable detail about shooting this pistol. It has quickly become one of my favorite handguns to shoot. Starting at the muzzle, the front sight is a large thick triangle. Luckily, it does pair nicely with the large V notch in the rear sight. The rear sight is a ladder adjustable sight that starts at 50 meters and goes out to an optimistic 1000 meters. That lowest setting works just fine for 15 yards.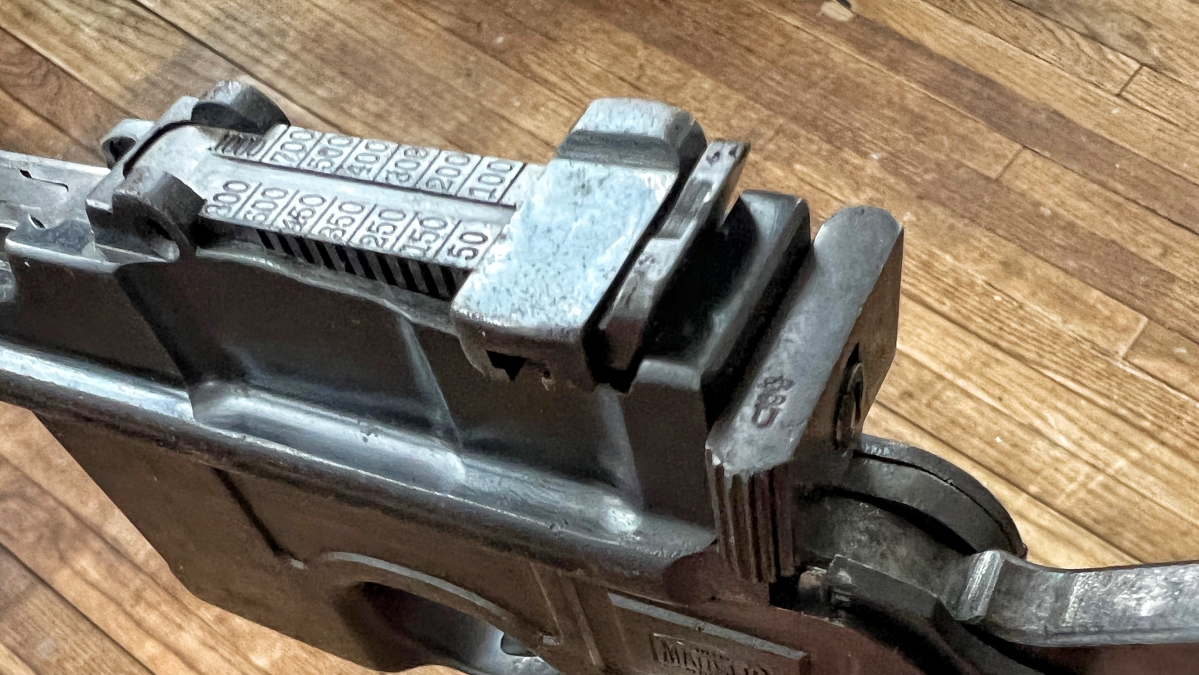 Working our way back to the bolt, it is weird to rack it back to the rear in order to lock it open for the stripper clip. This is the most intimidating bit I would say to any newcomer. This gun operates on a short recoil mechanism so the upper assembly needs to move rearward part of the way in order for the bolt to release and open. That being said it feels jerky and rough to open the action but it is made to be that way. Loading a stripper clip itself is its own experience. There are times when it goes just like the movies and video games make it look but I would say the majority you are met with quite a bit of resistance that you need to overcome and follow through without worrying about slipping and hurting yourself.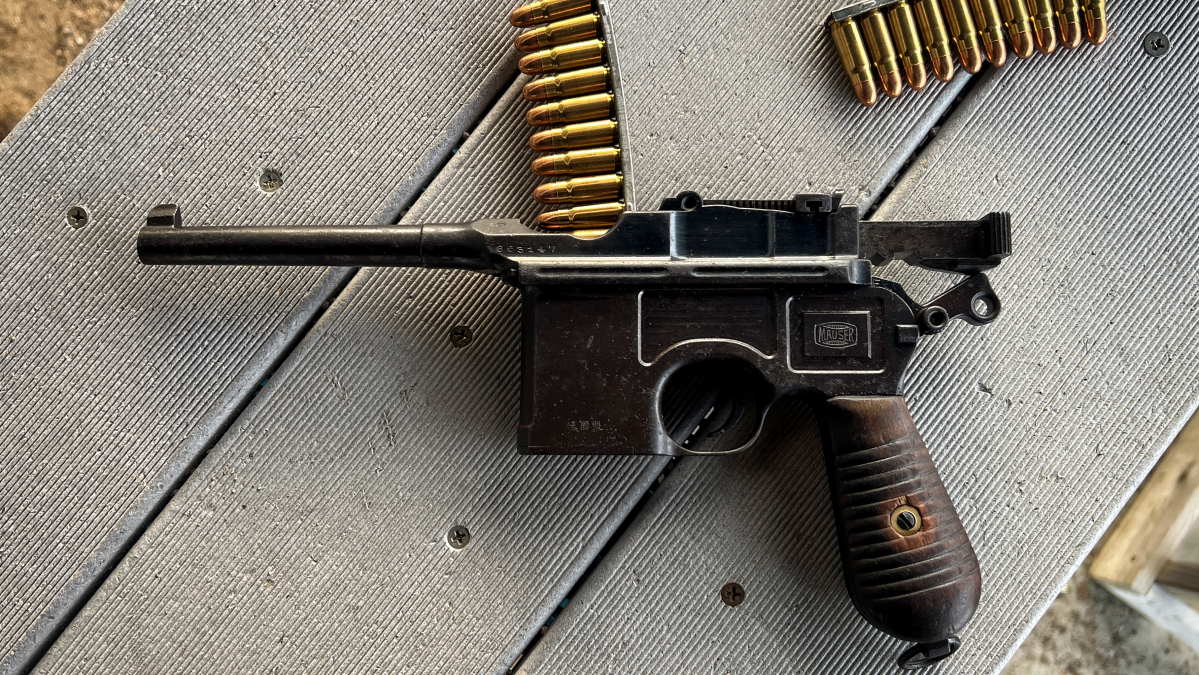 The safety is different but not in an entirely odd spot. It is easy and positive to actuate. The classic "broom handle" grip is surprisingly comfortable but its position, angle, and suggested literal grip of your hand make the upper portion of the gun be very high up in your hand. You can imagine that under recoil this makes the gun a bit flippy but it is not very noticeable. The trigger is pleasantly crisp but that is to be expected since it is a single-action hammer-fired pistol. There is a good amount of nothingness take-up before you get to that wall but when you do it is nice. The recoil impulse is very much a chug like an Auto 5 shotgun. This one is in the original 30 Mauser but I have heard that the 9mm variants have a bit more pep.
For the sake of punching holes in paper, I have the following photos to report. At 15 yards I got a decent group for a very old gun. Once again (thank you Redman!). The group was a bit high in comparison to my point of aim but that was to be expected since the minimum sight setting is for 50 meters.
Now, I have left this bit out both unintentionally and intentionally throughout these articles but the C96 Broomhandle Mauser is cut for a detachable shoulder stock. As a plus, the stock doubles as a holster. With the stock attached, there is the added bonus of stability. With the stock on my group shrunk and I got a few more bullets through the same holes.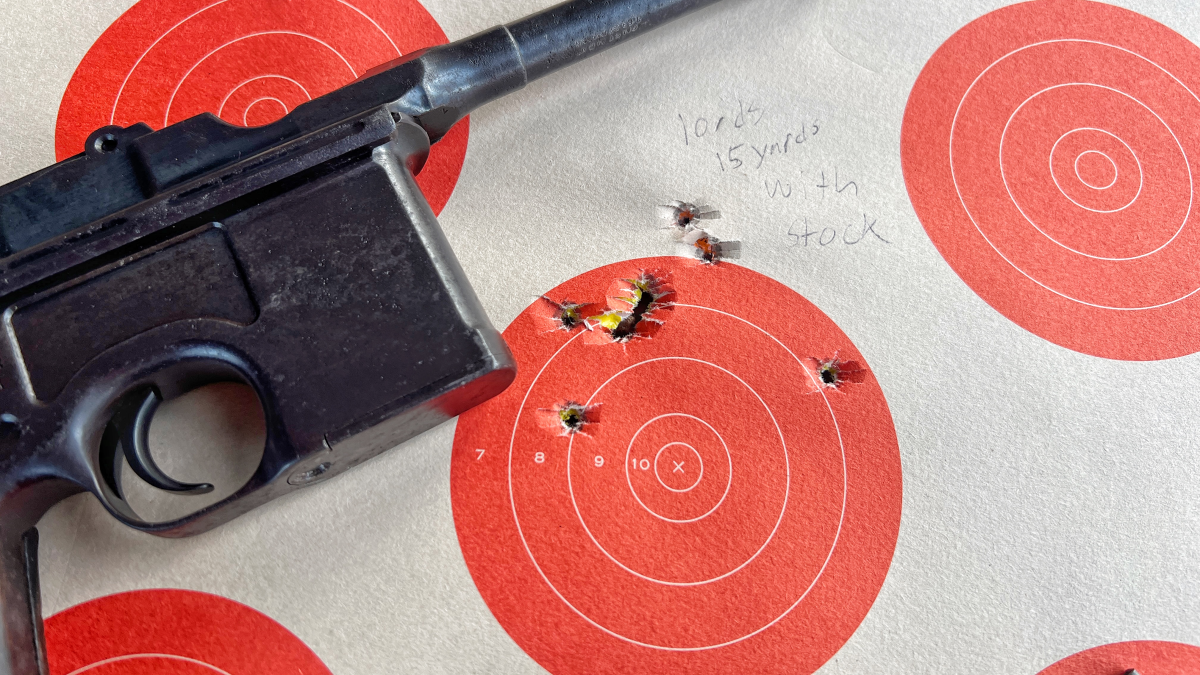 For the sake of saying I did it, I put the sites to the test. I put a 50-yard target out at 50 yards and shot a 10-shot group. This was all done with the stock attached and the results were pretty interesting. The group understandably widened out a bit, mostly up and down. This could've been due to the varying velocities of the old ammo I was using. The most interesting bit was undoubted. The fact that my group greatly shifted to the right. I had been aiming for the lower right-most target and my group straight off the paper. To me, the showcases with a military handgun such as this were built for. This gun will hit a man-size target at 50 yards with no problem.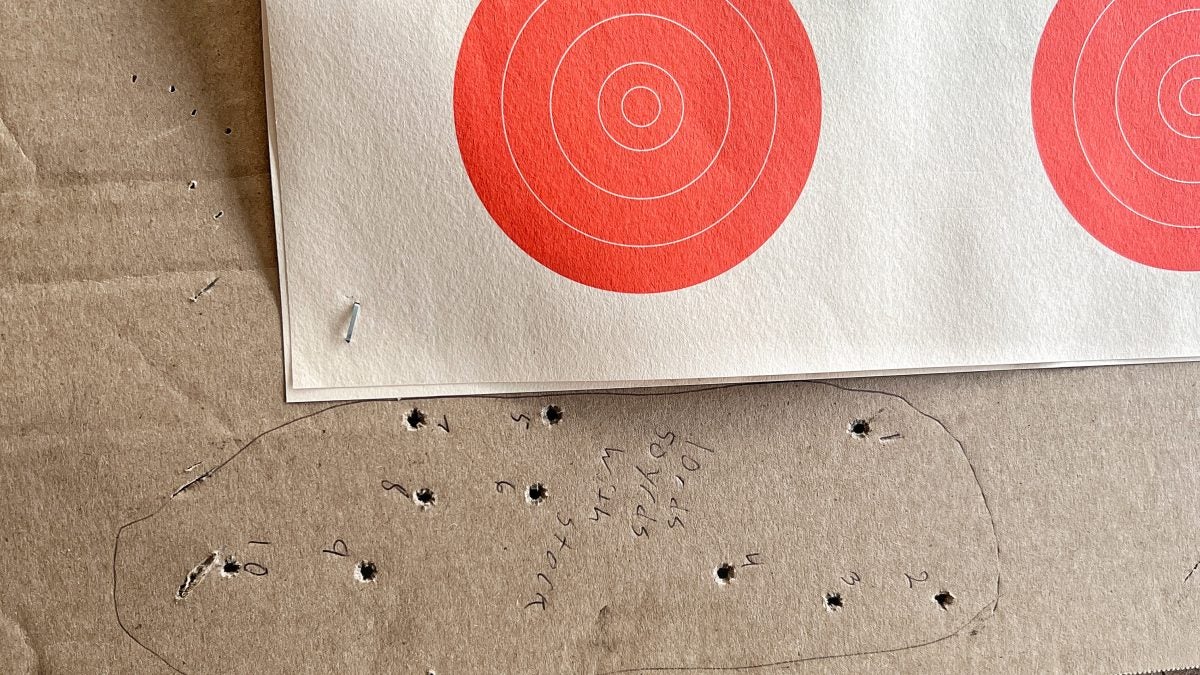 Conclusion: C96 Broomhandle
I love this gun. It has always been on my list, but never at the top. In hindsight, I feel that was a mistake and that I've lost time with it. The mechanical genius of this gun is fascinating. The seamless operation is intoxicating. The sheer aesthetic is entrancing. It is a great shame that these are becoming harder and harder to find and more and more expensive. What an absolute work of art, and a fantastical blast to take to the range. I highly recommend if you get the opportunity to shoot one, to go at it and sweep up some targets with the broomhandle!
Stay tuned for the next Curious Relics which talks about a portion of what made the C96 series of articles all the more enjoyable!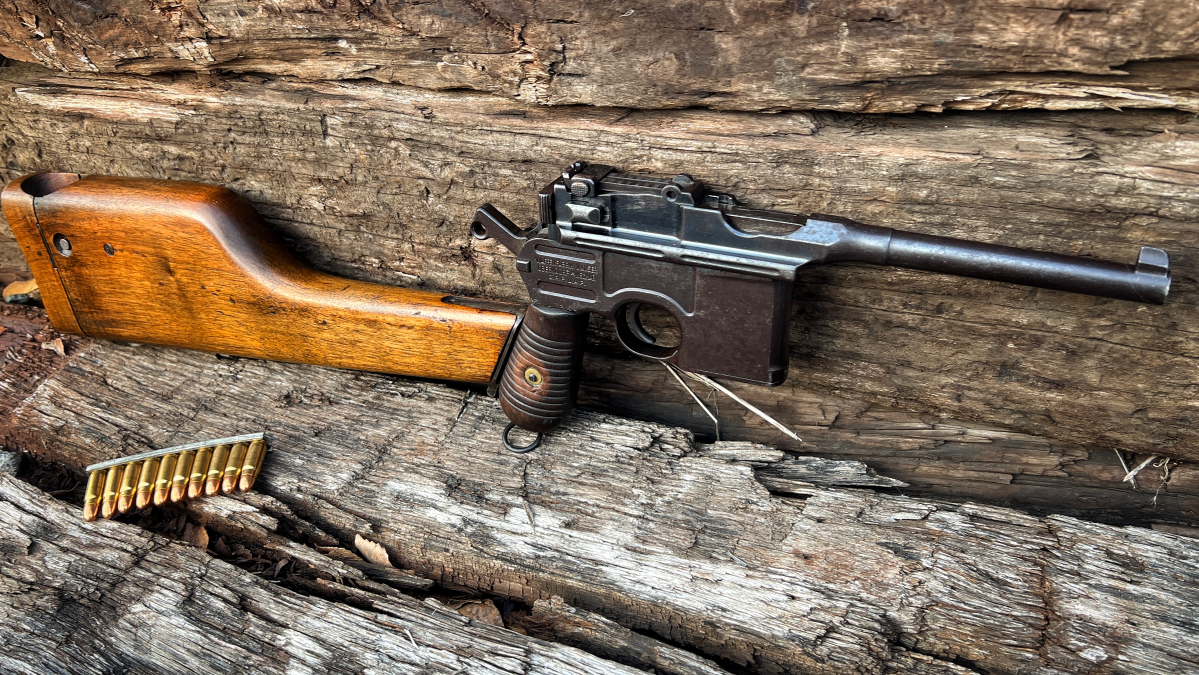 In closing, I hope our
Curious Relics
segment informed as well as entertained. This all was written in hopes of continued firearm appreciation and preservation. We did not just realize how
guns
were supposed to look and function. It was a long and tedious process that has shaped the world we live in. So, I put it to you! Is there a firearm out there that you feel does not get much notoriety? What should our next
Curious Relics
topic cover? As always, let us know all of your thoughts in the Comments below! We always appreciate your feedback.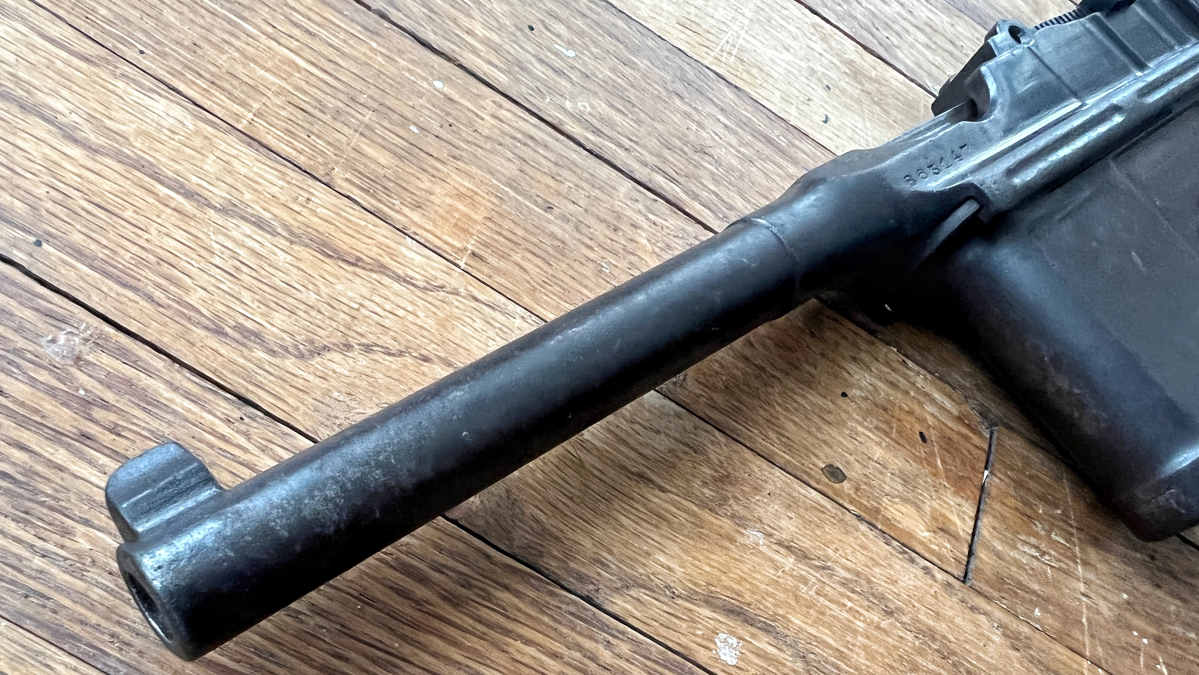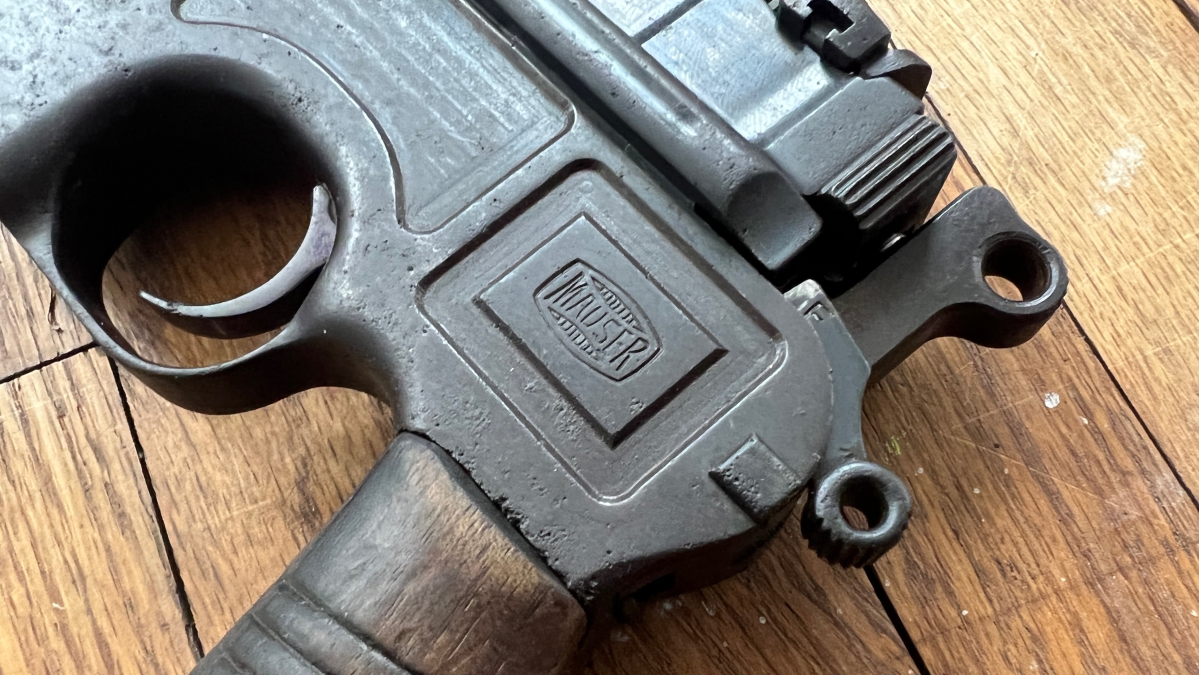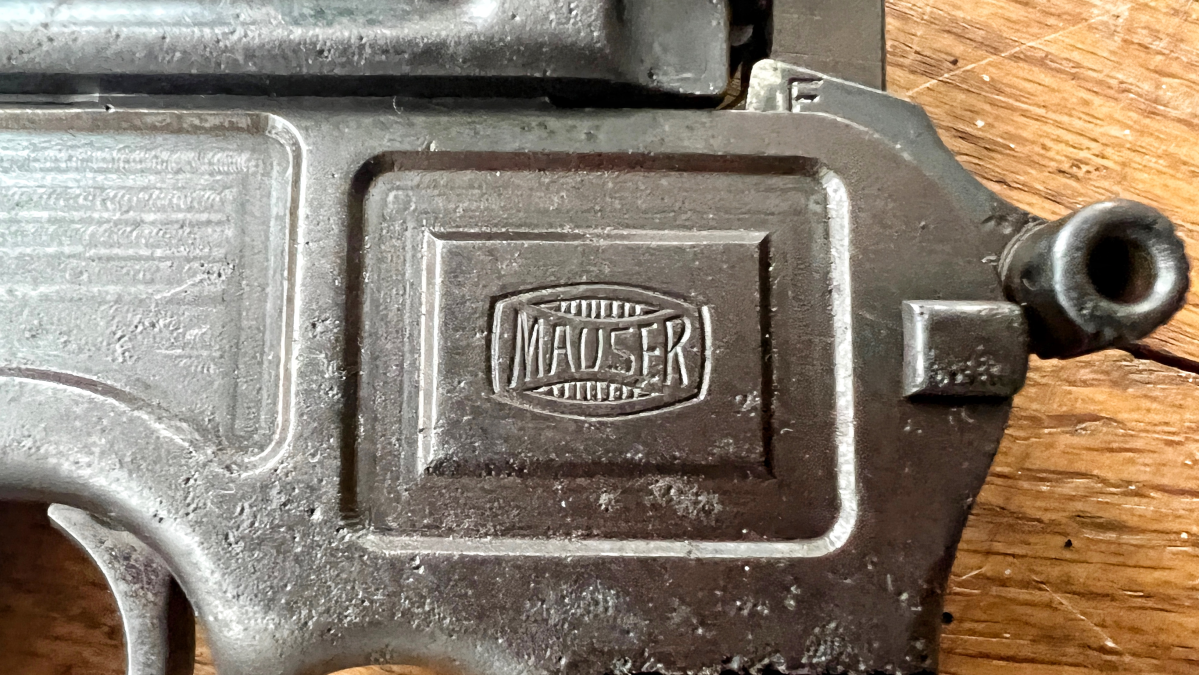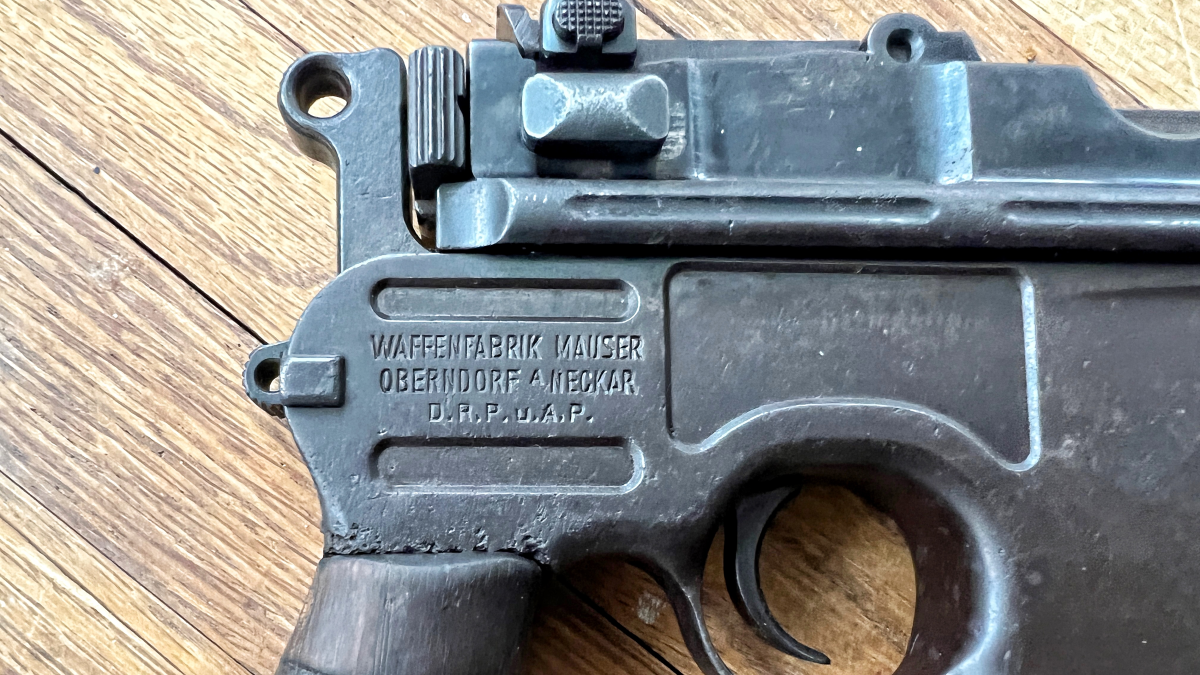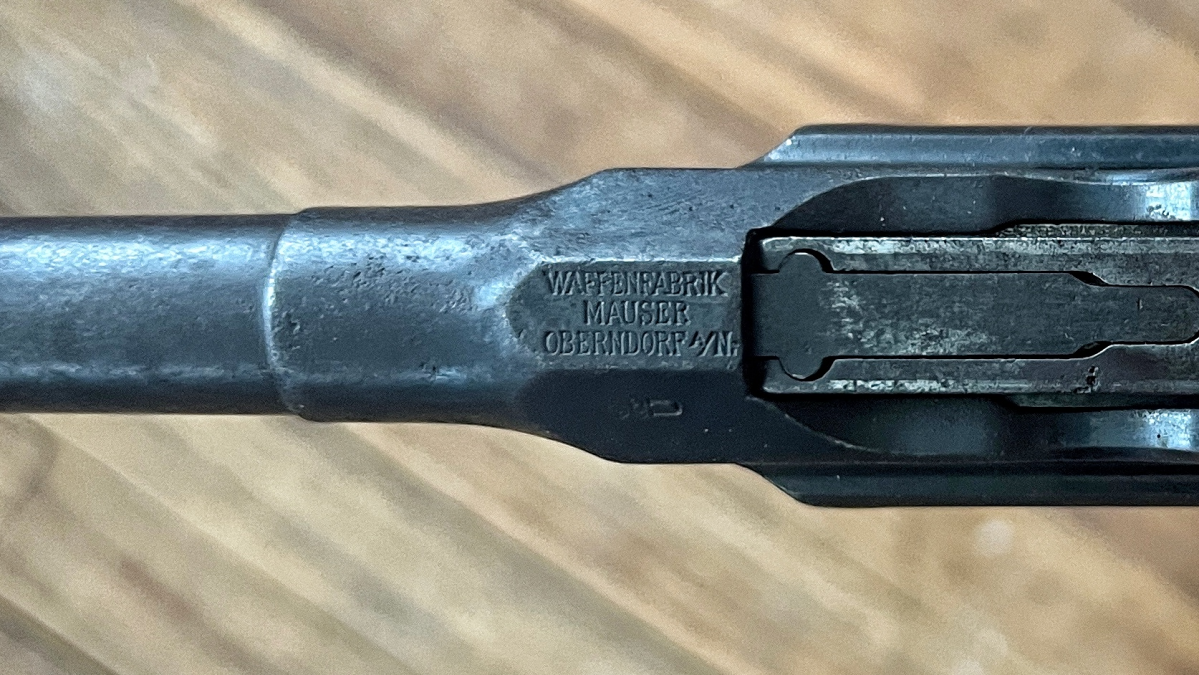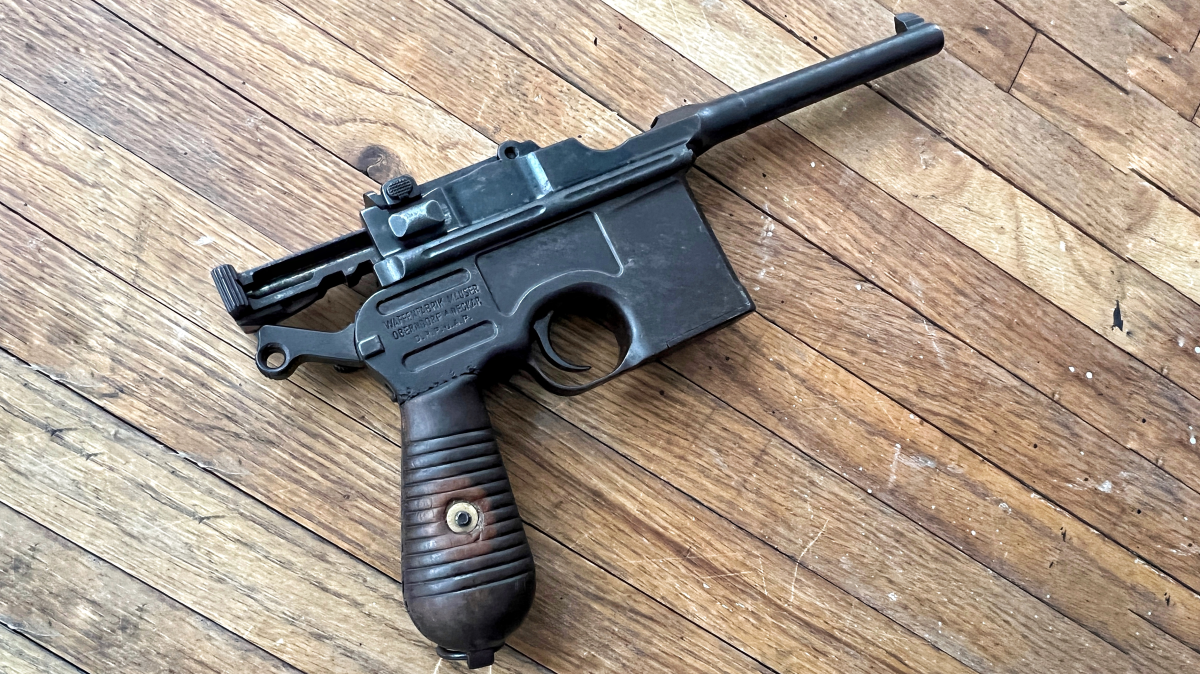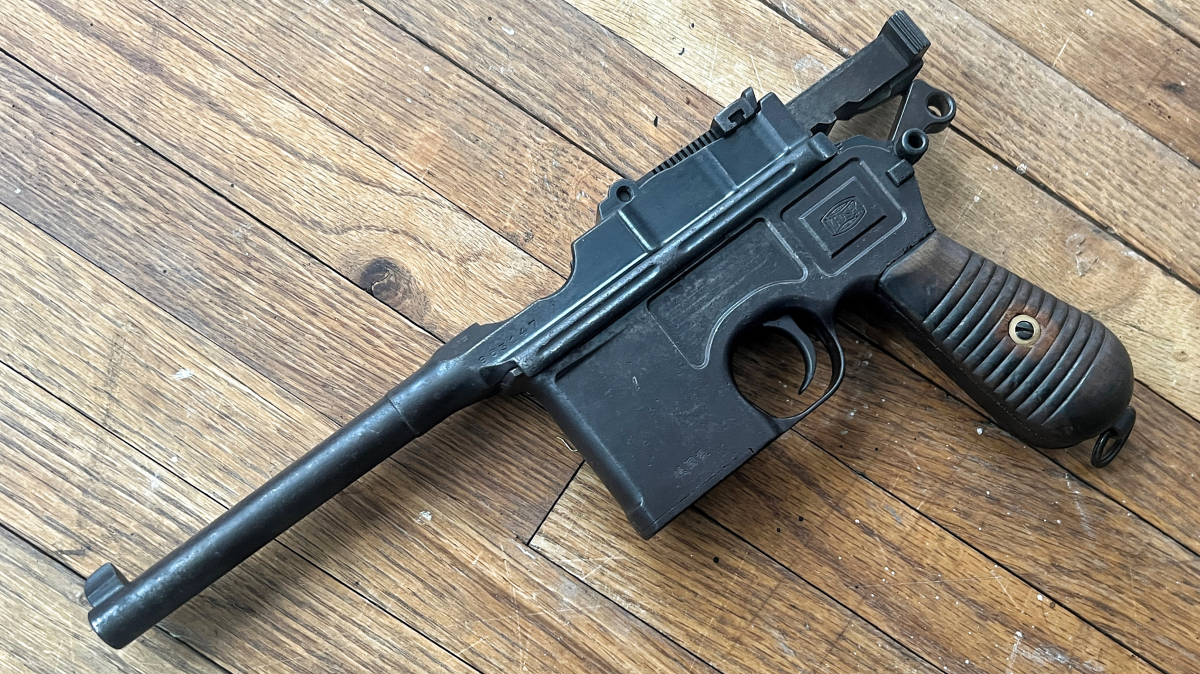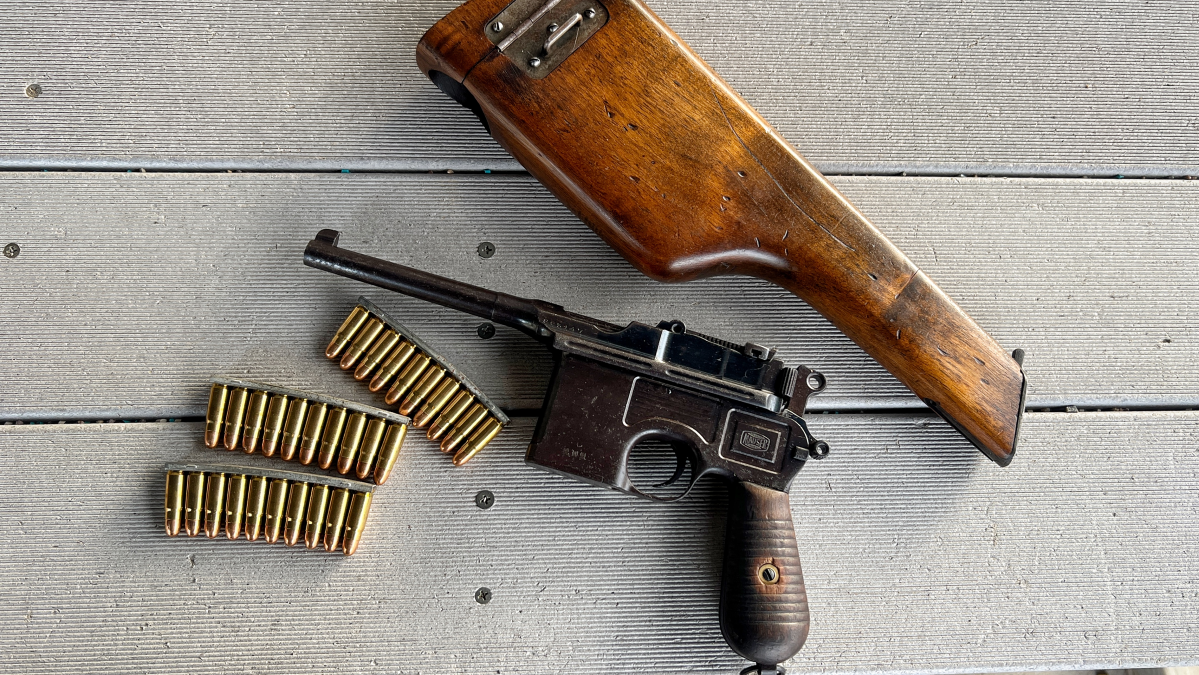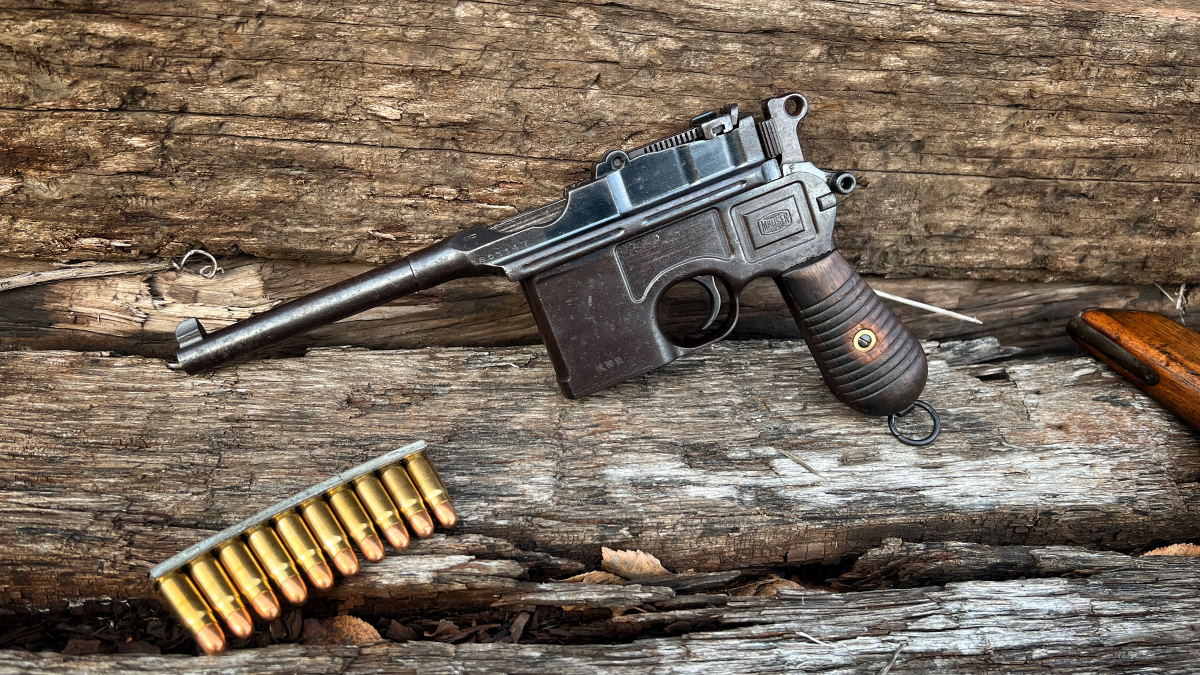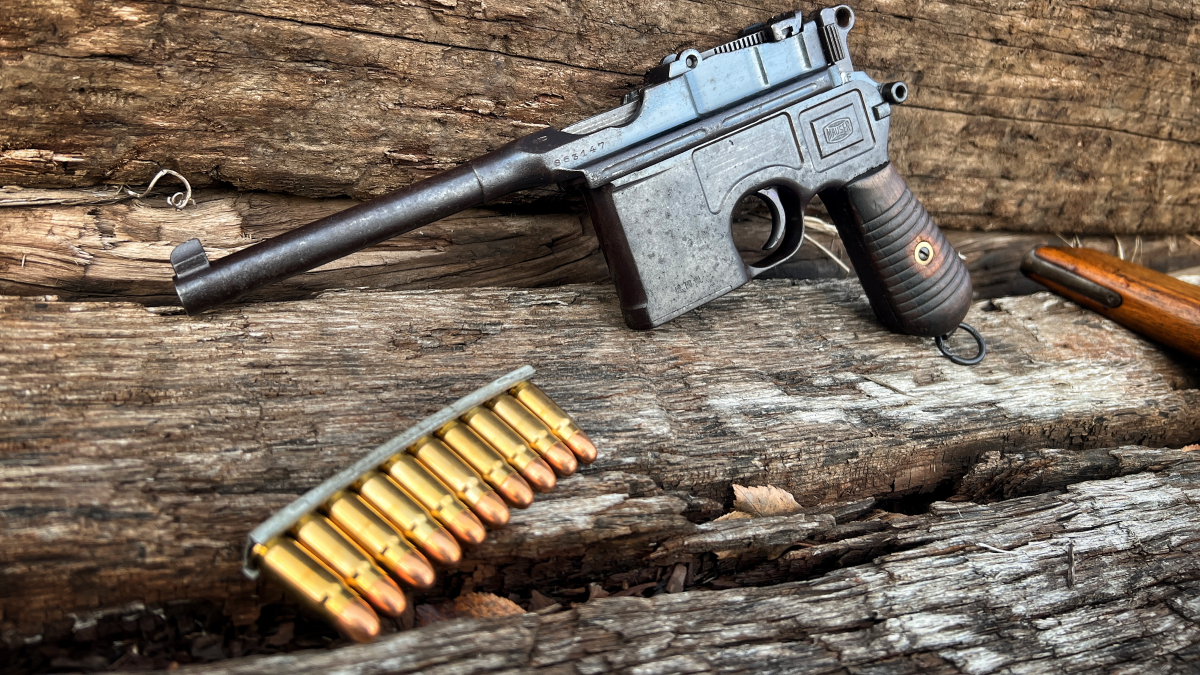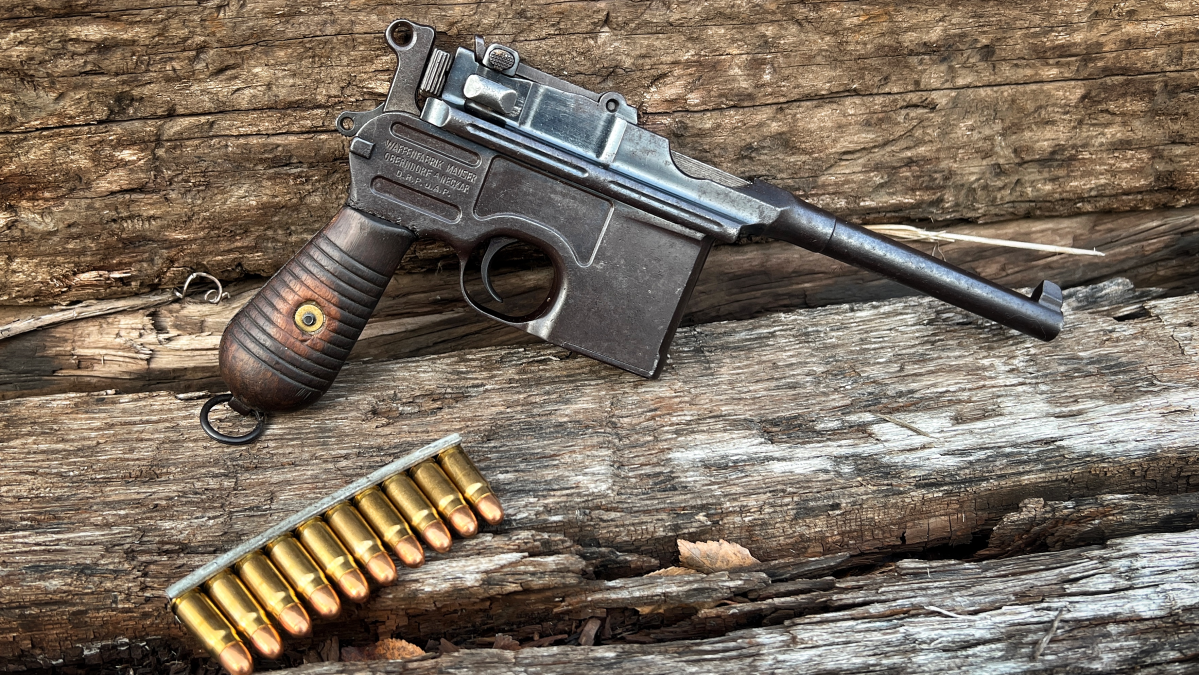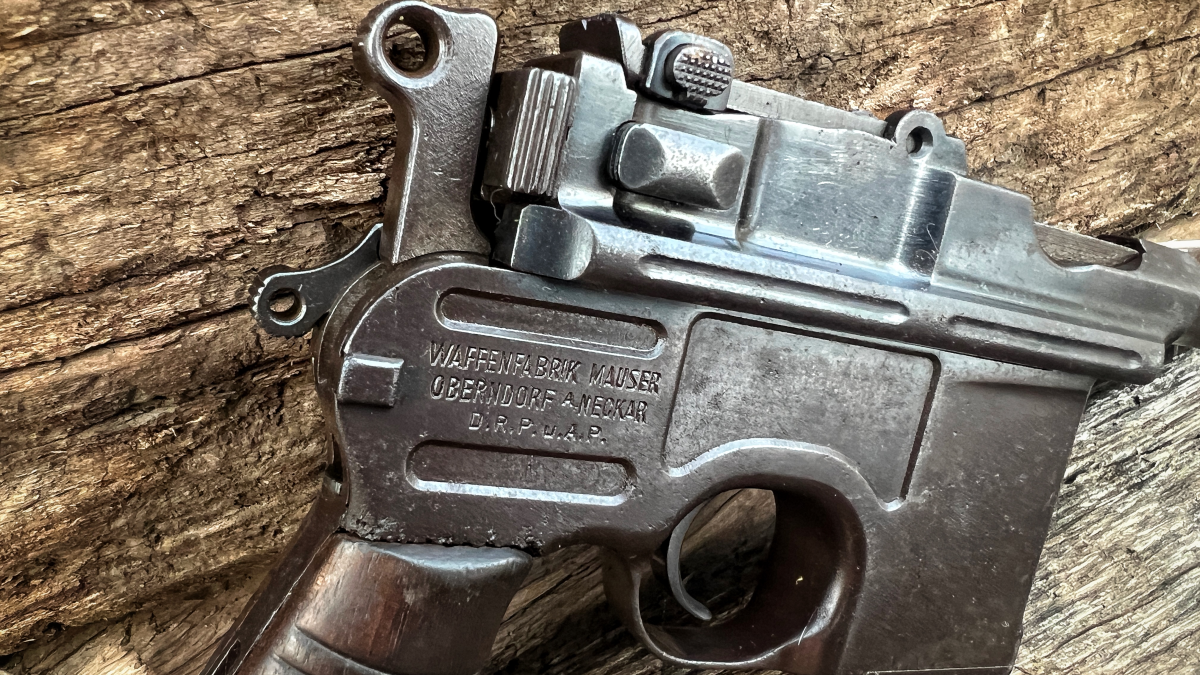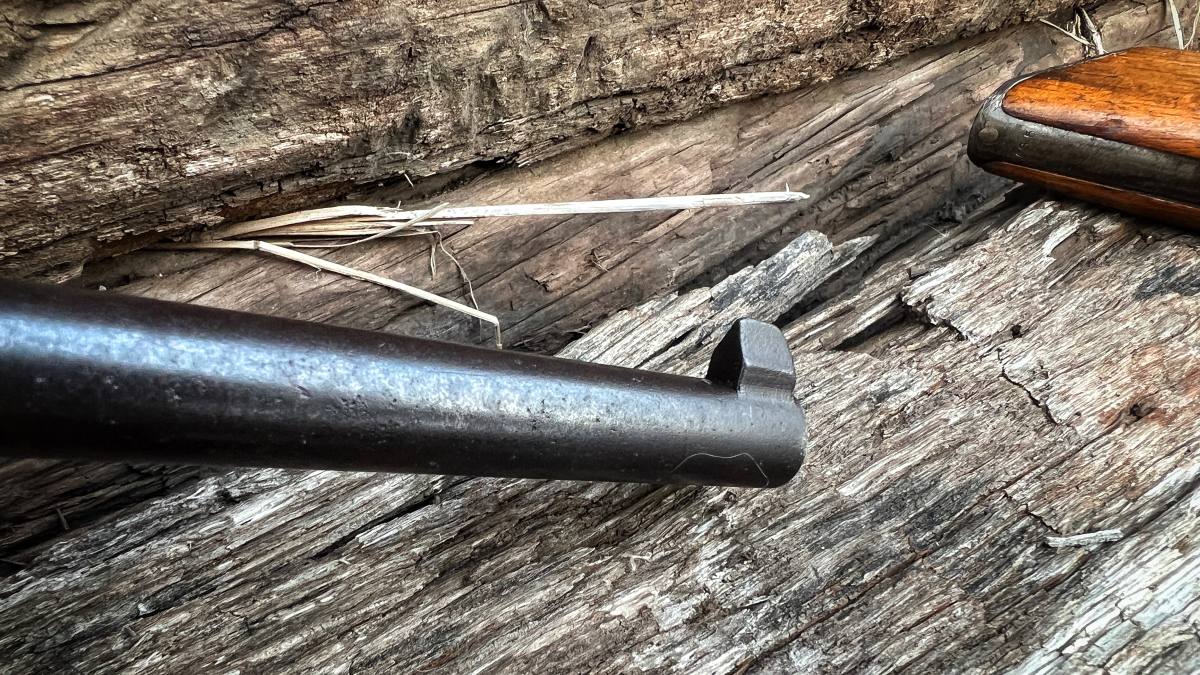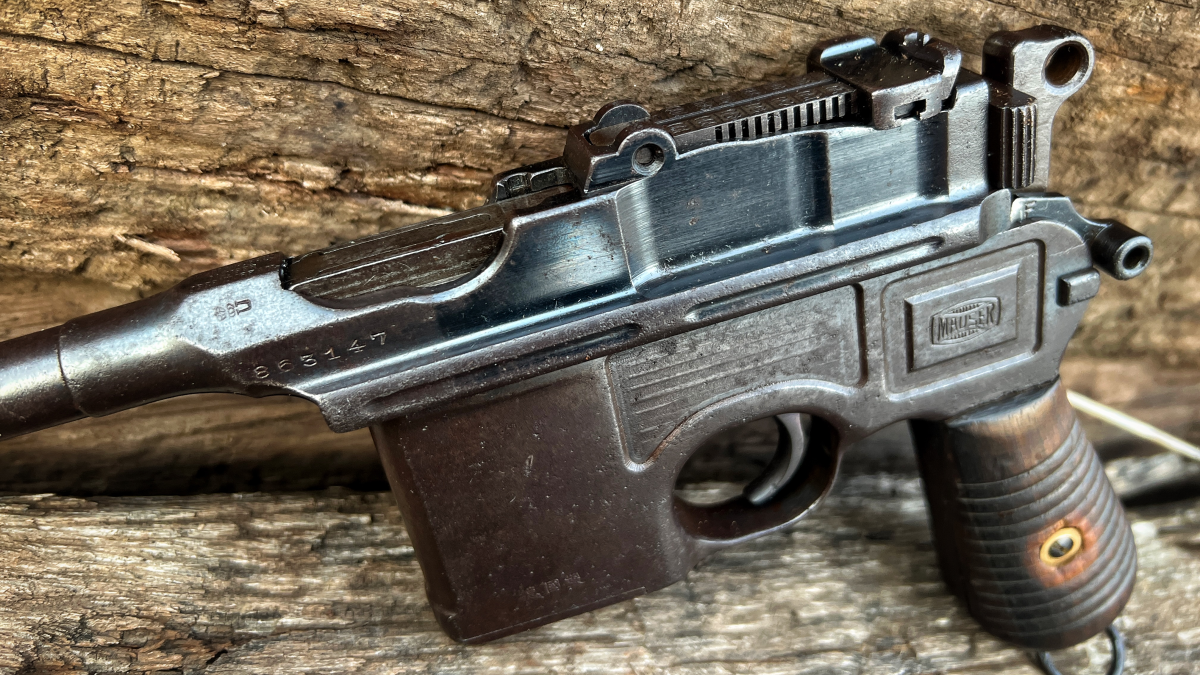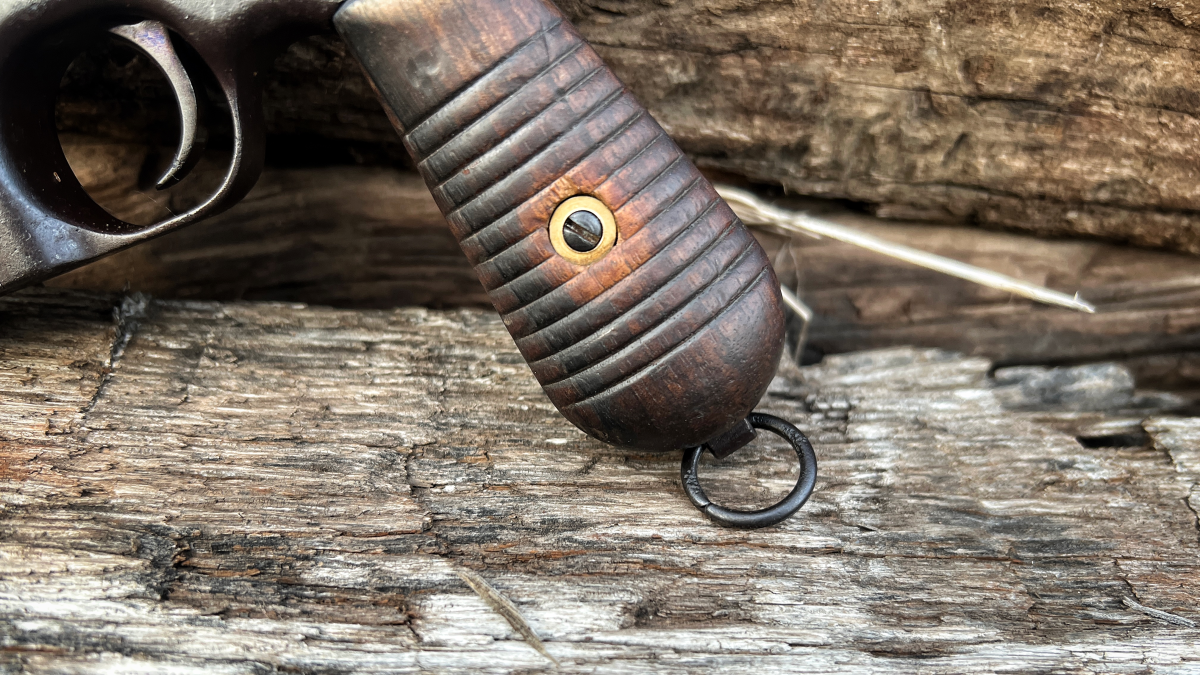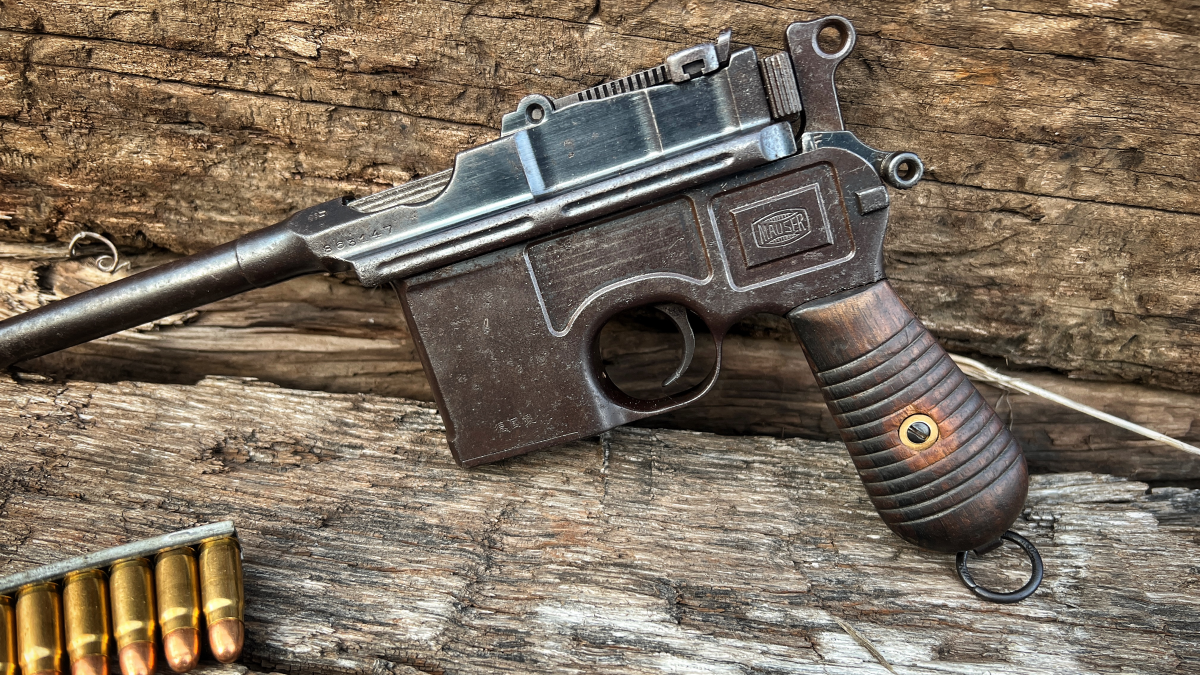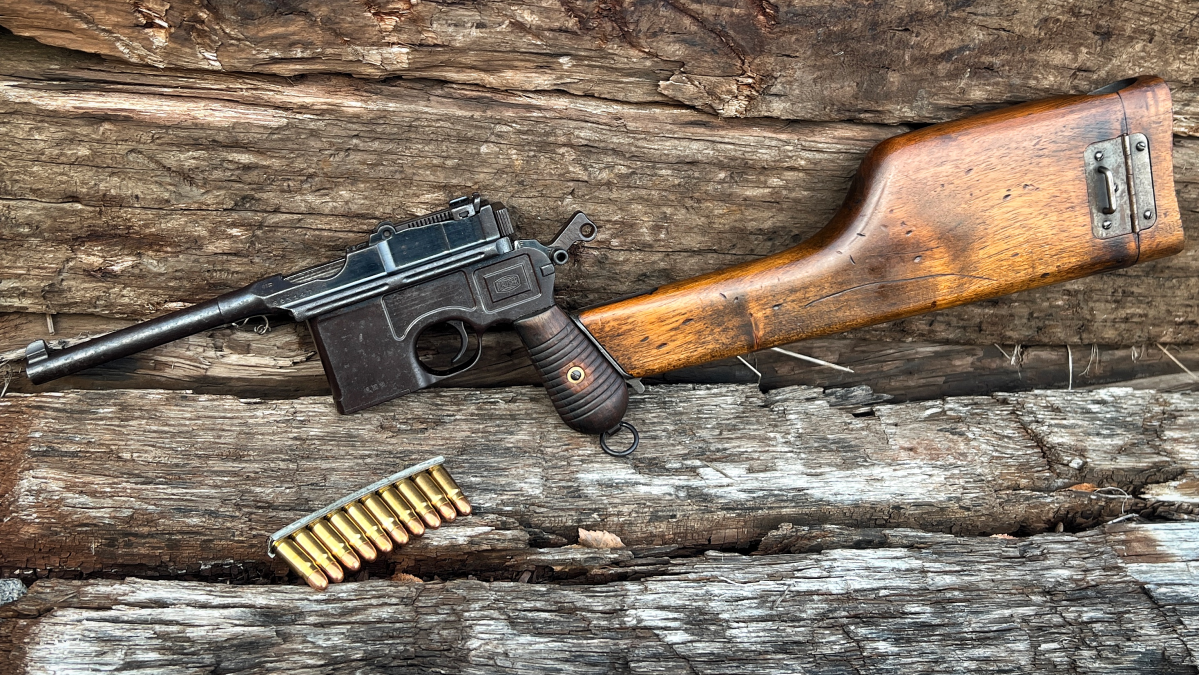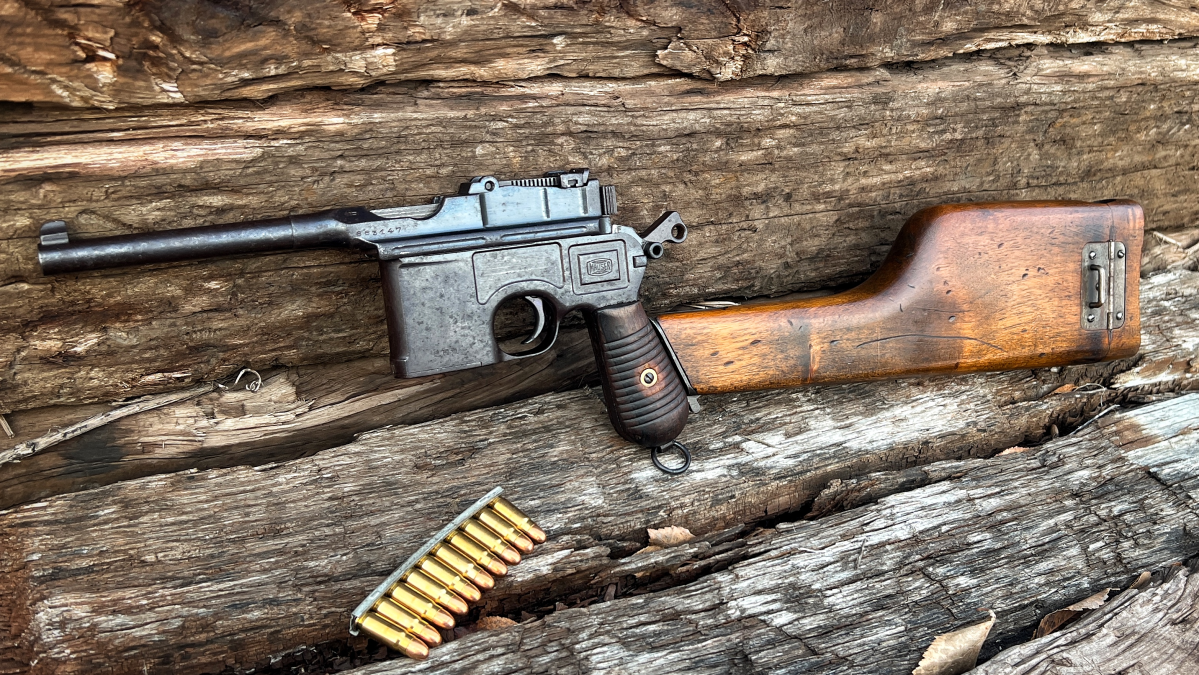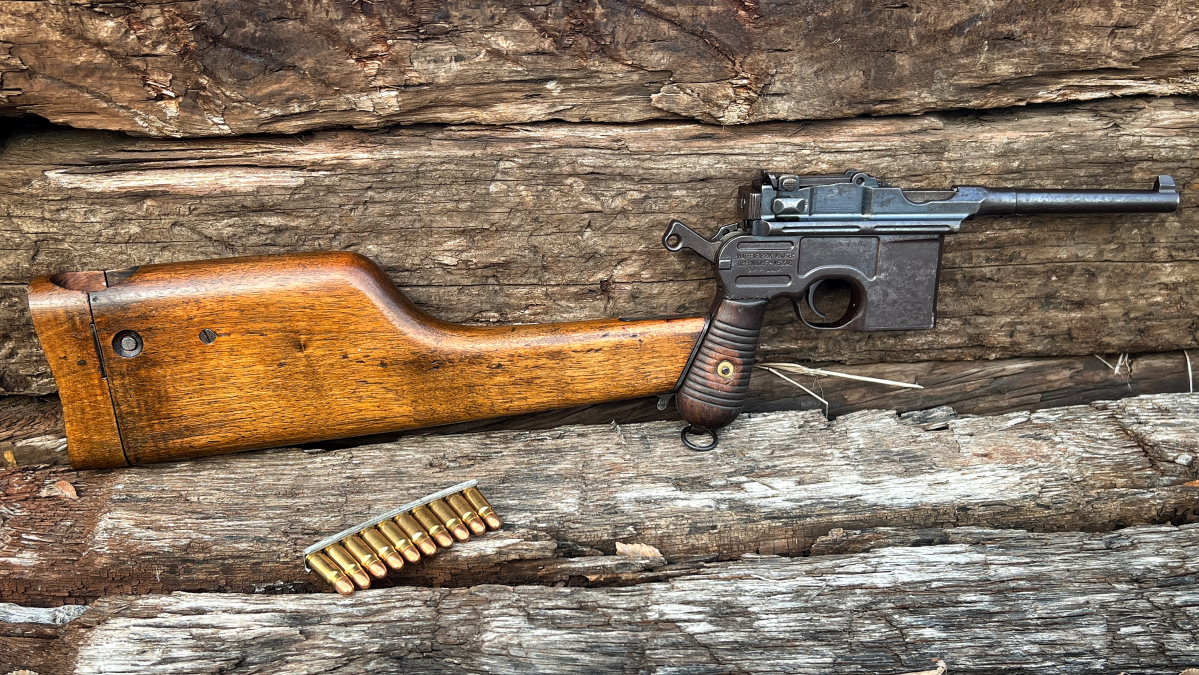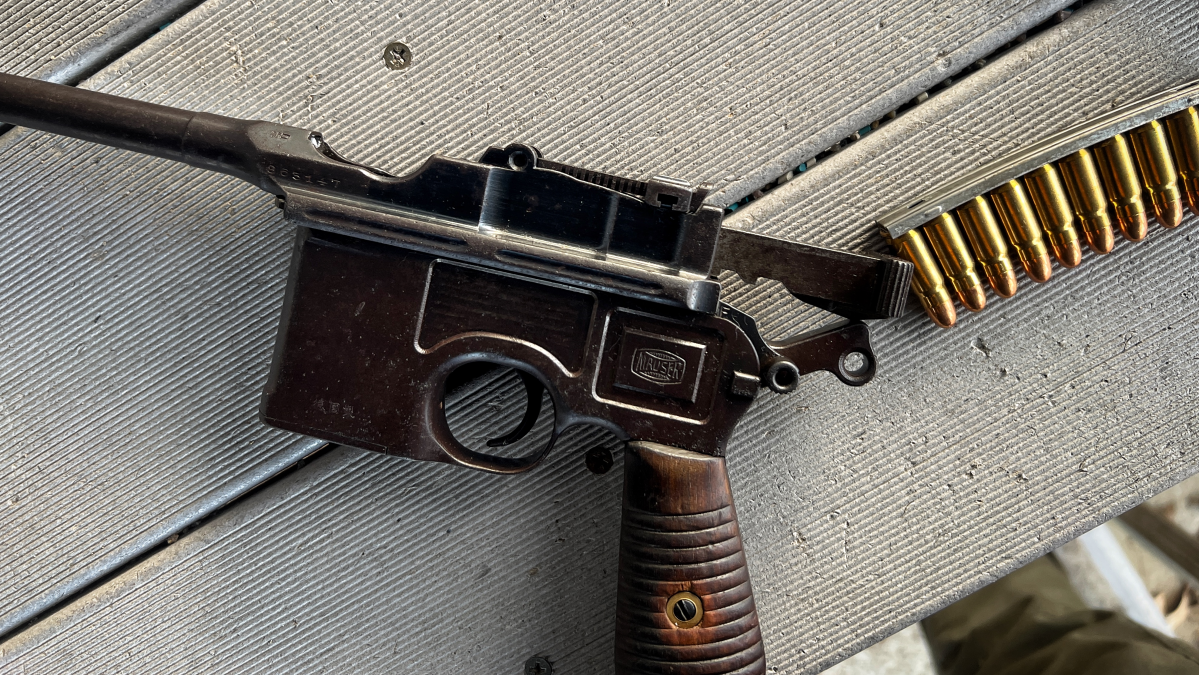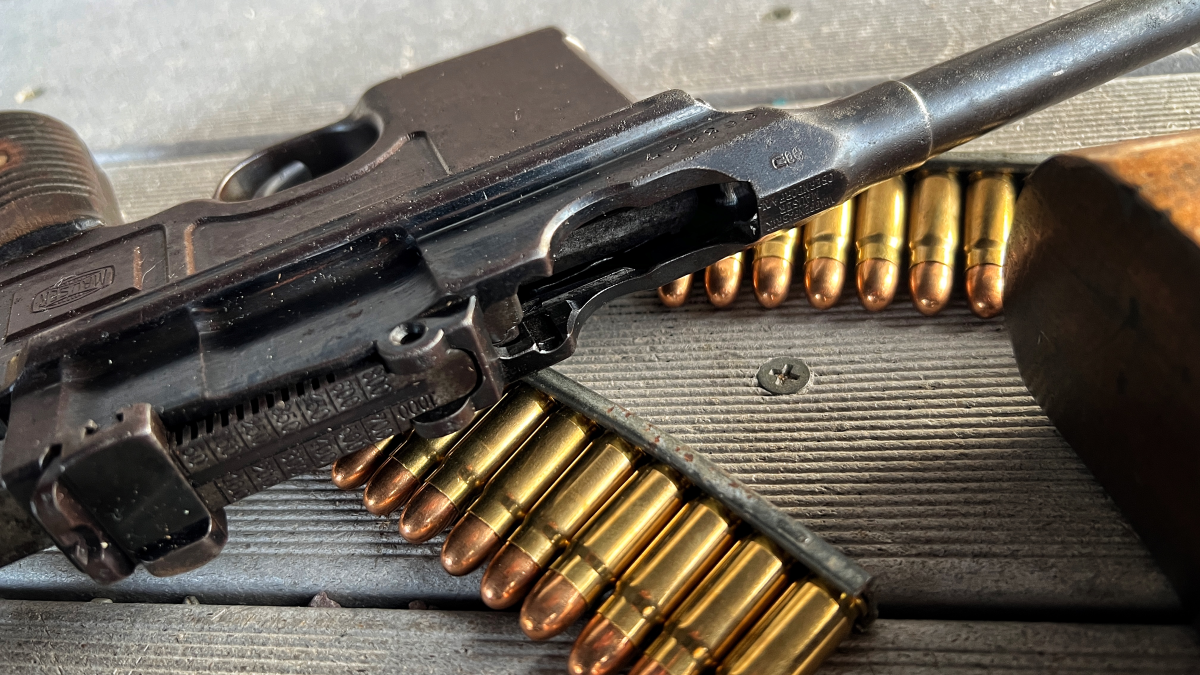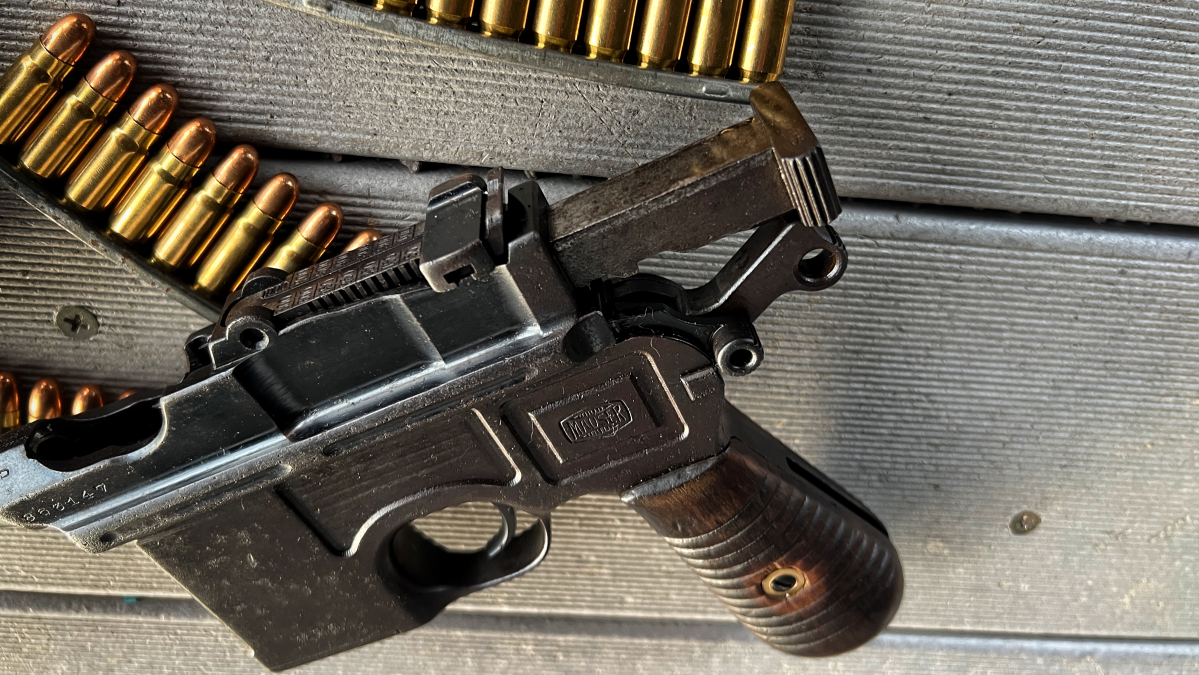 The post
Curious Relics #059: Sweeping The Range – C96 Broomhandle Part Five
appeared first on
AllOutdoor.com
.
Read the full article here...