Discussion Starter
·
#1
·
Welcome, if you are a newcomer to this fun bi-weekly segment of
AllOutdoor.com
! The last time around I covered the
history
, its
variations
, and how to
date
your personal Hi-Power,
specifications
, aftermarket
parts/accessories
, and then finally a
range trip
! Today we are jumping back into the infamous Charter Arms Explorer II! I had previously covered the Explorer II a long time ago in the single-digit days of Curious Relics (
Curious Relics #005
to be exact). That article can be seen at the link here. It was the bookend to the string of Armalite, Charter Arms, and Henry Repeating Arms AR7 articles. I covered and encapsulated everything I do here on Curious Relics all in one article. Since that article's publication, I have obtained many other accessories to the Charter Arms Explorer II. I felt it only right to detail my new experiences and give an update on this classic piece of 1980s rimfire history!
Welcome to our recurring series of "Curious Relics." Here, we want to share all of our experiences, knowledge, misadventures, and passion for older firearms that one might categorize as a Curio & Relic – any firearm that is at least 50 years old according to the ATF. Hopefully along the way you can garner a greater appreciation for older firearms like we do, and simultaneously you can teach us things as well through sharing your own expertise and thoughts in the Comments. Understanding the firearms of old, their importance, and their development which lead to many of the arms we now cherish today is incredibly fascinating and we hope you enjoy what we have to share, too!
Brief Recap: Charter Arms Explorer II
More in-depth information can be found at
CR3
,
CR4
, and
CR5
. The Charter Arms Explorer II is a creative and interesting introduction to the AR7 lineup of firearms. In 1973 Armalite ceased the production of their AR7 survival rifle and Charter Arms took up the mantle. As the 1980s neared they found that AR7 rifle sales were taking a bit of a dip. As a hopeful preventative measure they engineered a few simple changes and the result was the Explorer II pistol showing up in 1980.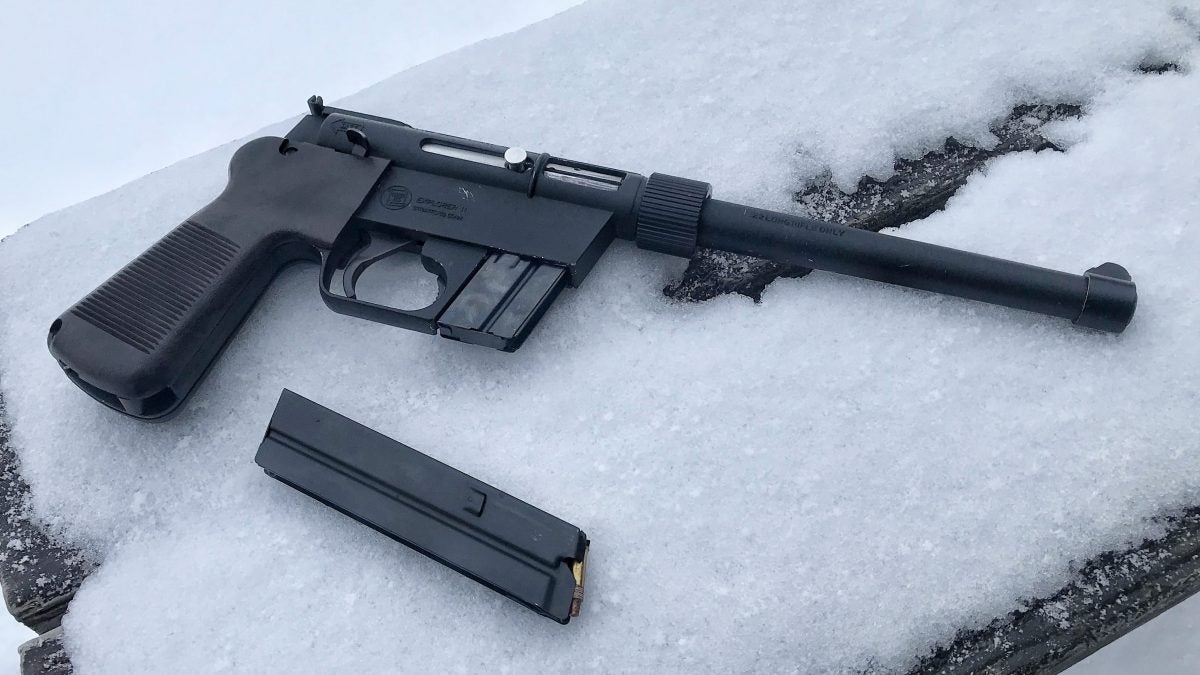 The Charter Arms Explorer II functioned exactly like its rifle sibling (Charter Arms Explorer/AR7). It was made to look like an old-style pistol, much like the Mauser C96 Broomhandle. The frame now had a fixed grip with plastic panels. This was almost certainly done to prevent any screw-on grip styles from being modified to using a stock. The barrel was also different in that the notch and corresponding peg were changed in order to prevent barrel swapping between the rifle and pistol. Lastly, the rear sight on the pistol was an adjustable square notch sight rather than the rifle's peep sight. Aside from that, they used the same magazines and scope mounts. The Explorer II had a small number of color variations and was produced from 1980 until 1986.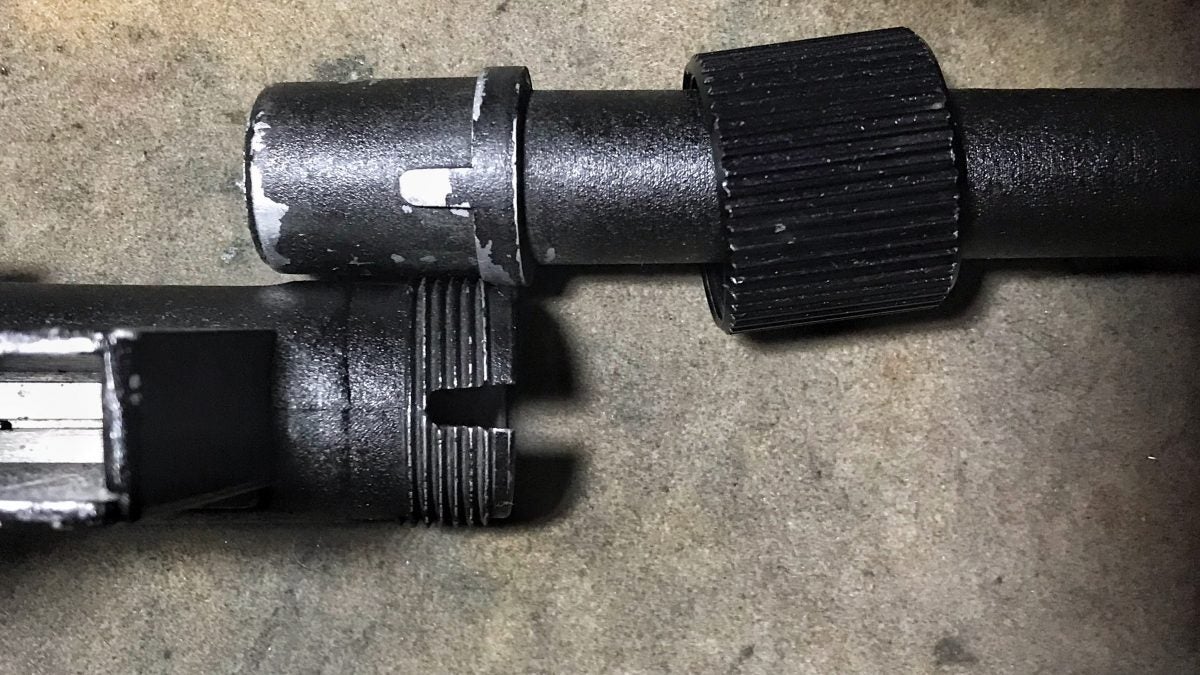 Explorer II Notch and Pin
Today the Charter Arms Explorer II has a reputation for being a cheap piece of junk, to put it bluntly. Even though I will never claim that it is a good 22LR handgun I will say it is misunderstood. This is more of a reiteration of what I covered in that original article. You see, by today's standards, a 22 pistol should function wonderfully and reliably under clean or dirty conditions. The Charter Arms Explorer II however does not like to be dirty, over-lubed, or under-lubed. It can be a picky mistress but I encourage you to fully clean yours to the best of your comfort level and apply a small amount of lubrication oil to the springs and moving surfaces. Even though I completely understand people's frustrations I always say to do the maintenance. Ninety-five percent of people buy something and never read the manual and the same goes for firearms manuals. It did not help this gun's reputation that proper care was never explained well.
Henry Repeating Arms AR7 free manual
does a good job outlining some key details on cleaning for any interested.
Magazines: Charter Arms Explorer II
Not too long ago I received a forwarded email from someone reaching out that had read my initial Explorer II article. It was explained to me that they had owned a Charter Arms Explorer II (they purchased it in January 1981) and never shot it and that they were wondering about my experience with the original magazines versus the much more available Henry Repeating Arms AR7 Survival Rifle magazines and others on the market. A portion of his email is as follows:
"Since the pistol only came with one 8-round magazine, I would like to purchase additional magazines. You mentioned in your article that the Henry Repeating Arms' AR-7 magazines functioned fine. My research shows that Numrich and Triple K also manufacture AR-7 magazines, but I'm unsure of their quality or reliability.

My question is: would the Henry magazines be the best option for functional reliability, or are the other two options equally viable alternatives? "
I replied honestly and informed him of my experiences. Since that email, I have acquired the often I'll-regarded 25-round plastic Ram-Line magazine. I wanted to recap my experiences as well as update new ones. As I mentioned in my
original article
, the feed ramp is built into the magazines. This means that if your magazine is not in good condition or well taken care of, most likely your AR7 variant will malfunction. Below I will list magazines that I know of for the AR7/Charter Arms Explorer II and my experiences or related experiences with them.
Original Armalite/Charter Arms 8 Round Magazine: The original magazines work as intended and are the ones I would recommend for use in your personal Explorer II pistol. The downside is more often than not the feed ramp is damaged or the magazine, in general, is in unsatisfactory condition.
Henry AR7 Magazine: I own a Henry Survival Rifle and have never had any problems with it or the magazines. When putting those magazines into the Charter Arms Explorer II Pistol the few times that I have I remember noticing they seemed to fit tighter but beyond that, they fed just as good as the original magazines.
Charter Arms AR7 Magazine and Henry AR7 Magazine
Armalite/Triple K 10rd and 15rd Magazine: I have no experience with original extended Armalite magazines but I assume the experience would be similar to the Triple K. I have an old Triple K 15rd magazine and have handled the 10-round ones as well. They always seemed of value and decent magazines. Feeding and usage-wise? I have never had an issue that was a result of the magazine.
Triple K 15rd Magazine
Ram-Line 25 Round Magazine: This one makes me sad because I had high hopes. I preach pretty hard that the Explorer II can function reliably with the right amount of consistent maintenance. I have put it to the test again and again and the logic behind keeping this gun clean and lubed in the proper places keeps it running wonderfully. Unfortunately, the legendary lack of reliability in the Ram-Line 25-round magazines is a real thing. Despite my best efforts, I was only able to feed 11 rounds straight after two hours of clearing feeding errors. These magazines really are junk. I do not recommend getting them for any reason other than just to have them complete your collection of AR7 memorabilia. It makes the gun look goofy as heck and most importantly it also does not work well at all. This is almost certainly due to two things. One, these magazines are plastic and the feed ramp is easily worn out in just the right way (I would be curious to try a brand new one out of the package and see how it performs). The second reason is the unfortunate nature of rimfire cartridges. They just don't stack well in magazines and as a result, feeding can be hit or miss. This is why most modern 22 rifles and handguns have a straight 10-round magazine or an extended rotary magazine.
Original AR7 Magazine and Ram-Line 25rd
Barrels: Charter Arms Explorer II
The Charter Arms Explorer II originally came stock with an 8-inch barrel. At that very same time, accessory barrels were available. The other optional sizes were a 6-inch barrel and a 10-inch barrel. I do believe there were some combo deals back in the day where the pistol would come with both the 6-inch and the 8-inch. The 10-inch I have only ever seen sold in its own cardboard box.
The 10-inch is arguably the rarest of the bunch for this reason. Believe me, it took a long time and a decent amount of money to complete my set but it was worth it to see how ridiculous this gun looks with the extra long "target" barrel. At the very least it was worthwhile just to see the difference. The 10-inch barrel has a notable difference from the others in that the front sight post is thinner and more triangular than the other barrels.
Scope Mount: Charter Arms Explorer II
Oh boy, this one was the bane of my existence for a good six months. Much like the 10-inch barrel, when the opportunity arose I spent too much money on this mount. At the end of the day, that is alright with me because I wanted it and now I have it and enjoy it. The original Charter Arms AR7 scope mount came packaged in a small plastic bag with a set of basic mounting instructions (if anyone can take pictures of theirs or scan them I would appreciate it!) and two set screws to screw into the top of the mount to make contact with the pistol and prevent it from moving. Later, B-Square released the same scope mount. Both are very hard to find and often expensive if you can find them. It is unfortunate that the only information on the mount is "Charter Arms". This is so vague looking that I could easily imagine it being in a mixed parts box at an estate sale or simply thrown away for lack of know-how.
Mounting the scope mount is very simple. Removing the large left-hand receiver screw, placing the mount over the hole, and screwing the screw in is all there is to it. As I mentioned if you have the original set screws they are to screw down to the top of the pistol ONLY to prevent it from tipping forward while shooting. Do not screw into your gun. I set my side screw to around 20-inch pounds and saw no variation in my shooting after sighting in.
That brings me to the scope! I looked for a long time to find a cheap pistol scope from the 1980s to best match the one depicted in the advertisement to no avail. Apparently, older pistol scopes are pricey in terms of what I was looking to spend. Much like the case of the barrel and mount, I caved and overpaid to complete the look. I purchased a Burris 2x20mm long eye relief pistol scope in excellent condition. Is it from the 1980s? Probably not but it is as close to the look as I am going to get for the amount of money I was willing to spend. I do not know what the actual scope is deprecated in the advertisement. I honestly think it potentially was some junky off-brand scope to go with the relatively cheap handgun. After sighting it in with the standard 8-inch barrel at 15 yards the results are shown below!
8 Shots at 15 Yards
Note on the mount:
If anyone out there has a 3d printer and the correct filament, I believe this would be a cool project to try out!
Honorable Mention: Rear Sight Parts
When I originally bought my Charter Arms Explorer II pistol the rear sight assembly was missing parts. The two windage screws and the square notch sight blade were nowhere to be seen. Since the last article, I have acquired a sight blade that fits. It was to an old Charter Arms Bulldog revolver with a rear adjustable sight. I hedged my bets that they would have been thrifty enough to use common and available parts across their firearms and I got lucky Unfortunately last I checked
they
were out of stock. The windage screws were another nightmare altogether. A coworker and I did some testing on the one original screw I got a hold of and more or less deciphered its true form. The result was a #2-56 screw and I chose a 5/32 inch on. I used
these
that I bought off of
ASMC
's website and they worked perfectly (although I recommend some thread lock once in the right spot. Mine worked their way out after a few hours of use.). I realize this heading is rather random but I am all about being thorough and helpful to anyone who may end up sharing my problem down the road.
Old Placeholder Set Screw and Sight Blade
Conclusion: Charter Arms Explorer II
It has been a great pleasure and a bit of secretive excitement to do a surprise Part II to the Charter Arms Explorer II. To reiterate, I do not think it is a bad 22 pistol but by today's standards, I do not recommend it if you are against doing the proper maintenance. They can be very finicky and when they are your hand gets tired from keeping the bolt open to clear jams. I have learned that if this problem arises it means it is time for its once or twice a year deep clean and lubrication. Potentially, if I find the extra time or if there is any interest I will tear mine apart and do an article on how to properly clean and lubricate your Explorer II. In the meantime, it has been a pleasure and I will see you next time!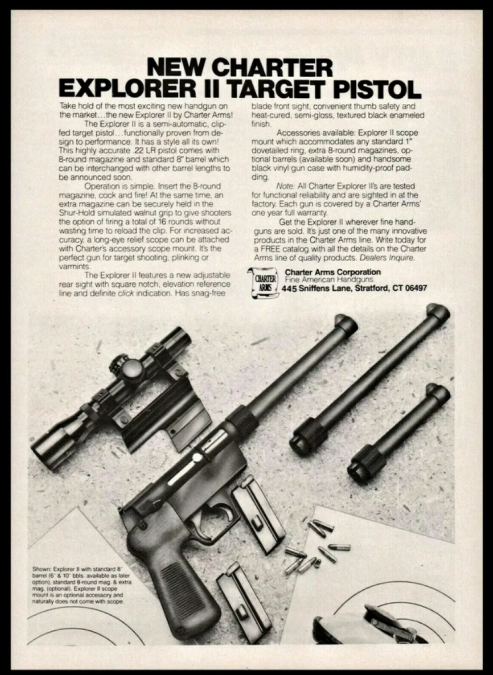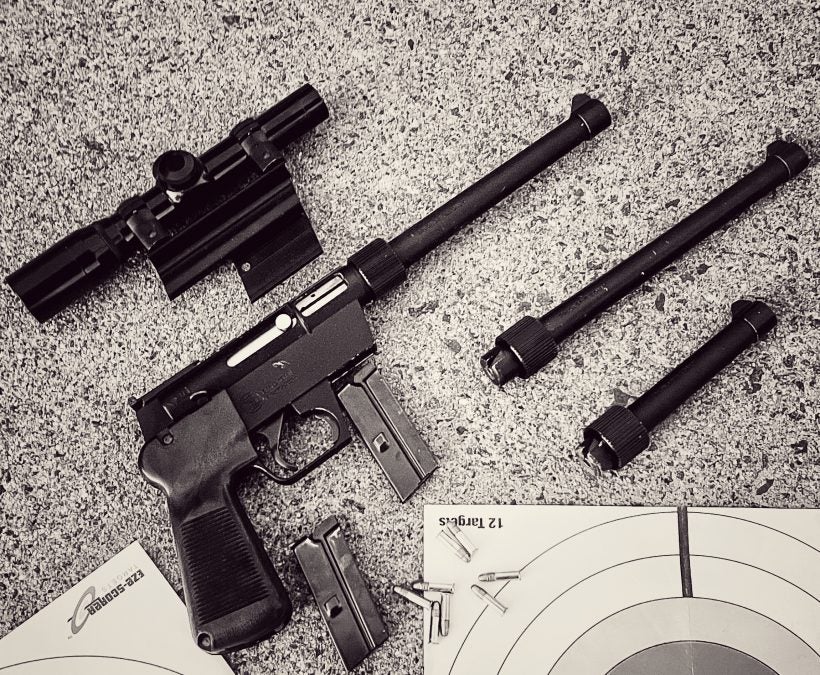 The post
Curious Relics #045: Surprise! – Charter Arms Explorer II Part 2!
appeared first on
AllOutdoor.com
.
Read the full article here...