Shooting and hunting are fun, but nobody is a fan of transporting guns and optics. There's a certain stress that comes with transporting a firearm, especially one in a case set to by handled by notoriously rough airport baggage workers. Visions of scratched or damaged guns dance in our heads. Torturous is the thought of optic glass being broken or that carefully-set zero being off when the gun is un-cased for a hunt or competition. Gun cases made for air transport or other long-distance hauling have traditionally been kind of a nuisance. Even in hard cases with thick foam lining on all sides, guns often shift around, bumping into each other or jarring scopes against the inside edges where damage can be incurred. Custom foam cut-outs have been the only solution to this problem until recently, but even that comes with its share of problems. A perfect jigsaw-like cut or pluck is hard to perfect at home. Factory-cut foam works well but is costly, and doesn't always accommodate an optic. Make a scope change, and chances are that perfectly-fitted foam liner is no longer, well, perfect.
Firearm Storage Coverage on AllOutdoor
Then, there's the problem of storing all those cases or keeping track of multiple custom foam liners for a single hard case when not in use. An Arizona entrepreneur and lifetime hunter named GP Searle encountered just such an issue as a new parent when his wife said the family's small laundry room was needed for other functions besides a gun case warehouse.
The young father set out to solve these storage challenges. In time he succeeded in not only that, but also to solve the potential for damage to guns and optics in transport. His solution is the
KOR
case system, an entirely new way of storing and transporting guns and other delicate equipment such as camera gear.
Christensen Arms Mesa FFT in 300 WM, topped by a Lucid Optics L5, arrived with it case-mate safety and with scopes still zeroed. Socks held bolts during transport.
What is KOR?
KOR
is an inflatable bladder, filled with BB-like styrofoam grains to cushion treasured goods in three dimensions. Each KOR case's outer dimensions are made to occupy the lower half of typical Pelican and other brand hard cases on the market, with the original foam padding occupying the lid side. Officially, this design is called a "vacuum-ridgidizing structure," and Searle has obtained a patent for it.
KOR provides this liner in two sizes currently, with more on the way. In this case, we were fitting rifles into a Nanuk 995 model case. KOR also has hard cases available as a package, including a luxe carbon fiber option.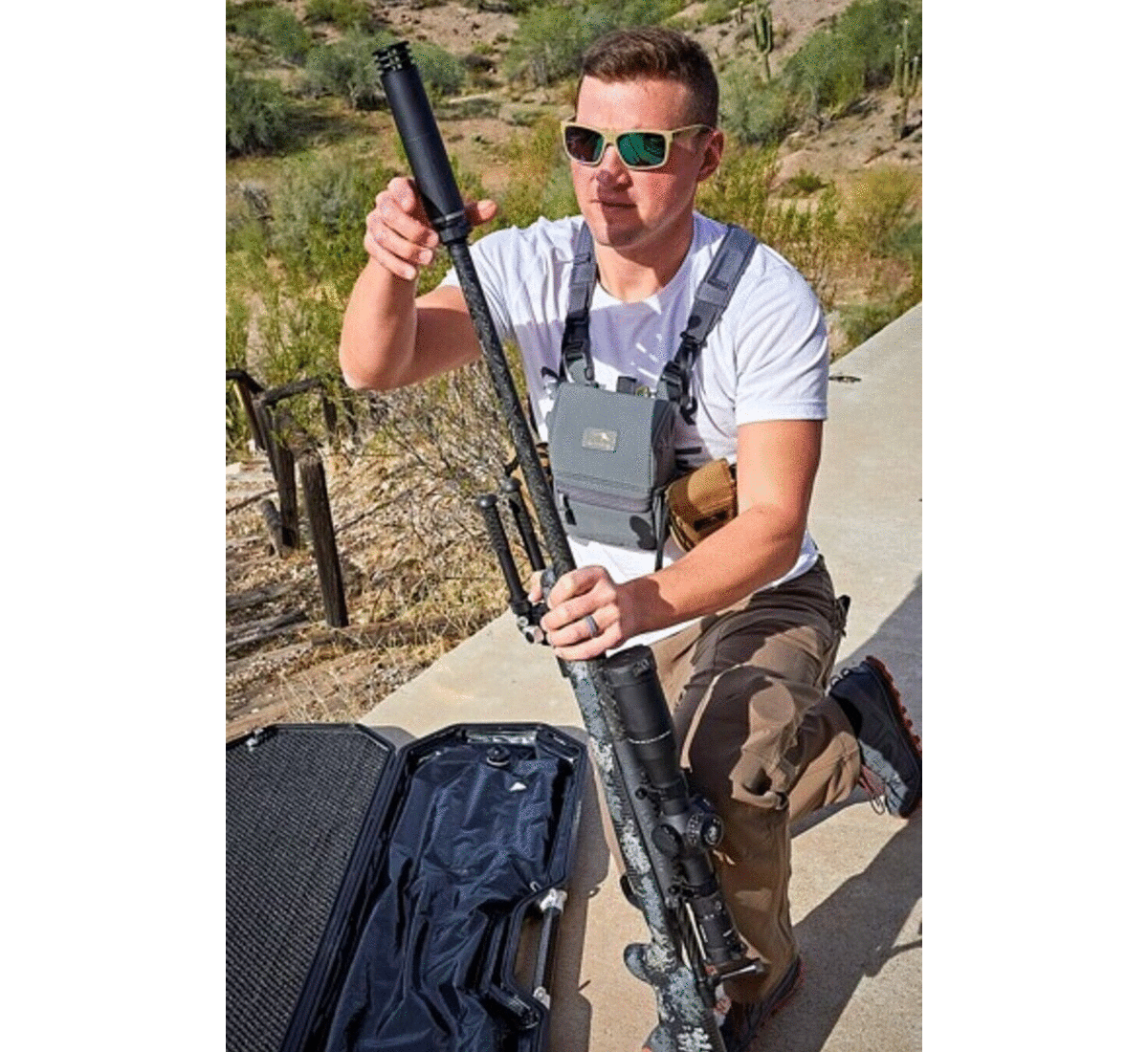 KOR inventor GP Searle
Setting up the KOR Case Liner
In this test, my partner and I set out to pack his two scoped rifles in a hard case for an overseas safari. The KOR case arrived folded, about the size of a typical couch pillow, along with a small bicycle tire-style pump, as well as a patch kit (see options on the KOR website). While we were fortunate to have the KOR inventor himself on the phone for expert instruction, providing feedback using a few furtively texted photos of the rifles in front of us, setting up a KOR to perfection will be very easy once there are instructional videos online to guide users. It's a very new system, and that content is forthcoming as I write.
Searle recommended first the removal of the bolts and placing each in a sock for protection, placing each in its own empty space around each rifle. No bolts in guns seemed like something that might also please airport security anyway.
A lightweight pump and hose, included, fills or deflates the KOR.
The first installation step was to settle the KOR into the hard case, making corners match well and shuffling the stuffing a bit so it was distributed evenly. Then the pump was attached.
The largest, heaviest rifle went in first, per Searle's recommendation. In this case it was
Christensen Arms' Mesa FFT
in 300 Winchester Magnum. A little air was pumped in and we pressed the gun down to make its imprint before adding the second. There is a degree of "feel" associated with the process to ensure the wider parts are occupying more depth. Just a bit of pressing here and there allowed it to settle in solidly. Then, a Remington 270 was added to the case. More settling-in action commenced, and then the KOR was pumped to full inflation, and the lid closed. It would be the first moment of truth on a somewhat anxiety-filled packing experience, considering the intercontinental flights these guns would soon embark on.
This process took two tries. Initially, the barrel of the Remington showed movement when the case was re-opened. It had slid all the way to the edge, which isn't a far distance with two rifles stuffed in the Nanuk 995. Egg carton-shaped foam in the lid was exchanged for solid; maybe that was the problem. The solid foam succeeded in cutting the movement in half or so, but it was still present.
The solution came with a few minutes of experimentation with letting air out, then refilling the system while placing gentle pressure on the barrel of the Remington. We wheeled the case around the house, turned it over and turned it vertical a few times, and opened the case to reveal the rifles perfectly positioned where they started. Solid!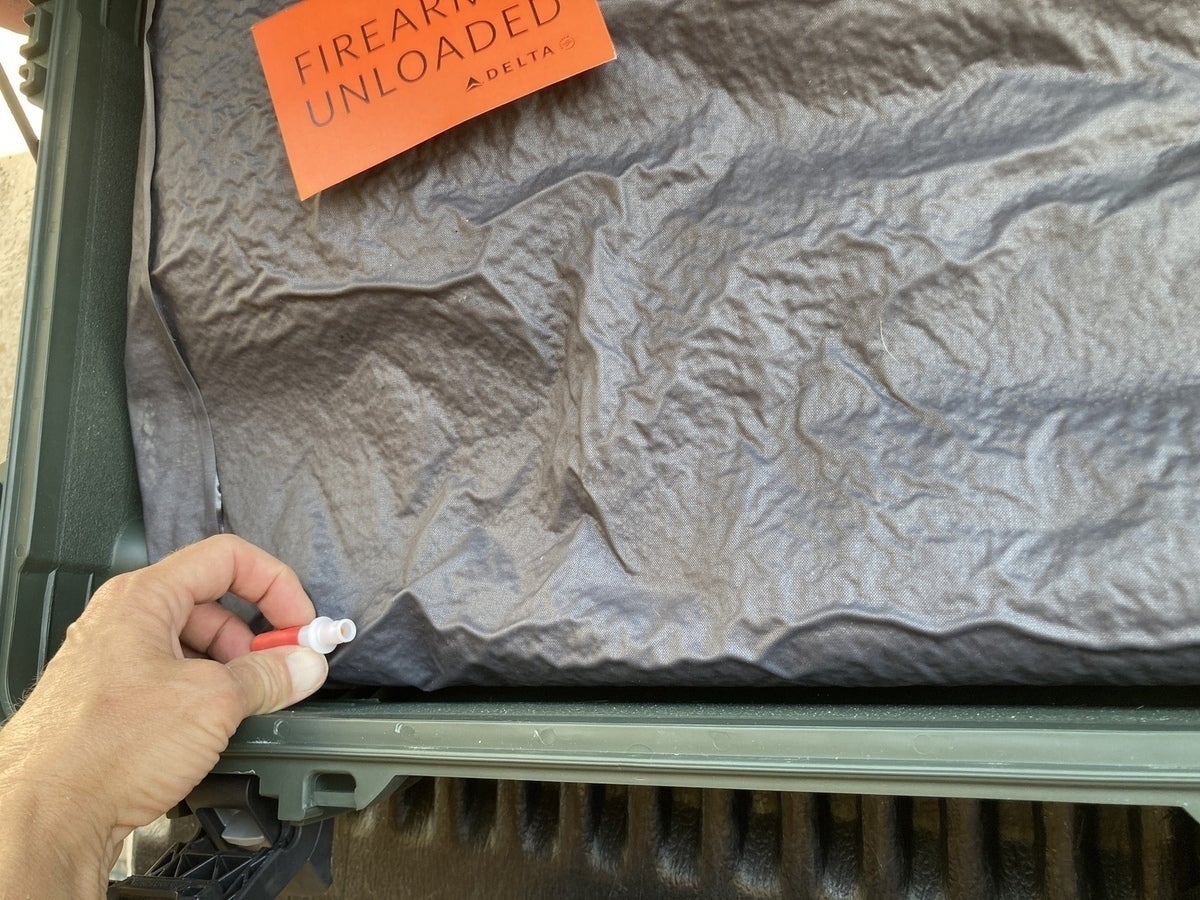 The plug is easy to access but out of the way of goods inside the case.
Taking the rifles out again, the KOR holds their shape just like any custom foam cut-out. The bladder is very puncture- and abrasion-resistant; we weren't about to drop knives point-first into it but Searle said his sales demo entails scraping and poking the KOR with sharp blades, such as could happen on a hunt. The simple patch kit can take care of any unlikely mishaps anyway.
A long, long series of flights and motor transports occurred to get these two rifles to their destination with
SB Hunting Safaris
in South Africa, and back home. When the new-when-we-started Nanuk 995 was picked up at the Johannesburg airport, it already had scars from rough handling. But inside, nothing had moved. The proof was in the pudding when both scopes were tested and had remained true to zero. Happily, we report total success with this real-world, rough-duty trial and wholeheartedly recommend KOR case liners.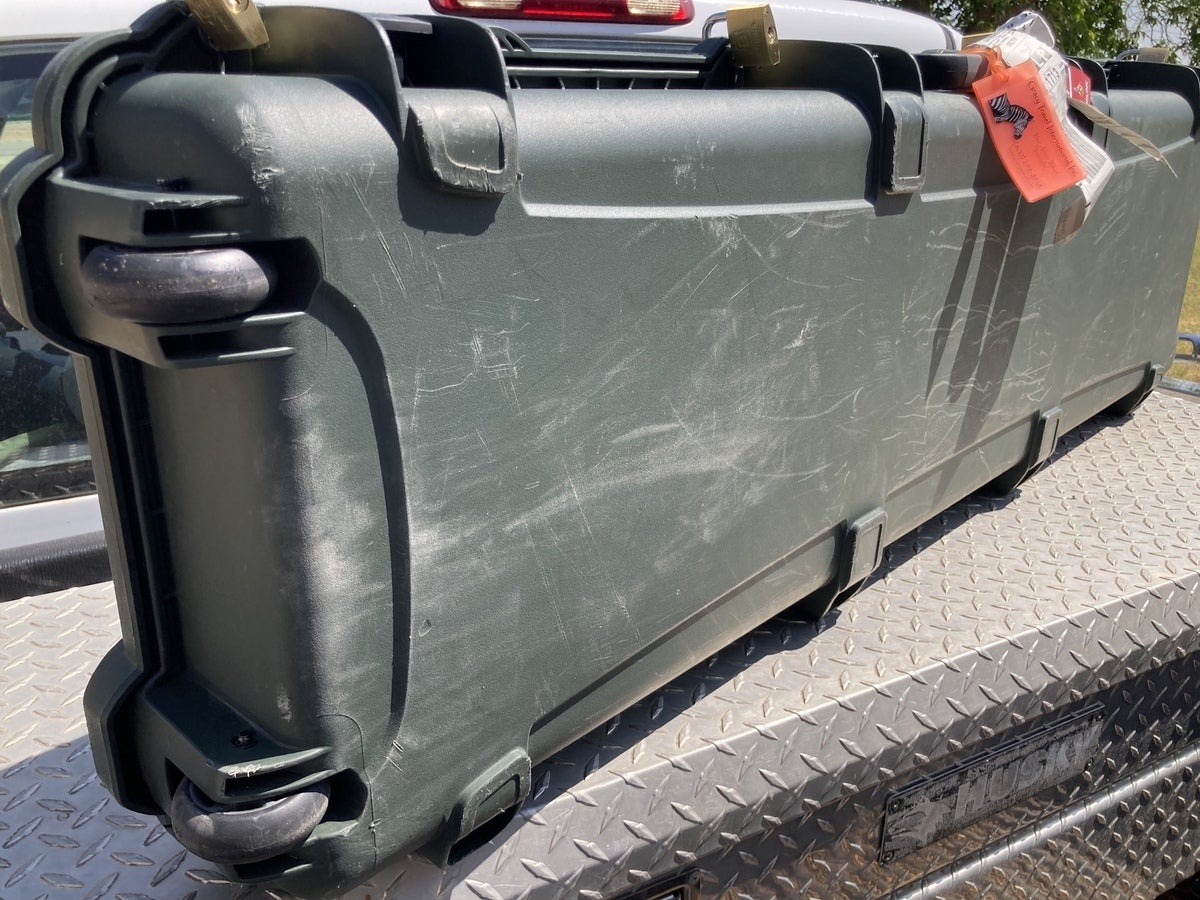 The Nanuk 995 outer case was brand new at the start of the trip to South Africa. It obviously had some rough handling in transit, but the contents didn't move.
As with any packing system, there will be a slight learning curve and a little fiddling around at the start to get it set right for a particular firearm or camera lens. Ultimately the time invested is less than what it would've taken to cut or pluck foam, and the results are permanent until we let the air out for the next rifles and next trip.
Flat foam inside the lid worked better than egg carton style foam. This is one solid setup!
Get your own KOR before this system becomes famous! The 3S product used in this test retails for $265. The patch kit is $19.99. This kit can service every gun and delicate optic for life.
The post
AllOutdoor Review: KOR Gun Case Liner – Super-Protective, Like No Other
appeared first on
AllOutdoor.com
.
Read the full article here...