Discussion Starter
·
#1
·
Yesterday afternoon as I was returning to the shop from another machine shop, I noticed with some delight that I was driving in bright sunlight. I had taken a couple of Contender (Carbine & Pistol) with me to show the fellows at the other shop as they are hunters to the extreme and what I was talking to them about was related.
I called our shop and things seemed to be running smoothly thanks to Mrs. Eagles oversight and told her I was headed for a favorite shooting area that I like to use. We don't have an organized outdoor range within 35 miles of here so it is find what you can where you can type of shooting.
While I did not have a complete range kit with me I did have a three leather shooting bags, my ear muffs and a box of loads that I had wanted to test along with a calling bag and some other gear.
The barrel, that was on the G2 frame with a factory horrible trigger, is a 22" Green Mountain Barrel that was fitted with our new monolithic barrel stub, a 3x9 Nikon Scope. I looked around inside the car and found a USPS Priority mail box that we had gotten something in, and in the gun case was a shoot and see target. I drove up to a recently clear cut area and set up a quick 100 yard range.
Now let me state that I do not shoot enough anymore to even call my self any kind of shot but I have vowed that this year I would make time to shoot more. This is the second time that I have shot this month and that is about 50% of what I shot all of last year. I am also overweight, drink too much coffee and my feet hurt.
I setup using the Santa Fe as my bench. The barrel had not been shot since I CeraKoted it with H-series Armorer Black last week. The Scope mount we had made here to fit Leopold twist on rings. These were also finished with same flat black finish.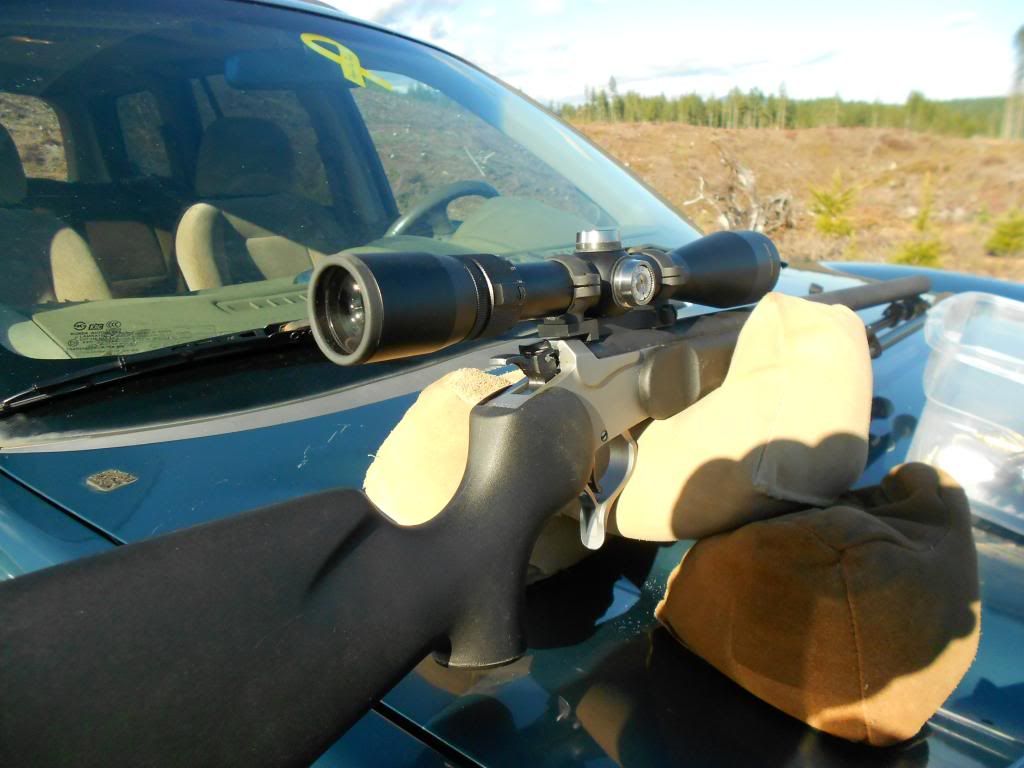 I had some Federal and PMC FMJ ammo that I was going to start the sight in with. This barrel has about 200 rounds through it but the last time that I put it on paper I was having trouble with the forearm being loose. I was not sure how well the barrel would shoot.
Here is the target that I shoot with the Federal 55 Gran FMJ ammo When I got the cent two shoots I figure it was time to try my reloads.
The 5 shot group to the lower left shot with 52 grain BTHP Hornaday Match in front of 22 grains of IMR4198 and CCI SR primers in PMC cases. OnTarget tells me that this 5 shot group has a CTC spread of .554" , I am very happy with that under the conditions. I shot several other groups that were good but this was the best.
Thinking that I might be able to push this wonderful warm afternoon escape from the shop even further I dug out some long unused coyote calls and did a few minutes practice with them only to be interrupted by a a cell phone call that said that I needed to return ASAP to the shop.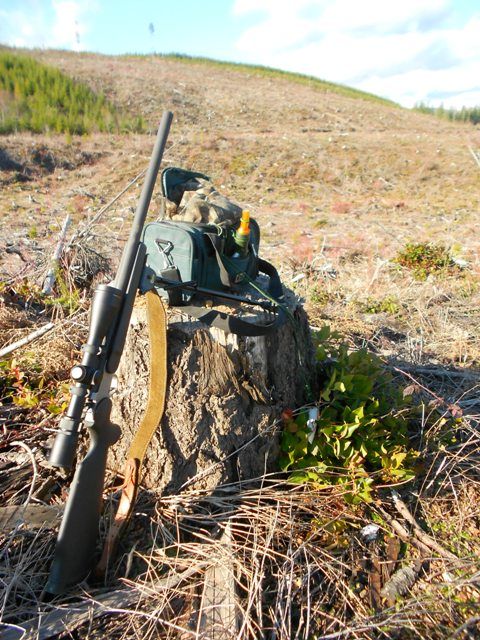 Lowell