Originally Posted by
Sahagan
<<< SNIP >>>
Anybody have any experience with them? Or recommendations?
My collection of chamber adapters includes several designed to shoot airgun pellets.
22 Hornet adapter (Large rifle primer)
(Note thick pellet skirt)
223 Adapters (Large Rifle & Shotgun Primers)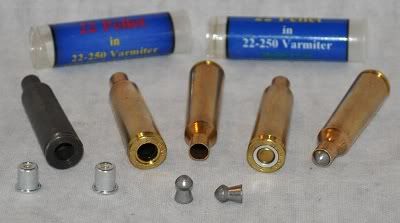 22-250 Adapters (Shotgun primer)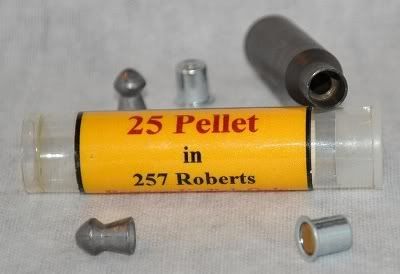 257 Roberts Adapter (Shotgun Primer)
All of my machined adapters come from MCA Sports out of Anchorage Alaska.
Ace will make anything you can imagine.
The converted brass cases are available from Convert-a-Pell.
If you want to experiment with pellet shooting before you buy any adapters for the 22-250 you can make a low powered prototype.
Taking an idea from the wax bullet shooters, enlarge the flash hole of an old fired cartridge case.
MARK IT SO THAT IT WILL NEVER BE LOADED WITH POWDER AGAIN!!
(I mark all of my wax bullet cases by filing a notch on three sides of the rim. This way I can always identify them)
To keep the pellet from slipping down past the neck into the case, carefully dimple the neck at the sholder with a small punch on three sides.
(Don't ask how I know or how much of a PIA it is to retrieve the pellet)
Seat a primer, and carefully push a pellet into the case neck.
This will allow you to try pellet shooting before you buy.
Naturally, this is a very subdued load.
But you can get a feel for the accuracy potential.
One major Caveat: Priming compound contains ground glass that is consumed at the high temperatures and pressures of cartridge firing.
Primer only shooting leaves this in the barrel...
Be sure to clean the bore before shooting any live ammunition.
I always use heavy pellets (Beeman Kodiak minimum).
Also, when using shotgun primers, I fill the pellet waist with bullet lube to help support the pellet skirt.
(Made some out of bee's wax and Vaseline... I don't remember the formula, but it's viscosity is like peanut butter....)
When shooting heavy pellets using rifle primers, the lube isn't needed, but I managed to separate the skirt from a light weight pellet the first time I shot a pellet using a 209 shotgun primer.
So, my recommendation is heavy pellets and some form of lube when using 209 primers.
Don't expect tack driving accuracy.
Just like the cartridge adapters that allow hand gun cartridges to be fired in high powered rifles (32 ACP/30-30, 30-06/30 Carbine, etc.) you are pushing a projectile down a bore rifled to best accommodate a much longer bullet at much higher velocity.
The airgun pellet has this problem in spades.
Also, don't expect high velocities...
Mine run from just over 500 (25 Cal) to just over 800 FPS.
Depending on the gun, I get as small as 2" groups at 25 yards, to 8" groups at 10 yards. (25 Cal Pellet in 257 Roberts... I'm still tweaking it...)
Are these adapters worth the cost? ... You have to make that call.
I love mine. When used within their limitations, work very well.
Indoor (Well ventalated) off hand trigger control / accuracy practice...
You name it.
Hope this helps
Steve