My experience with the Mini 14, tactical rails, and red dot sights
---
I've been shooting my 182 series (1982 vintage) Mini 14 for a lot of years. The 182 series has most of the problems of the early Minis -- pencil thin barrel and no easy or practical way to mount a scope or red dot sight. So I decided to pick up a newer copy. Besides, I wanted one.
The first thing I tried was the Burris rail mount. I had seen one somewhere or other, and it has the advantage that you can remove the bolt without removing the rail. The Burris system attaches directly to the proprietary Ruger mounts that are standard on all new Ranch Rifles. Here is how that worked out using an Ultradot Matchdot II that I had available:
I decided to upgrade my Red Dot Sight to an Aimpoint CompC3. I quickly learned that the Burris mounting system will not accommodate many range rings or other Weaver-mount devices. My full evaluation and explanation of the Burris system is located here:
Amazon.com: Roger J. Buffington's review of BURRIS RUG TO WEA ADAPT M77
My next iteration on the new Mini 14 was to try the GG&G rail mount adapter. The GG&G is a true rail system that has enough room for most any Picatinny-mount accessory. It was quickly apparent that the GG&G has better hardware than the Burris. It mounted easier, and even without Loc-Tight it stayed in place after more than 200 rounds at the local range. Solid as a rock. To my very great surprise, I found that I could remove the Mini 14 bolt for cleaning without too much difficulty without removing the GG&G rail. Thus, no need to possibly disturb the zero of the sight. Nice!
My evaluation of the GG&G rail on Amazon can be read here:
Amazon.com: Roger J. Buffington's review of GG&G Mini-14 & Mini 30 Ranch Rifle MIL-STD...
Here is a picture of the Mini 14 with the GG&G rail and Aimpoint CompC3 red dot sight: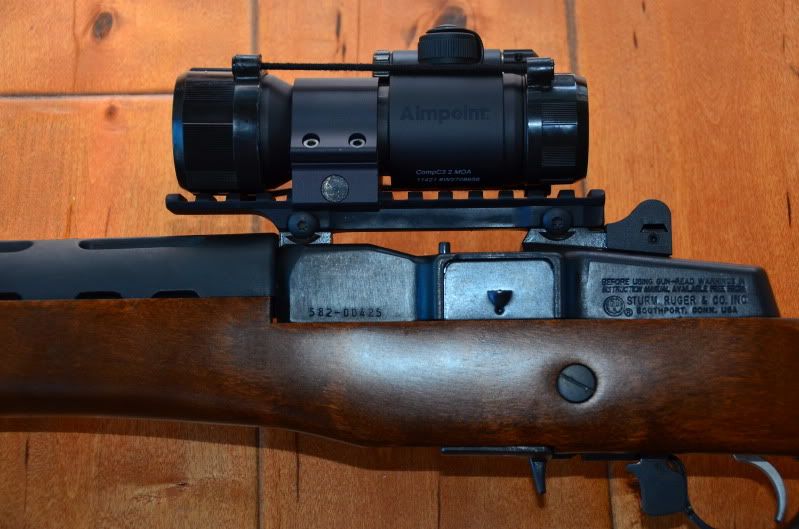 I was able to achieve quite good groups at 25 meters using this set-up (my local range is limited to 25 meters). So I have (after spending some money) achieved my goal of having a Mini 14 with a nice red-dot sight, and the ability to clean the Mini without disturbing the rail or sight. Hope this little Odyssey helps someone and maybe saves someone a few bucks.
__________________
Slavery is not Freedom.

To view links or images in signatures your post count must be 10 or greater. You currently have 0 posts.