I have one (along with a Henry Lever .22 & a 10/22)
I really like it! The new ones can hold two extra mags along with the one in the receiver for a total of three in it's self when packed.
I have found NO PROBLEMS with any ammo (yet)
The only real "cheep" part of the rifle is the front sight (in my view).
I have a scope that I mount (& take off for storage) and I have had good luck on the accuracy part.
I like how I cam carry a rifle in a little box (with my scope)!
It's a fun plinker and if needed would be good for survival!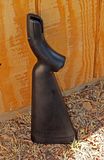 Lateck,
__________________
A Proud Ruger owner.
10/22-TD, Mini-14, M77-GS, LCP, LC9, SR9c, SR40c, GP100, SR1911.