Nice range day, B/P revolver
---
Finally went to the range with only 1 firearm ( besides my sidearm ) bound and determined to find the load it prefers and get the front sight set.
Been playing at getting this one set up for roughly 10 months now off and on, but always with the distractions of cartridge guns on the same trips......not this time.
Uberti 1858 Remington 4.75" clone in .44 shooting real BP, home made wonder wads and .454 round ball.
After playing around with the powder charge, filler amount, and wad thickness, I finally found a load that will knock down 5" steel plates at 25 yards every time I pull the trigger........which is plenty good for me.
30 gr. fff Goex powder, topped with a .380 case of filler (cheap coffee), and a 3/8" felt wad soaked in 50/50 paraffin/veg. oil mix brings a ball so close to the end of each chamber it's like a cartridge round for distance to forcing cone.
my last 2 cylinders before final front sight adjustment and moving on to steel plates.....i'm finally satisfied with this gun as it's 100% reliable, and would save my life if it ever actually comes down to it.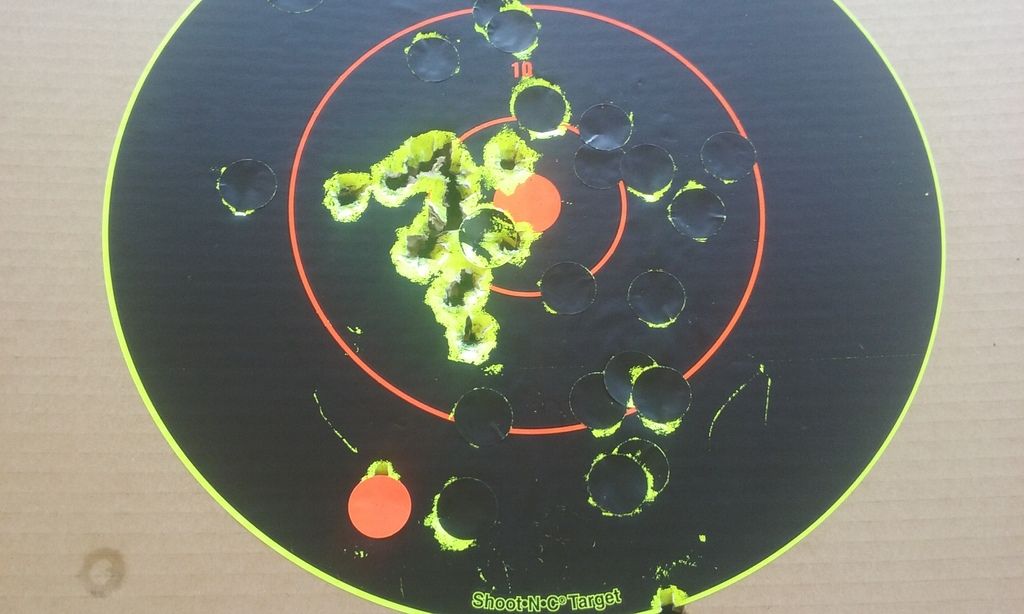 __________________
Democracy is 2 Wolves and a Lamb voting on what's for dinner......
Liberty is a well armed Lamb !